Tribute to a mother-daughter bond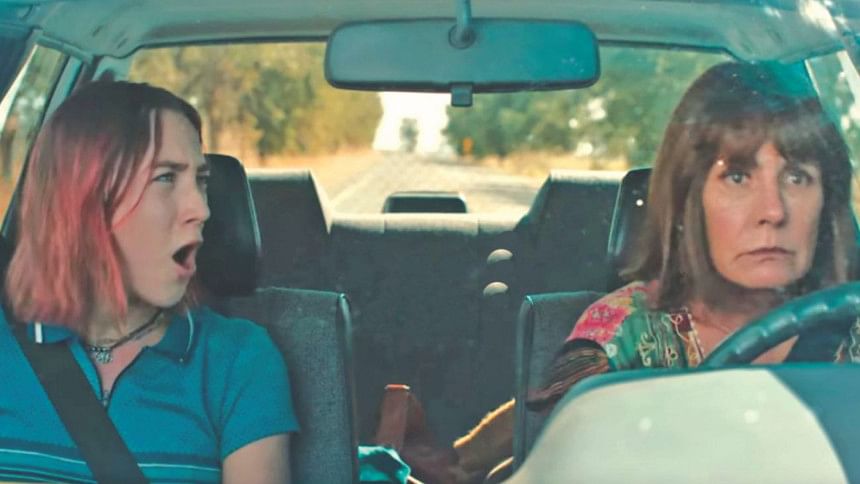 I have a love-hate relationship with the coming-of-age genre. Blame it on excessive binges of John Hughes duds in the 90s (Pretty in Pink, Sixteen Candles), but I've grown weary of them. Apart from gems such as American Honey and Boyhood, both of which reimagined conventional "coming-of-age" dramas, most lack originality, relying on formulaic plotlines to drive the story forward.
And then came Lady Bird to jolt me out of my cynicism. Greta Gerwig's solo directorial debut is a reminder that no genre is monotonous as long as there's a bold artist with a fresh perspective.
Christine McPherson (Saoirse Ronan) is a high school senior who wants to go to college on the East Coast "where culture is." According to her mother, Marion (Laurie Metcalf), it's too far from home and anything beyond what her family could afford. But Christine is adamant -- she jumps out of a moving car in protest when her mother tries to disregard her aspirations. She's stubborn, hilariously candid and deeply aware of what she wants in life. For instance, she prefers to be called "Lady Bird", a name "given to me by me," she explains. Loosely based on Gerwig's own experiences, the story follows Christine as she navigates life in Sacramento, California in the early 2000s.
In Christine, Gerwig creates such a refreshing and honest portrayal of adolescence that she had me reminiscing about my teenage years. Her struggles with insecurity, self-acceptance, and the opposite sex are at once utterly relatable and laughably absurd. Ronan has been a force to be reckoned with for years; she's already won a Golden Globe for her performance and an Oscar win may just be written in the stars. Metcalf delivered in equal measure, as only an actress of her stature could. She steals the show as the overprotective, uncompromising mother who wholly believes she has her daughter's best interests (sound familiar?).
At its core, Lady Bird is an ode to the messy, complicated, heartfelt and wildly bipolar love affair between a mother and daughter. There are moments when the bond between the two is so strong that it becomes palpable. The scene where Christine asks her mother if she likes her while shopping for a prom dress is startlingly familiar, as every child who's ever sought their mother's approval can attest. Then there are moments when neither holds back, hurling unbelievably hurtful words at each other like missiles. You will often hate Marion with a burning passion but quickly jump to her defence (like Christine) when she's misunderstood. You will empathise with Christine while struggling to understand her various idiosyncrasies. The relationship between the leading characters is as tumultuous as the relationship you develop with the characters on-screen.
Greta Gerwig's attention to details resonates throughout; the soundtrack, clothing, and interactions reflect the cultural mindset in post-9/11 America. As the director and screenwriter, her emotional acuity is evident in the dialogue and nuances of attitude displayed by the characters. Gerwig truly outdid herself, a feat that would've been impossible without the support of such a phenomenal cast.
Go on. Just watch the movie already!
Mithi Chowdhury is a dog-loving-movie-watching-mediocrity-fearing normal person. Either that or a penguin. Find out at [email protected]