Swiss Army Man: A Bizarre Trip to Home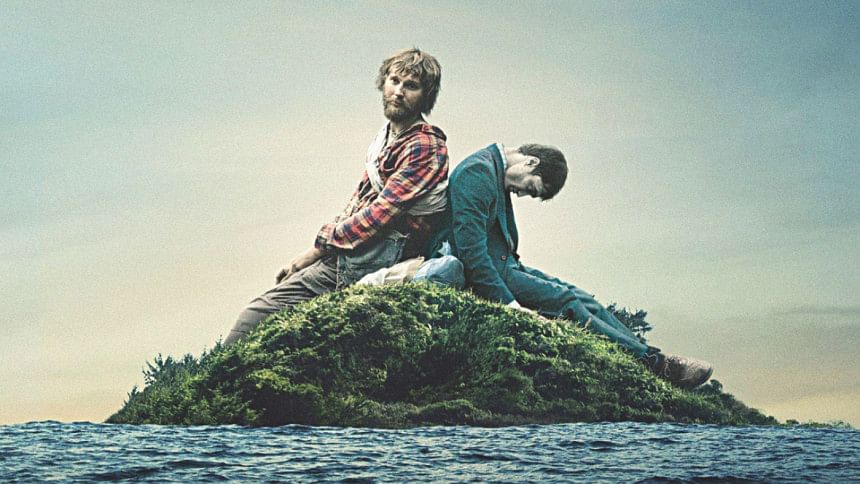 Hank (Paul Dano) is about to hang himself. Having given up all his hopes of being rescued from a deserted island, he finally surrenders. Right at that moment he sees a body, washed ashore. He goes up to it and hopes against all odds for it to be alive but as bad luck would have it, it's not. He returns to continue the previously cancelled suicide endeavour when he notices the male corpse continuously passing gas. That's the beginning of the peculiar adventure of the dead body Manny (Daniel Radcliffe) and Hank.
Swiss Army Man is the tale of a surreal journey between two unlikely friends. Hilariously scripted and masterfully dramatised, this might have been one of the best movies I have watched this year. The story is audaciously stupid and unique, yet it not happening in parallel universe of a sort is refreshing. The music was meticulous and heart-warming, with Hank reminiscing his childhood lullabies and changing its words comically to fit into his marooned life with a corpse.  
The movie had me hooked right from the start. Every single Paul Dano movie I have watched, I have been left wanting more. Swiss Army Man was double the treat. Daniel Radcliffe's performance as a corpse who remembers nothing from his living life was just as remarkable as would be needed for the strange storyline. Manny goes through a lot, for the sake of the story Radcliffe exceptionally delivers all the unflattering things that a corpse is seen doing, his body visually decomposes, his face and body contort into all kinds of disturbing position throughout the movie. He goes in fast-forward through all the stages of life, from childlike innocence, learning the meaning of life, friendship, love - all of which is mentored by his friend Hank who cannot but wonder at times if all this is a figment of his imagination. Hank is troubled to the core. He left home thinking nobody loves him and now when he stared death in the face, he wants to go back and find love.
Swiss Army Man is relatable to the extent that one would not expect. Through pointless jargon from a corpse, it reflects on profound notions of our lives about fear, incompetence, love, friendship and so on.   It's naïve, childish, funny yet heart-wrenching and above all, a story of unexpected bromance. The two Daniels (Daniel Scheinert and Daniel Kwan) as first-time directors of a full-length movie pull off this weird and wondrous feat. 
The best thing about the movie was the ending. When the ending nears, one would fear that all the adventure would turn out to be some kind of schizophrenic gibberish in Hank's head. The ending is for you to find out and it's nothing short of absurd and unobvious. Overall the combination of masterful editing, visual depiction of surrealism, great music and prodigious acting make it self sufficient despite being led by two cast members only.       
Clearly, the grace of Swiss Army Man is its weirdness and those who have a weakness for eccentricity, will relish every moment of it.  
Anupoma Joyeeta Joyee is a perpetually sleepy Law student who emotionally identifies with ducks and occasionally sets out on writing sprees. Feel free to rant to her at [email protected]