Stranded at Parent's Reunion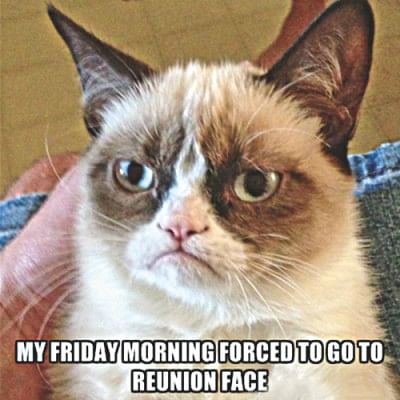 There is one thing that pains me more than going for makeup classes on a Friday morning, and that is being dragged to my parent's university reunion. This is how it goes for me every year. Let's find out if the agony matches with that of yours:
Denial: 
I started fearing the reunion day as soon as I got to know of it. On the day of the event I woke up at 7 am with only one thought on my mind: how do I fake a fever?
No way to escape:
After all these years I should have just learned my lesson already. There IS no way to escape the inevitable reunion. It was extremely cold so I fake-bathed (an elaborate fraud where you let the water run to make it only sound like you're bathing) and got ready being terrified of spending an entire day with my mother's classmates and their talented kids whom I see for an entire day every year.    
Entering the arena:
I couldn't believe that so many people actually showed up sacrificing a perfectly enjoyable holiday. Minutes into the shamiana-clad picnic spot, I could see people from my generation who, surprisingly, were not as clueless as I was and seemed to be enjoying the shindig. Is there a secret Facebook group of Classy Reunited Kids of Bangladesh Agricultural University '85 that I didn't get invited to? Someone was announcing loudly on the stage calling people of all ages to participate in the respective games. I skipped participating in the games; I only went for the food. 
Failed socialising attempts:
I thought I was going to be one of cool kids and socialise my way into the clique maybe by complimenting someone's shoes or shawl? Instead I ended up trying to repeatedly check Facebook at a place which had almost zero network. I could neither socialise face-to-face nor online. It's like my biography is a YA fiction minus the terminal disease and love interest.
Too many dad jokes:
The food was worth my fake-bath and Facebook-less agony. Being showered with uncountable dad jokes which I hope to pass on to my next generation, I was finally starting to enjoy what was left of the day. Now, let's not forget the most exciting thing about reunions. I get that I have led you to think that I'm mostly apathetic, but even I get overcome with thrill at the prospective opportunity of winning at "raffle draws". If there is one thing I am blessed with more than my height, it is sheer dumb luck. The raffle draw was my calling. 
The day got better:
One guy bought 50 tickets and with as much confidence as a doubter, I bought only 5. Well, I don't want to brag much but did I end up winning a Sony Bravia 32" LED TV which was the second prize? Yes, I did. 
Also, Mom secured third position in pillow-passing. Go, mom!
The day in the end turned out to be a great one not only because I was legitimately taking a big win home but because I saw my mother brimming with happiness to be able to spend a day with her friends she must dearly miss. She has accompanied me to countless meet-ups with my friends when I was too young to go by myself and she never complained. Now there is only one day a year I get to do that for her and the childlike joy on her face is worth much more than a regular Friday's nap.
Anupoma Joyeeta Joyee is a perpetually sleepy Law student who emotionally identifies with ducks and occasionally sets out on writing sprees. Feel free to rant to her at [email protected]