A bright future beckons for Bangladeshi students
In conversation with Cambridge International and British Council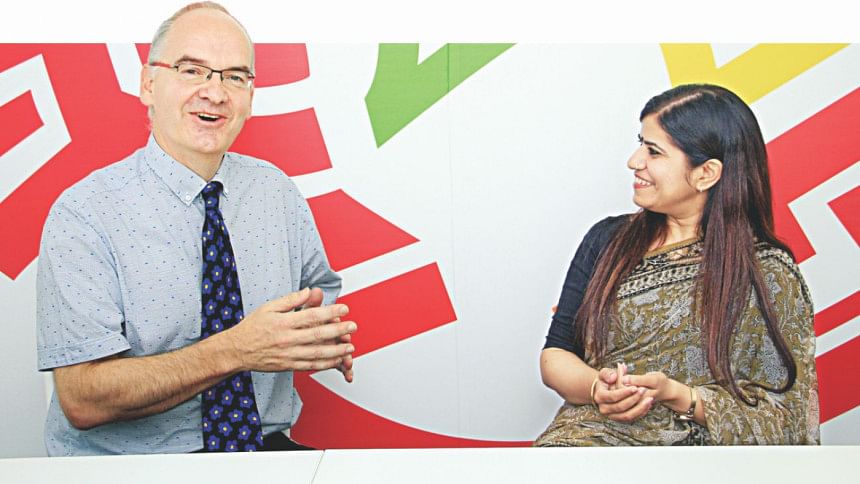 Cambridge Assessment International Education and British Council are two very prominent names working towards providing high quality education to Bangladeshi students. Over the years, they have been offering much more than just examination services. They have been supporting school leaders and teachers, and presenting students with global opportunities. On July 16, 2018, SHOUT had the opportunity to meet with Ruchira Ghosh, Regional Director of Cambridge Assessment International Education, South Asia, and Sebastian Pearce, Director Examinations  Bangladesh of British Council to learn about the goals, processes, and contributions of the two organisations.
How do British Council and Cambridge International support Bangladeshi schools?
Ruchira Ghosh: I think we have a very strong relationship with the schools here. Mostly, people are only familiar with the O Level IGCSEs and AS and A Level Examinations. But we also have examinations for younger students which are called "Checkpoints". We along with the British Council, we work very closely with school leaders and teachers, supporting the overall development of the schools. So we're not just talking about examinations at the end of a course, but how we can support schools to deliver education which is relevant for the students' future. In addition to offering curriculum and assessments which go hand in hand, we also provide teaching and learning support. We bring our schools together as a community through various events and actively engage with them.
How does Cambridge International prepare students for university, careers, and life in general?
Ghosh: Throughout our curriculum we value skills along with deep conceptual understanding, which means that when students are ready for university, it's not just about getting into a programme of their choice but also about how they get on once they are there. For example, we offer a subject called Cambridge Global Perspectives, which is an interdisciplinary skill-based subject. It is based on skills that are required to understand the local environment and how you link that to global perspectives and the world around us. The methodology used in this subject particularly encourages students to come together as teams to do group projects and investigative research – exactly the kind of skills that universities want today. Also, the way the assessments are designed, it's not just about rote learning and reproducing during the exams but applying those skills.
Are there enough resources for teachers to understand and implement Cambridge International's curricula? What kinds of materials are provided to students for self-study?
Ghosh: We offer face-to-face and online training for teachers. In fact, we offer a whole lot of resources for every single subject. We've developed a new resource that is currently available for IGCSE subjects and A Levels called "Resource Plus". It is a subscription-based resource for both students and teachers.
As for self-study, we have a suite of resources that are free of charge, starting from interactive guides, tutorial courses, self-study courses, webinars, examiners' feedback and so on.
How does Cambridge International encourage students who want to study interdisciplinary subjects?
Ghosh: Recently, many schools have started providing subjects like Psychology, Law, and Enterprise. I think it's great that schools, students and parents are beginning to notice these subjects. I think there is an increasing awareness that even if you're planning to major in science or business subjects later on, it always helps to have some social science and humanities subjects to understand the world around you. One fact I would like to highlight is that we are very flexible in terms of combination of subjects. We don't dictate; we offer a variety of choices, which means that our students are free to take up any subject. I think it's a very progressive move from the schools and students. And Cambridge International is always there to help if more schools want to take up these subjects. Although a large part of our training is for subjects that most schools offer, we always make it a point to have training for non-conventional subjects. And discussion forums are very useful platforms for new schools or schools that are taking up a new subject.
Gradually, paper-based examinations are starting to become less practical. Does the British Council plan on modifying or improving its examination methods?
Sebastian Pearce: We offer a computerised method for ACCA exams. Other exams are going to move down the same path in the next few years. It's all fantastic when it works smoothly but only takes one error to create a big mess, but computer-based exams is the direction we are headed towards. Perhaps five years into the future, the IELTS will be computer delivered for nearly everybody in Bangladesh. And that means people will be able to choose their times more easily. Right now, Cambridge has to send millions of question papers all around the world. Somebody on our end has to collect, store, organise and make sure they turn up in exams and the same happens in reverse. If we can computerise a lot of that, the whole process will be much simplified and efficient.
What are your expectations for the future?
Pearce: One of the first things I did when I came here was attend a Cambridge International award ceremony for students of the previous academic year and that's when I realised just how high the standards are in Bangladesh compared to the rest of the world.
Speaking from a personal experience, even though schools in Bangladesh mostly focus on hard subjects, I've met a lot of very well-mannered, chatty, and humble teenagers. It was very easy for me to have nice, long conversations with them. They're probably better at that than I was at their age. So if people like that go out into the world with excellent exam results, I'm very optimistic about what they'll accomplish in Bangladesh and at a global scale.
Ghosh: I think schools are becoming more progressive and parents are becoming more open-minded. We hope that schools make the best use of this high-quality international education which is being made available to them. We also hope that schools invest in teachers' development and talk to the parents more openly about subjects that are available. It is important for the schools to guide students in the right way so that while they may choose subjects of their own interest, they also know where they are headed after school.
We hope that along with the schools and partners like British Council, we can enhance the development of our students for the kind of world they are inheriting and the kind of workplace they will be joining. So yes, I think we are looking at a very bright future for Bangladesh.
Farah Masud can be reached at [email protected]