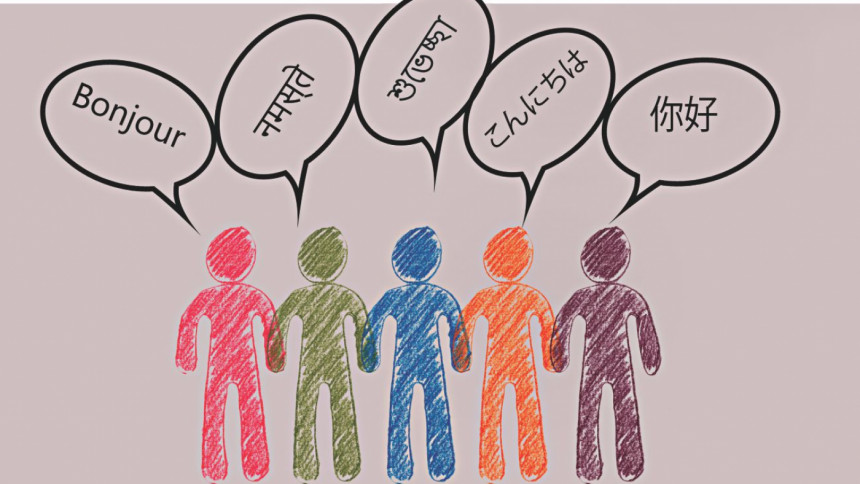 Bangla: Good afternoon, my dear fellow languages. I would like to thank you all for accepting my invitation and coming to Bangladesh for observing the International Mother Language Day. As you know, February 21 was declared International Mother Language Day by the UNESCO in 1999 to recognise and immortalise the love and respect for the mother tongue. It has been sixty-seven years since the Language Movement of 1952 and over the decades many of you have gained importance and are being learnt by the people of my country. In this meeting, we will be discussing the importance each of you has in this country. Should we start with you, English?
English: Sure, Bangla. Thank you very much. It is an honour to be learnt and given importance to by so many people of your country—
Hindi: Excuse me, English, but I think Bangla will agree on the fact that the great importance given to you in countries like Bangladesh and India is nothing but a symptom of colonial hangover.
Bangla: Let's not attack English in this way, Hindi. But I do think you have a point. English, my friend, I know you are the global lingua franca and it is somewhat necessary for everyone to learn you, but at the same time it is a matter of great sorrow to me that so many people take pride in the fact that they can't speak me – or pronounce my words – well but at the same time do their best to show that they are proficient in you. What is worse is that they tend to mix my words with those belonging to you even though they are aware of the fact that I possess words having the same meanings.
English: That, my friend, is a matter of great sorrow to me as well. I think it is very important for the people of your country to learn you properly. Learning me shouldn't entail forgetting you.
Bangla: Thank you for understanding, English. Now, Hindi, I am told that many of my people have become fluent in you. Is it true?
Hindi: Yes, yes, Bangla, it is very much true. My TV serials are extremely popular among the people of your country and by watching them a huge number of people have become fluent in me.
Bangla: I am told that these serials teach people bits of "backbiting" as well.
Hindi: Well, erm, yes. Oh but Bangla, you know children manage to learn me without even attending classes. Isn't that great?
Bangla: Not exactly great as I have heard of children who are more comfortable with you than with me.
Hindi: Erm...
Bangla: Moving on, we have French.
French: Oui, merci beaucoup. Bangla, thank you so much. You are a language that emanates sweetness; I am a language that emanates love. You are the language of Tagore, of Nazrul. I am the language of Proust, of Camus...
Bangla: I know, I know, French, but could you tell us a little about how you are used in my country?
French: I would be delighted to do so! Many of your people learn me at the Alliance Française which has branches in Dhaka and Chattogram. I am glad to note that because of steps taken by the organisation, many of them are becoming familiar with films by directors such as Renoir and Truffaut.
Bangla: I am delighted to know that so many of my people are learning you. I think German is also being learned by many. Am I right, my friend?
German: Yes, yes, the Goethe-Institut is playing a very important role in making your people familiar with me and my culture.
Bangla: Knowing a third language is so very important. You know, I have noticed something very interesting lately. So many of my youngsters have mastered Japanese and Korean words and phrases without attending classes at all. How did it happen?
Japanese: Bangla, my dear friend, my anime have become extremely popular amongst your youth. Watching them, they have mastered me, a language spoken in a country so far away from them.
Korean: The same can be said about me. Korean dramas and K-pop music are enjoyed by a lot of your people. This is how they have managed to learn me.
Bangla: I am glad to know this. Now, Arabic, you wanted to tell me about some of your grievances.
Arabic: Yes, dear Bangla. So many of your people learn my script without understanding me, that too at young ages. Not being understood is possibly the worst thing we languages can go through, don't you think so?
Bangla: This is indeed something to worry about, Arabic. It is a matter of great sorrow that many of my people don't seem to understand that comprehending you is as important as learning to read you.
Spanish: Dear Bangla, Mandarin and I have certain grievances too.
Bangla: Yes, Spanish?
Spanish: I happen to be one of the most widely spoken languages in the world but not many of your people learn me.
Mandarin: I share Spanish's pain.
Bangla: Thank you for letting me know of the problems that you two have been facing in this country. And with that, I would like to end our discussion here. I would like to thank you all again for coming to Bangladesh on my invitation. I hope steps will be taken in this country to solve the problems that we have identified today. Now, as planned, we will go to the Shaheed Minar to remember the martyrs who sacrificed their lives for me back in 1952. Their sacrifice reminds us how important it is to preserve and cherish languages.
When he is not dealing with mood swings, Shounak Reza devours books and tea and longs for eras he has never lived in. You can contact him at www.fb.com/shounakreza