Trapped in a Hindi serial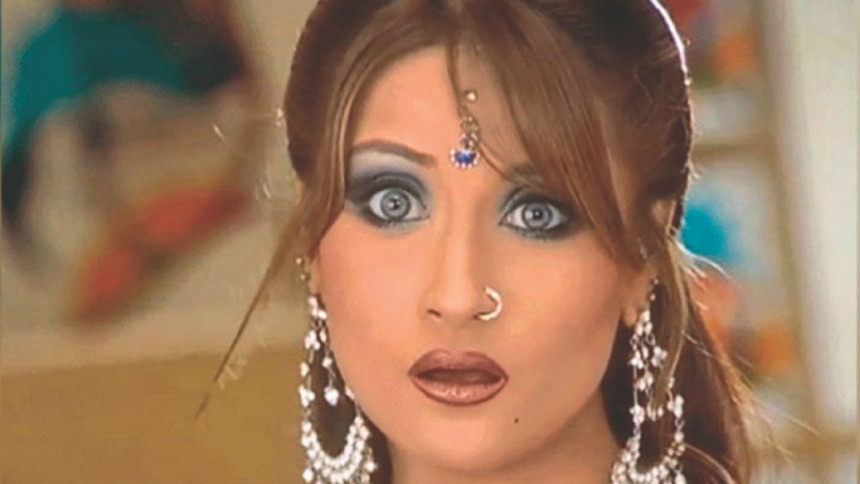 I open my eyes slowly, my mind buzzing with a myriad of thoughts, dreading at the thought of going to classes but… my room looks different. I can see a chandelier instead of a ceiling fan and several mahogany chests. The bed is huge, bigger than the Russian emperor's bed I once saw in a museum. There are seemingly expensive showpieces everywhere and my mind does not take anything in. Am I dreaming? I pinch myself and it hurts, it is not a dream. Something strange has happened. I have woken up in a museum, or perhaps a palace. I wonder how it happened but I don't get much time to ponder over it because I feel suffocated. I am trapped in layers of clothing, I have woken up in formals. I shake my head in disbelief and then go on to discover stranger things. I am wearing a watch. I have rings in three of my fingers and I also have a neck chain on... I get off the bed and look at myself in the huge mirror kept right in front of the bed. I do look the same but my face is covered with makeup.
Suddenly, I hear someone chanting "dhoom dhoom tana nana dhoom dhoom tana nana". Unsure of what is happening, I am on the verge of tears and just then the door opens. A young woman steps in.
"Hello, beta," she says.
"Erm, do I know you? Where am I?" I ask her.
"This is Ektaland, dear," she says. "I happen to be your friend's great-great-grandmother."
I wonder if I will faint in surprise now. My world does a cross-fade. "You are someone's great-great-grandmother... I thought... I thought you were my age."
"Ah beta, this is Ektaland," she says. Before I can ask her anything else, she starts crying. "Oh, you must be so devastated. His death was so unexpected..."
"Whose death? Who died?" I demand, now literally crying.
She gives me a death stare and slaps me. Once. Twice. Thrice. The sound the series of slaps produces reverberates throughout the room.  Paralysed by the shock caused by this sudden attack, I look at the young great-great-grandmother questioningly. "You don't even remember your friend died in a car crash the day before yesterday? Akash died and you have come to Ektaland to attend his funeral, you fool!" Someone starts humming a sad melody. I look around. Nobody else is here. Who exactly is humming the tune? Have I gone crazy?
My friend's ancestor suddenly smiles. "Come. The funeral will start in a few minutes. By the way, my name is Choyonika. You can call me Choyonika dadi, beta." And then someone invisible shrilly and melodiously sings, "Chikaaaaaaa... dheentana dheen tanana dheen... chikaaaaa..."
I follow Choyonika dadi to a huge living room and find a lot of people dressed in white. I am introduced to each of them and find out that there are eight generations of the family still alive, although the oldest person I am introduced to (supposedly the great-great-great-great-great-grandfather of the friend I never knew existed) looks no older than 60. Abnormality is the normalcy here and I ask no more questions.
Suddenly, the door to the living room opens and a tall man in a blue panjabi enters the room.
"Who are you, son?" Choyonika dadi asks him (and I hear someone say "Chika" in a melodious voice once again).
"Dadi... I am Akash..."
The sound of thunder shakes the house and then it stops.
Choyonika dadi slaps the man. Once. Twice. Thrice. "What sort of joke is this? Akash died a few days ago. What is wrong with your generation? Is this even something to joke about? And anyway, you couldn't be Akash. You don't look or sound like him at all."
"Dadi, I am Akash. I can prove myself. Remember how you once used an old laptop as a sandwich maker when I was three and I ate them all before anything could lay hands on them? Nobody else knows about this except you and me. Do you believe me now?"
A moment of silence and then someone invisible starts singing a sentimental vintage song.
"Akash! My great-great -grandson! You are alive!"
"Yes, dadi, the car crash couldn't kill me. Someone rescued me and took me to the hospital and paid for a very expensive plastic surgery that changed my looks, height and voice."
Everybody rushes to the Akash who has been entirely changed by the plastic surgery and I, lost and confused in the whirlwind, wish with all my heart it is just a very absurd dream.
Or do I?
Dhoomtanana dhoomtanana dhoomtanana...
When he is not dealing with mood swings, Shounak Reza devours books and tea and longs for eras he has never lived in. You can contact him at fb.com/shounakreza