HUMOUR
Here's why you should break up on Valentine's Day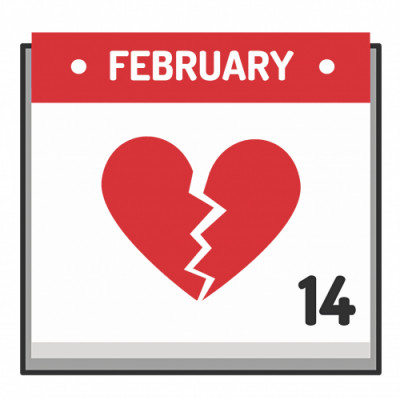 You've heard of bitter people, but have you heard of people who've broken up on Valentine's Day? I'm not saying I've heard of them or that I am a bitter person, but I thought about this a bit and with surprising ease, could come up with a bunch of reasons on why it'd be a good idea to break up on Valentine's Day.
GET BACK AT YOUR PARTNER
Cheating? Hurt feelings? Lies? Don't worry, the answer to all your problems is breaking up. Why Valentine's Day, you ask? Well, hit 'em when they least expect it. Sounds vindictive? Print out the screenshots, plan for months, and maybe write a break up vindictorian speech. The look on your partner's face will be worth all the trouble. Turn February 14th into the biggest trauma of their lives. Serves them right. Maybe then they'll finally be forced to get the therapy they needed to resolve the plethora of issues that pushed them into becoming a bad partner.
IT'S A PRANK!
You have seen multiple YouTube videos about break up pranks. You've never actually tried it. You want to, but things haven't led up to that moment yet. But there are many YouTube videos on prank break ups, how do you make your prank stand out?  Do it on Valentine's Day! If you get a bloody nose or run out of tissues, don't blame us. We warned you.
P.S. Don't back out from uploading on YouTube if you get slapped right across that pretty face of yours. Everyone has a right to have a good laugh.
BE A SOCIAL WARRIOR
Look, society has stereotyped grand gestures to be only regarding happy and positive events. Your movies and books have told you that you should either be with your loved one on Valentine's Day or be sad about not having a loved one in the first place. There is no logical reasoning as to why you should have to abide by these rules. Stand out from the crowd, stand against years of emotional abuse and societal pressure that this norm has put on you and your species and just breakup with your partner. Do it on Valentine's Day to make a point. You will pave the way for thousands of others who will be able to break out of the shackles of society. That is what true freedom looks like. 
So, if you are convinced, go buy that bouquet of flowers and tell your significant other on Valentine's Day that they are not so significant anymore.
Megha is a big fan of breakups. Please let her know how your break up goes at meghrahman26@gmail.com