Escape Route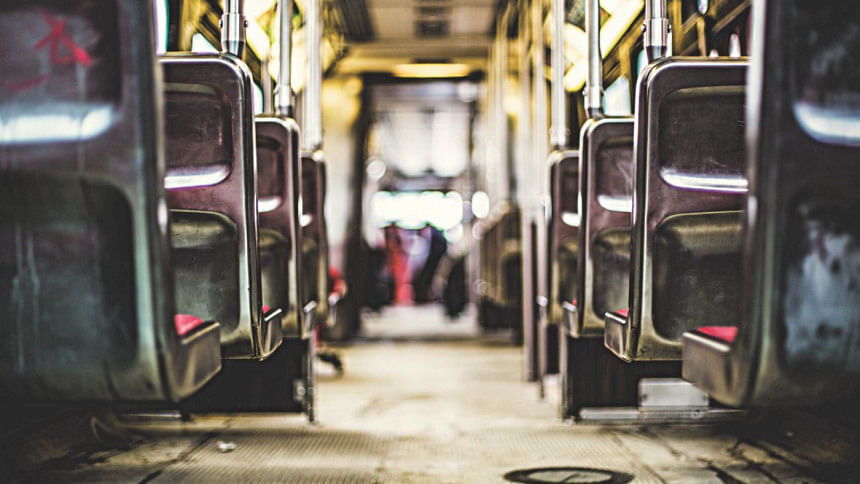 It was about 3 am when Rima realised, in a half-dazed state that the train she was on was never going to stop. It was the sort of epiphany that was bound to make someone alarmed but she realised with mild amazement that it wasn't the case. In a moment of perfect clarity she looked at the dimly lit compartment and realised that there is nowhere else she'd rather be.
A scatter of people kept the seemingly empty compartment alive. She could see a man in his 50's with his face in his hands, mumbling something she could not make out. His stark white hair had a fluorescent glow in the dim yellow light of the train. To the row beside him she saw a woman in red, trying to weave a woollen sweater. The jerking train made her prick her finger one too many times. The sweater already drenched with the dark red fluid, the woman smiled as if that was just the shade of red she was going for. Behind her, Rima could hear the voice of a man humming a song that sounded ever so familiar. Her heart ached to join in with him and sing the tune but to her surprise she couldn't remember a single word of it.
Rima started recounting the chain of events that led her here. She realised that all her memories were getting fuzzier with every passing moment. She tried to recreate her memories in her mind and walk through them. She could see an old house, chunks of its white paint crusted off, old bricks exposed like an open wound. She could see herself behind the grills of a room in the corner, her eyes seeking… escape? Before Rima could remember, the vision changed. She was in a room, bringing dinner to a man she didn't want to remember. His face held no expression, his words bore no edge, and yet Rima could feel the trickle of happiness in her mind fade away at the very thought of that room.
The next memory in her head came in like a fresh air that reverberates in your lung. She saw herself in the train station. Looking behind her, half scared that some familiar face will pop up. Her mind tried to calm itself down by focusing on the hypnotic tick of the grandfather clock beside her. Rima watched herself wait for the midnight train to take her away, away from today.
Rima snapped back to reality. The cold wind rushing at her face pricked her face like needles. No one needed to tell her anything. The old man was looking at his hand, resigned to his fate and the disease eating away at him. His face was shrouded with the calm of acceptance. The woman in red looked at the half-woven sweater in her hand. Never to be worn by the kid who was just not coming back. Red was always his favourite colour. After a moment of silence, the man behind Rima began humming another tune. The words began to flow through her as she raised her voice to finally sing along as the midnight train tore through the nightscape.