Testing the Strategic Mettle of the Youth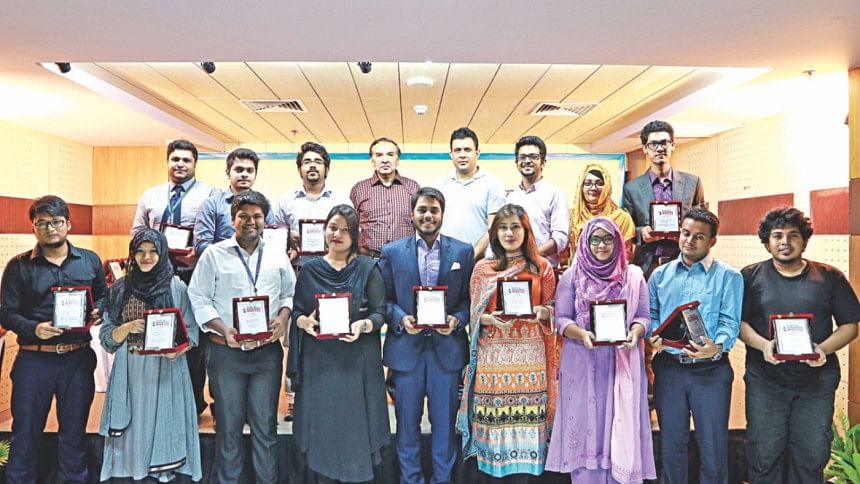 Strategy Master, an initiative by The Daily Star, is a business competition that aims to test the strategic business acumen of its participants. The challenge offered the youth of the country the opportunity to connect with various corporate leaders and digital media entrepreneurs. The event was powered by Bangladesh Brand Forum, exclusively focusing on digital media.

Each university handpicked 3 to 5 teams for the challenge, who then received a case via email. The teams were given 24 hours to come up with a solution, complete with a PowerPoint layout, to present to the judges. After deliberation, the judges announced one team as winner from each university. 



The event took place from April 4 to 19, on selected university campuses across Dhaka. Out of a total of 30 teams, 6 were announced winners, representing the leading universities of Bangladesh.



The judging panel included some of the most influential corporate leaders, entrepreneurs and faculties, such as Shiblee Shakik Ahmed, Head of Marketing MMDS, South East Asia New Markets, Microsoft Corporation; Ovick Alam, CEO, WebAble; Dr. A.N.M. Shibly Noman, Associate Professor, Independent University Bangladesh (IUB); Solaiman Shukhon, Head of Marketing (Brand & Product Development), Aamra Networks Ltd.; Taslim Abedin Chowdhury, Retail Manager, DHL Express Bangladesh; Francis Gomes, Senior Business Development Manager, Eastern Bank Limited; Tajdin Hassan, Head of Marketing, The Daily Star;  Shuvashis Roy, Strategic Project Planner, The Daily Star; and Rishad Sharif, Demand and Supply Planning Manager, GlaxoSmithKline Bangladesh Ltd.

The following teams were announced winners of "The Daily Star Strategy Master 2016":

Independent University-Bangladesh (IUB)



Team: The Maverick Invaders

Sadman Samad Sad

Zobaydul Goni Ifat

Noor Nayeem Hasnat Farhan

American International University-Bangladesh (AIUB)



Team: Squad of Gladiators

Typhoon Khan

Ahmed Ishtiaq Zadid

Shamma Rahman

Jahangirnagar University (JU)



Team: Talons

Md. Fahimul Islam

Al Yousuf Hridoy

Sumaya Shamsad

North South University (NSU)



Team: Incredibles

Rubaiyat Shams

Sheikh Asadur Rahman

Ali Asgar

Dhaka University (DU)



Team: The Holmes Sapiens

Mobassira Fabiha Haque

Ananta Prosad Paul

Parbon Acharjee

BRAC University



Team: The X Factor

Ishrak Ahmed

Siffat Manjur

Shamima Tajrian



The award presentation ceremony was held at The Daily Star Centre. The winners received crests, certificates and the unique opportunity to attend the Bangladesh Brand Forum Leadership Summit 2016 at Radisson Blu Water Garden Hotel Dhaka. 

Mahfuz Anam, Editor and Publisher of the Daily Star, and Shariful Islam, Founder and Director of Bangladesh Brand Forum, presented the awards to the winners. During his speech, Mahfuz Anam stressed that "hard work, commitment, honesty, and dreams" are the fundamentals we must live by in order to be successful. 

Ecstatic with the results, the winners were in high spirit. Shamma Rahman, from the winning team of AIUB, said, "Even though it wasn't an extensive competition, I have learnt much from this experience – most importantly, how to analyse problems and implement ideas." 



Al Yousuf Hridoy, from the winning team of JU, said, "I have to thank The Daily Star and Bangladesh Brand Forum for giving me this opportunity. Through this Challenge, I've been given the tools to tackle any problem calmly and efficiently. It's been a valuable life lesson."
Mithi Chowdhury is a dog-loving-movie-watching-mediocrity-fearing normal person. Either that or a penguin. Find out at [email protected]