BANGLADESH ONLINE UNIVERSITY (BOU): Excellence out of Necessity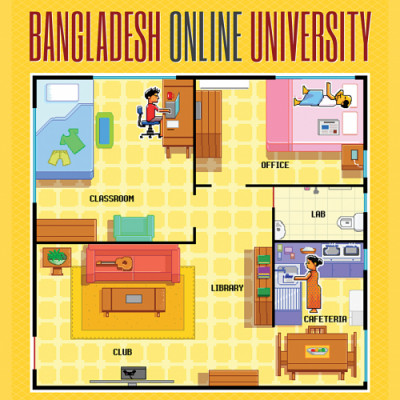 Established very, very recently amidst the global Covid-19 pandemic of 2020, Bangladesh Online University (abbreviated affectionately as BOU) is a latest state-of-the-art international education institution based in—you guessed it—your home!
BOU promises to deliver world-class quality education to its students while making sure that they do not have to step outside the safety of their own humble abodes. It is the first-ever hybrid and online university of Bangladesh, and perhaps the entire world, meaning that it has successfully managed to merge the culture and ideologies of both public and private universities, that too without a physical campus.
About BOU
BOU was founded just last week by a group of overly enthusiastic students and elite academicians, who cannot be bothered enough to wake up for 8 AM classes. Thanks to their insightful thinking and foresight, and the cancellation of all on-campus academic activities due to the shutdown, BOU was brought into the academic scene of the country and has managed to quickly become an integral part of the country's education system.
BOU is accredited by the renowned association Universal World Universities (UWU), and approved by the Ministry of Online and Social Media Based Education. BOU, in this short time, has managed to affiliate with various local and international educational institutes like Hogwarts School of Witchcraft and Wizardry, The Academy of Abstract Arts, Starfleet Academy, South Hatirjheel Institute of Technology, Bidirectional University, and many more.
Vision
"To become the best university in Bangladesh—online and offline—and to mould its students into ideal netizens who will become leaders of the new normal."
Although the university administration conceded that they cannot see beyond the current state of affairs, they are going with the aforementioned words as their vision.
Mission
"BOU promises to deliver quality education right to your room. Our motto is 'Excellence out of Necessity', which refers to the timely establishment of this esteemed institution, and how it was a necessary step that had to be taken for the sake of our nation's education. Our mission is simple, but difficult as it will thoroughly push our individual patience as well as our internet bandwidths to the maximum. However, we will leave no stone unturned in our quest for excellency. We will produce the best skilled personnel the world has ever seen. Our keyboard warrior graduates will lay waste to all the threads and comment sections on the internet. BOU shall dominate online education for months to come."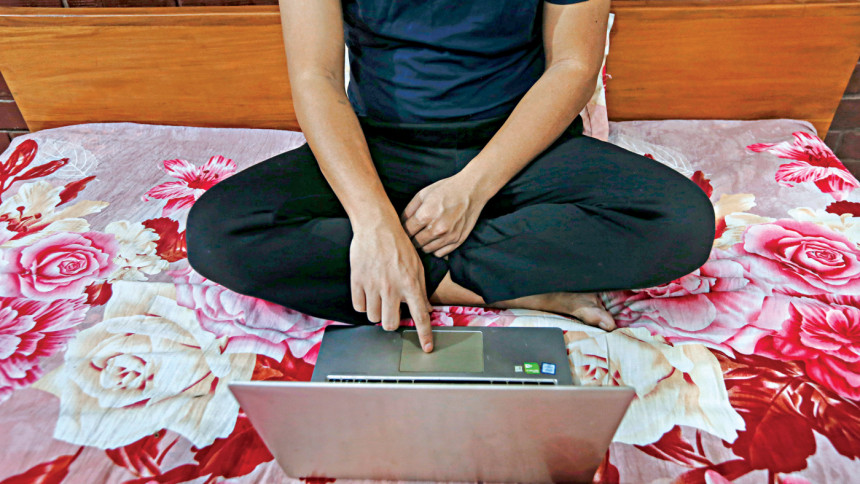 A Message from the Chairman, Board of Trustees
I remember reading online that Newton said "Everybody is a genius. But if you judge a fish by its ability to climb a tree, it will live its whole life believing that it is stupid", which is why, instead of judging our student's ability to climb a tree, we are about to judge them by their broadband speed. BOU has been established to impart quality education amongst its pupils. We are fully capable of catering to the needs of our students through Zoom, and are more than ready to provide filters to help them face the challenges posed by the new normal.
~ Amar Bari, Chairman, Board of Trustees, BOU
A Message from the Vice Chancellor
I am extremely delighted to have been invited to be a part of this wonderful university. BOU will surely be making some amazing strides in the field of global online education. We have some of the most excellent teaching facilities in the world. Unlike any other basic university, our academic curriculum consists of courses which will help the students in the "real" world. The degree programs we offer are unique, and cannot be found anywhere else. You cannot even MOOC this. No adversity can prevent us from continuing our academic activities. We are ready to take the responsibility of your education, and to turn you into WFH industry leaders and entrepreneurs.
So come, learn with us, as we take you on the journey of your lifetime. I welcome all to BOU.
~ Prof. Dr. Engr. John Cook, MBA, FCA, Vice Chancellor, BOU
The following are the programs offered by BOU under its various departments, along with their respective graduation requirements.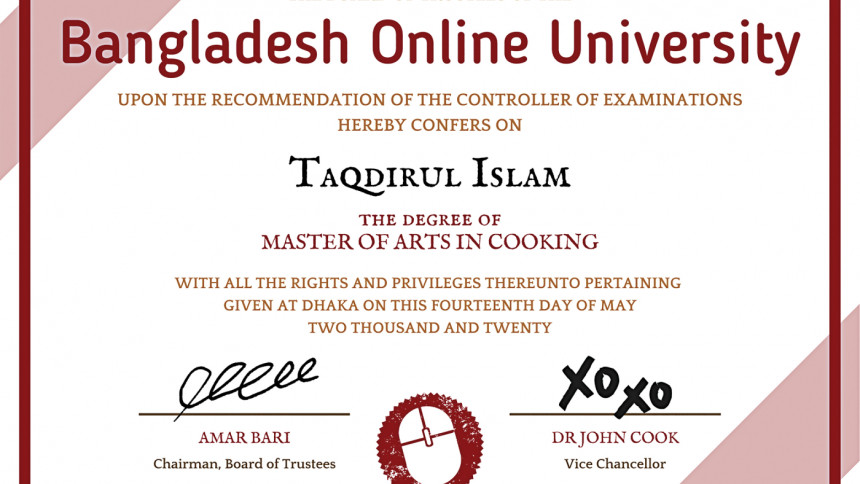 Undergraduate Programs
Bachelor of Arts in Cooking: Cook sehri and prepare iftaar for a whole week without burning your house down.
Bachelor of Arts in Home Cleaning (Majors offered: Dishwashing, Bathroom Cleaning, etc): Do the dishes for an entire month without breaking more than five items. Clean the bathroom tiles in such a manner that you can see your face and future in them.
Bachelor of Arts in Video Call Management: Complete 10 consecutive video calls without forgetting that you are not wearing a shirt, or that your hair is home to a lovely pigeon family.
Bachelor of Science in Netflix: Pick a series, and finish it on the same day. Note: Whatever you pick cannot be shorter than three seasons, and each episode must be at least 40 minutes long.
Bachelor of Science in Sleep Studies: Forget what the sun looks like.
Bachelor of Business Administration (Majors offered: Online Shopping): Purchase a legitimate product online and maintain proper precautions while receiving it. Exams held in quality of written review.
Bachelor of Engineering in WiFi Router Maintenance: Troubleshoot your WiFi router without physically abusing it.
Graduate Programs
Master of Arts in Cooking: Cook sehri and prepare iftaar for a whole month, including hosting an online iftaar party. For your final thesis, compose a report as to why chikon jilapi is better than the mota jilapi.
Master of Arts in Home Cleaning (Majors offered: Floor Sweeping and Mopping, Detergent Science, etc): Keep your house as clean as you can. Mothers will act as special guest proctor during final examination.
Master of Engineering in WiFi Router Maintenance: Change the router's access credentials every time the speed goes down, such that the only one who can access it then is you. Feel free to change the credentials once you are done with your work.
Master in Movies, TV Series, and Anime: Watch any movie except Extraction and an entire season of any TV series except Friends, every day. For your final thesis, binge watch One Piece and finish it within three days.
Research Opportunities
BOU is currently conducting research in a wide range of areas. Some of our most interesting ongoing research projects include the study of the sleeping millennial, why rumours on the internet get parents more excited than the sight of their own children, the psychology behind families on WhatsApp groups, how long a distance can a long distance relationship go during a global pandemic, and so on. Our research on creative Zoom backgrounds has been selected for an international award.
Faculty Members
BOU hires only the best personnel for its teaching staff, which is why most of our faculty members are Facebook group admins, Instagram influencers and BOU graduates. Our faculty members are very smart and cooperative, but most importantly, they are the personification of the term "tech-savvy". They will in no way burden you with quizzes and assignments. Feel free to join the live classes whenever you wish, because we do not care about your attendance.
Admissions related FAQs - Local and International Applicants
What are the admission requirements? Willingness to study, and a stable internet connection.
How do I take part in the admission test? No admission test. Just create an account, pay the fees, and you are good to go.
Do you offer waivers and scholarships? No, but we do offer discounts to early applicants.
What are the tuition fees? Reasonable and non-negotiable.
Campus Life
BOU is the creator of the patented Infinite Campus™ that exists in the infinite cyberspace, but also manifests in your home. Our campus is housed in servers spread across the whole of Bangladesh, as well as many other countries. We at BOU believe that by eliminating the need for a physical campus, and conducting all sorts of academic activities online will allow our students to focus more on their studies and less on the unnecessary joys of studying at a university. Besides, this will also save them time and money otherwise wasted on daily commute to and from the campus. Please refer to the cover illustration for a clear picture.
Club Activities
BOU encourages its students to engage themselves in different activities offered by its various clubs and online forums. Some of our most prestigious clubs include the BOU Memers Association (BOUMA), the Quarantine Forum, BOU Ludo Society (BOULS), World TikTok Forum of BOU (WTFBOU), and so on. Each club is a family in itself; there is no politics. Members are brothers and sisters. Our flagship event is a 72-hour long diplomacy conference over Zoom, the BOU Model United Nations (BOUMUN). We believe that by maintaining regular interaction with the club members, and participating in the club's General Body Meetings, students can foster all the skills necessary to stop themselves from losing their sanity during this period of lockdown.
Why study at BOU?
BOU is committed to deliver proper and timely education to its students. We will not only prepare you for the career options available in the new normal, but will also help you excel in those fields. So join us to experience a new form of education from the comforts of your home, something you have always wanted to do.
Enroll at BOU. Admissions going on until further notice.
Faisal wants to be the very best, like no one ever was. To stay home is his real test, to survive the pandemic is the cause. Write to him at abir.afc@gmail.com