Volunteer Opportunities & Humanity Worldwide award five social welfare initiatives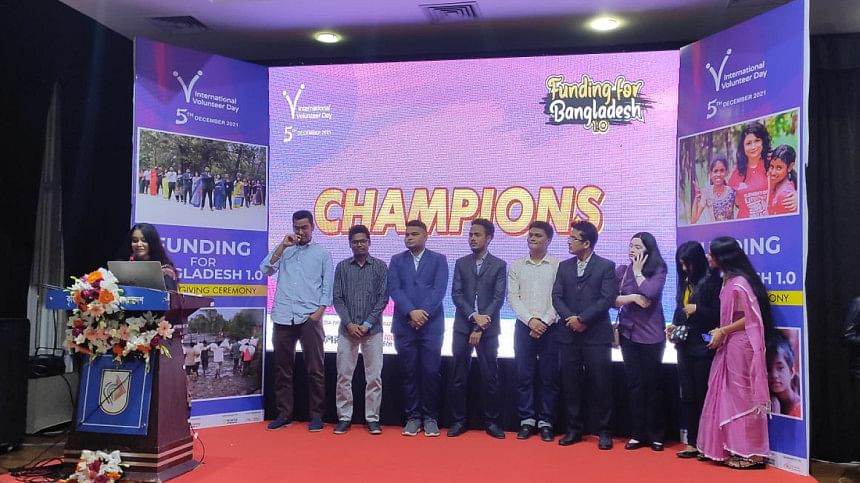 Volunteer Opportunities organised the award-giving ceremony of Funding for Bangladesh - 1.0 on December 23 at Krishibid Institution Bangladesh (KIB). to support social development workers overcome various social and financial obstacles. 
A total of five winners were selected, each from a category: Science Bee from education, Nandita Surakkha from women empowerment, Arise Help for Child Foundation from health, Dhrubotara Youth Development Foundation from peace, and Patuakhalibashi from poverty.
BIGD executive director Dr. Imran Matin, UNDP Head of Communications Md Abdul Qayyum, Innovation Consulting Pvt. Ltd. managing director Md. Rubaiyat Sarwar, I'Social  founder and CEO Ananya Raihan, and Humanity Worldwide Foundation founder Rashed Mujib Noman were present as special guests at the event.
Also present on the panel of judges were Sajida Foundation's senior coordinator Sarah Iqbal, IDLC Group CMO Jane Alam Rommel, Rotary Club of Dhaka Kawran Bazar's charter president Ahmed Farooq, and deputy manager of Olympic Industries Ltd. Safiullah Al Azad, Deputy Manager, Olympic Industries Ltd., CSR.  
Volunteer Opportunities founder Mithun Das Kabbo said, "In our country, the culture of idea competition of such social welfare initiatives is not very prevalent. This initiative is to spread this culture and encourage such events across the country."
Md. Abdul Qayyum said, "Every initiative needs to be planned, implemented but most importantly followed up."
Dr Imran Matin said, "All the doctrines and literature related to volunteerism are made only by the scholars of the East, which have very few instances in Southeast Asia. We need to focus on creating our own literature if we are to succeed and make our work more dynamic."