Seminar Titled "Turkey and Bangladesh Development Partnership" held at UIU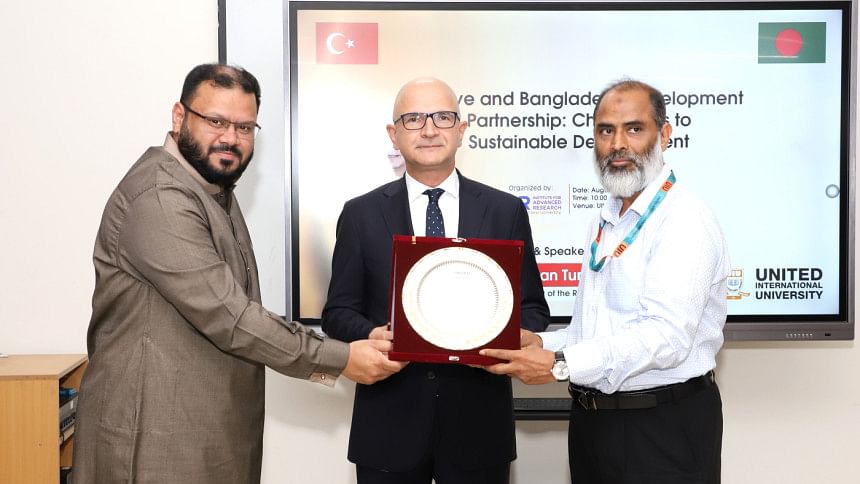 A Seminar on Bangladesh-Turkey development partnership talking about the challenges of sustainable development organised by the Institute for Advanced Research (IAR) of United International University (UIU) was held yesterday at UIU Campus.
His Excellency Mustafa Osman Turan, Ambassador of the Republic of Turkey in Dhaka, Bangladesh was present as the Chief Guest. United Group Chairman and Managing Director Moinuddin Hasan Rashid and UIU VC (In-Charge) Prof. Dr Md. Abul Kashem Mia were present as the special guests. IAR Executive Director and former UIU VC Prof. Dr M. Rezwan Khan presided over the ceremony.
The Chief Guest said, "Bangladesh and Turkey have many similarities in tradition and culture. In the future, Bangladesh and Turkey will jointly work on research and development in different sectors including education, health, industry and technology which will play an important role in sustainable development and the good relationship between the two countries will grow." He also expressed optimism that new opportunities will open in the research of both countries through collaborative research and exchange of teachers and students of the two countries.
Former UIU VC Prof. Dr Chowdhury Mofizur Rahman, UIU Registrar Dr Md. Zulfiqur Rahman, Deans of different Schools, Heads of Departments, teachers, students, high officials and invited guests were present in the seminar.