ISU hosts freshers' reception fall 2022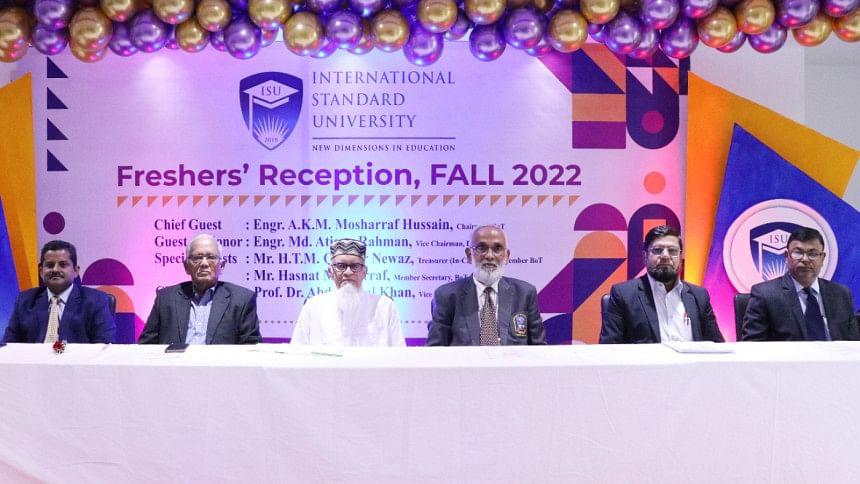 International Standard University (ISU) held its freshers' reception for fall 2022 at its Mohakhali campus on November 10 under the chairmanship of ISU VC Prof. Dr Abdul Awal Khan. The BoT Chairman Engineer A. K. M. Mosharraf Hussain was present as the chief guest along with BoT Vice-Chairman Engineer Atiqur Rahman as the guest of honour.
Engineer Mosharraf said that in order to develop students as good people, teachers should fulfil their duties as well as students should utilise their time wisely. He added that there is no alternative to education for the development of the country. So, he urged the young students to fulfil their responsibility towards the country by getting proper education.
Engineer Atiqur stated there is no alternative to learning for development and survival in the current competitive world. He also requested that parents and teachers keep an eye on students to ensure that they use technology reasonably. He thanked the freshers for their well-considered decision to attend ISU. 
Prof. Dr Abdul Awal Khan emphasised that ISU is determined to create and maintain a student-friendly environment through modern classrooms, labs, quality teachers, and also theoretical, practical, and co-curricular activities. He pointed out the appropriate initiative of ISU to increase English language skills of the students. He also mentioned that the university offers part-time jobs to the undergrads and full-time jobs to the post-graduates according to their qualifications.
Treasurer (In-charge) H.T.M. Quader Newaz was present as a special guest. ISU Registrar Md. Lutfor Rahman gave a welcome speech at the ceremony. Faculty of Humanities and Social Sciences Dean and English Department Chairman K. Ahmed Alam was also present and addressed the meeting. English lecturer Sultana Mushfika Rahman anchored the ceremony. 
Among those present were Business Administration department Chairman Dr Oli Ahad Thakur and Associate Professor Mohammad Ali, CSE department Chairperson Syed Mostafizur Rahman Chowdhury, and Textile Engineering department Engineer Abdul Based Miah.
Teachers, students, and administrative officers also attended the event. The program ended after a wonderful cultural program organised by the students.