East Delta University hosts Econobrium 1.0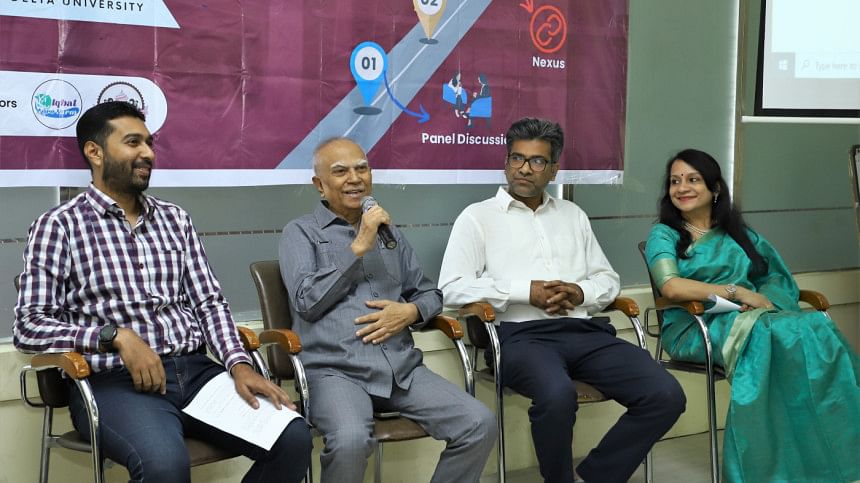 On December 8, the Department of Economics at East Delta University (EDU) launched its first-ever day-long celebration of Econobrium 1.0.
Econobrium 1.0 was inaugurated under the tagline "Thinking sustainability, for a better future" as the department believed that this was a crucial matter of the moment that required immediate attention. 
The event was segmented into a few interactive sessions which included a panel discussion, Quizonomics, Nexus, Econ Show, Food and the Creative Economy and finally the awards and felicitation ceremony.
Panel Discussion
Imminent stalwarts of academia were invited to address the pressing topic of sustainability where issues like education, gender equality and environmental conservation were addressed. 
Panellists highlighted the UN Sustainable Development Goals and educated students on the position of Bangladesh in the achievement of these. The group of panellists included EDU VC Prof. Muhammad Sekandar Khan; School of Business Administration Professor & Associate Dean Mohammad Rokibul Kabir, PhD; Department of Economics Associate Professor Dr Naim Uddin Hasan and Assistant Professor Ananya Nandy. The session was moderated by Economics Department Assistant Professor Tasmeem Chowdhury Bonhi.
Quizonomics
Students participated in a competitive quiz session, where they were tested on the basics of microeconomics and macroeconomic principles and applications. Participants were given a time frame of half an hour to answer 20 questions and the top three scorers were awarded at the end of the event.
Nexus
In this segment, students conducted presentations on the situation of global economies post Covid-19. The preliminary round of this segment was held in advance, and it was the finalists representing the economies of India and Sri Lanka that were presented on the day of the event itself. 
Team Ecosyndicate was declared the winner of this segment.
The Econ Show, Food, and the Creative Economy
Food and the creative economy showcased the students' brilliant culinary skills as well as their creative abilities. Games were also included in this segment. Students from the Economics department showcased their "outside the classroom" talents in front of an eager audience. 
The Econshow included magic shows, musical performances, and highly dynamic dance performances.
It is worthy of mentioning that all the students and faculty ensured that the event was conducted in the most sustainable of manners, with all decor currently being re-used. The success of this inaugural program is just the trailer for the greater events that this university and its Economics department as a whole are likely to host in the years to come.