DPS STS School to organise DPS STS Chef Minister – The Biggest Cooking Competition for Mothers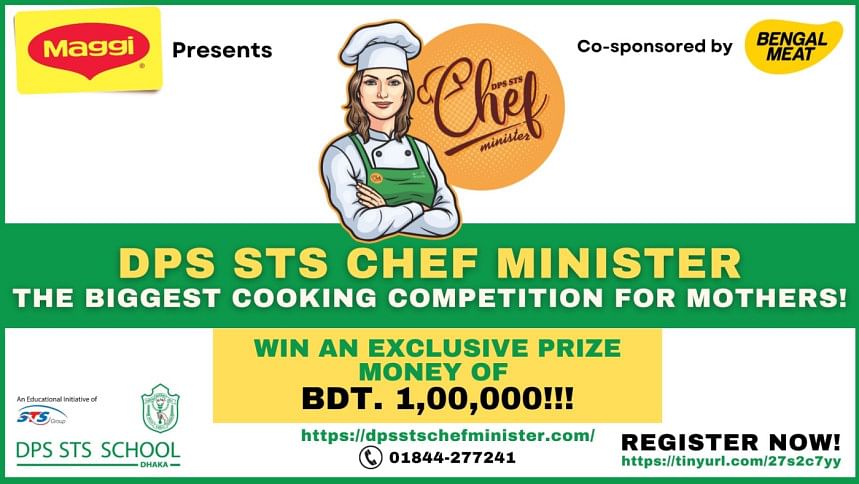 DPS STS School Dhaka is set to organise the biggest cooking competition – Maggi presents DPS STS Chef Minister - Professional Cooking Classes for Mothers, co-sponsored by Bengal Meat. The first workshop of the event is to be held on February 27, and is targeted towards mothers interested in showcasing their home-taught cooking skills.
Interested mothers can register for this grand cooking workshop conducted by some topmost chefs of Dhaka city for free. The 3-month long event will comprise of three online cooking workshops and an in-person competition in the Gala round.
The Grand Finale will be held in-person after the three workshops where the champion will be presented with a professional certificate and trophy along with the exclusive prize money of BDT 100,000. Attendees will also receive free professional certificates upon completing the three initial sessions. Attendance in at least 1 workshop is mandatory to qualify for the grand gala competition. 
In this regard, DPS STS School Principal Dr Shivananda CS said, "The DPS STS Chef Minister is aimed at exploring the unique home-taught cooking skills of mothers and facilitating their journey towards becoming professionals at the hands of seasoned chefs of Dhaka. Through this workshop and competition, we hope to find Dhaka's best food talents while also inspiring millions of others to believe in themselves and their food."
DPS STS is extremely happy to introduce 'Maggi' as the title sponsor and 'Bengal Meat' as the co-Sponsor of the event. 
For registration, visit https://tinyurl.com/27s2c7yy. Seats are limited. 
To know more, visit https://dpsstschefminister.com/.