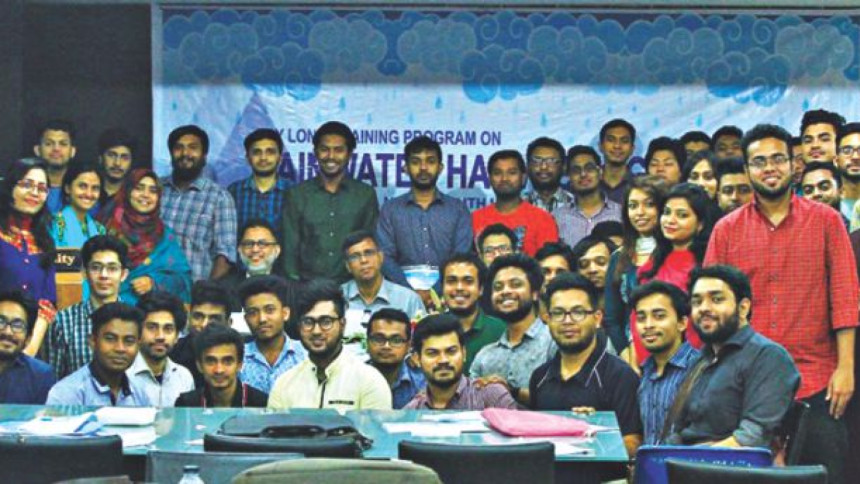 DCEE of NSU organises seminar and workshop on sustainable water management and rainwater harvesting system
Department of Civil and Environmental Engineering (DCEE) of North South University (NSU) organised a 2-day programme on rainwater harvesting technology, with an inaugural seminar titled "Sustainable Water Management in Bangladesh: Challenges and Opportunities" on March 5, 2018.
Prof. Dr. GU Ahsan, Pro-VC (Designate) & Dean, School of Health and Life Sciences, NSU, was the chief guest. Prof. Dr. Arshad M. Chowdhury, Dean, School of Engineering and Physical Sciences (SEPS), NSU, chaired the session. The keynote speakers of the seminar were Dr. Abdullah Al Muyeed, WaterAid Bangladesh; Syed Azizul Haq, President, RAiN Forum; and Ashraful Alum Ratan, Secretary, RAiN Forum. Dr. Nazmun Nahar, Associate Professor, DCEE and Director of Institutional Quality Assurance Cell (IQAC), NSU moderated the session.
In his welcome speech, Dr. Mohammad Nazmul Islam, Professor & Chair, DCEE, thanked the guests and offered his full support for the programme. In the keynote speech, Dr. Abdullah Al Muyeed presented on the sustainable water management opportunities and also narrated the history of WaterAid in the WASH (Water, Sanitation & Hygiene) sector as well as the birth of RAiN Forum. Syed Azizul Haq talked about future studies, research and collaboration with RAiN Forum and emphasised on the importance of rainwater harvesting. In the concluding part, Dr. Nazmun Nahar shared some of her recent research project topics related to rainwater harvesting, followed by a lively Q&A session.
On the second day, a day-long training session was organised on "Rainwater Harvesting System" sponsored by WaterAid Bangladesh. Dr. Anwar Zahid, Deputy Director, Bangladesh Water Development Board; Syed Azizul Haq and Ashraful Alum Ratan from RAiN Forum; and Jubaida Gulshan Ara, Senior Lecturer, Dept. of Architecture, Southeast University were the facilitators. A total of 65 Students from DCEE and the Dept. of Architecture participated in the training. In the closing ceremony, Dr. Md. Liakat Ali, Director, Program and Policy Advocacy of WaterAid was present as the chief guest.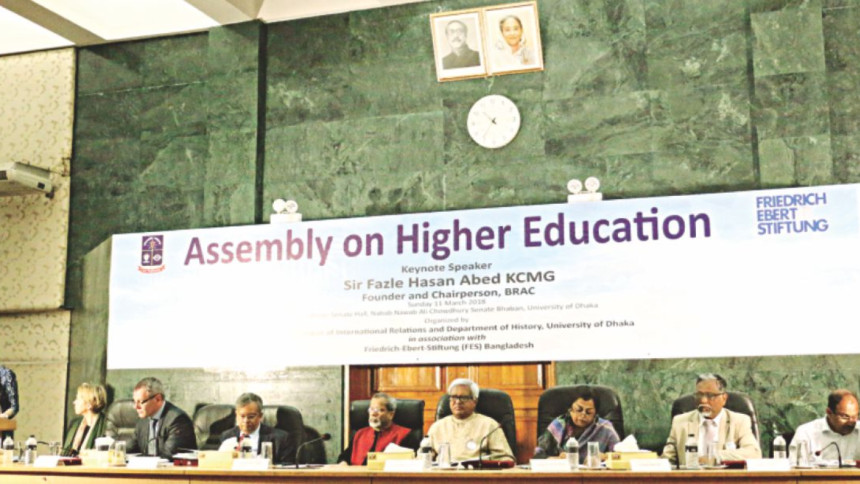 Sir Fazle Hasan Abed KCMG advises to focus on higher education
On March 11, 2018, Sir Fazle Hasan Abed KCMG urged giving special attention to higher education through incorporating inclusive equitable learning and ICT to achieve a double-digit growth and the Sustainable Development Goals.
He gave a keynote speech at "Assembly on Higher Education in Bangladesh" in Nabab Nawab Ali Chowdhury Senate Bhaban of the University of Dhaka. The event was organised by the Department of International Relations and the Department of History of the University of Dhaka in association with Friedrich-Ebert-Stiftung (FES) Bangladesh.
Sir Fazle Hasan Abed emphasised on developing better students for universities nurtured by knowledgeable teachers, who in effect have to be role models. Prof. Imtiaz Ahmed of the Department of International Relations gave the welcome address. FES Bangladesh Resident Representative Franziska Korn and German Ambassador to Bangladesh Dr. Thomas Prinz also presented their remarks at the event.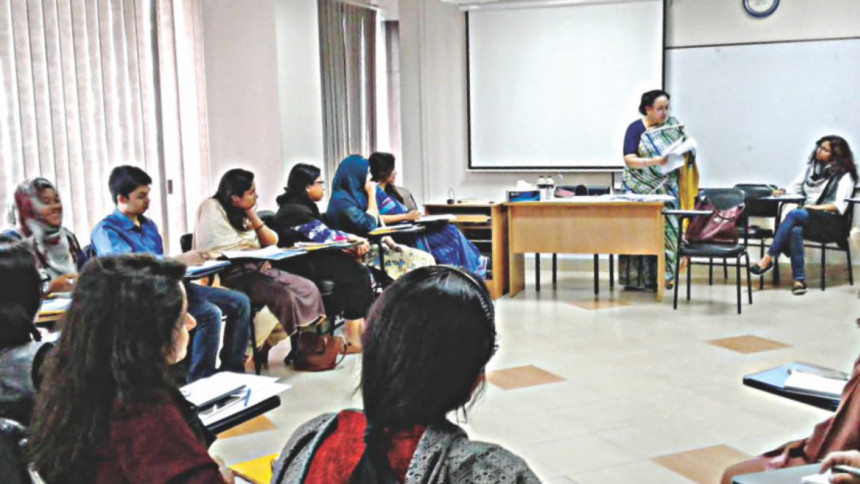 ULAB holds Creative Writing Certificate Course
The Department of English and Humanities at ULAB just wrapped up a six-week long Creative Writing Certificate Course, the first of its kind in the country. Focusing on different literary genres and editing, the workshop-based course was facilitated by renowned writers and literary figures of the country.  The workshop targeted creating talents that require nurturing and proper environment along with the right kind of feedback.
Dr. Kazi Anis Ahmed inaugurated the workshop with an Introduction on Creative Writing, and the others followed. The course was launched amidst much expectations and enthusiasm on January 26, 2018. Among the facilitators, there were Dr. Syed Manzoorul Islam, the winner of this year's Ekushey Padak; acclaimed poet Dr. Kaiser Haq; writer and translator Dr. Fakrul Alam; and the English Department Head Dr. Shamsad Mortuza. Razia Sultana Khan, Khademul Islam, and Syed Badrul Ahsan shared their expertise with the participants. Two faculty members of DEH, namely Dr. Sohana Manzoor and Rubaiyat Kabir also facilitated in the programme. On March 2, Prof. Niaz Zaman and Arifa Ghani Rahman concluded the workshop with separated sessions on editing and publishing.
DRMC Science Club organises 11th National Science Carnival 2018
DRMC Science Club arranged the largest national science carnival in Bangladesh for the 11th time, from February 8-10, 2018. Nasrul Hamid Bipu, State Minister of the Ministry of Power, Energy and Mineral Resources, was present as the chief guest in the inauguration ceremony.
Distinguished scientist Dr. Mohammad Ali Asgar; Editor of "Biggyan Chinta" Abdul Qayium; and Farhana Rashid, Co-founder of Bhumijo Group, were present as guests. The programme was presided over by Brig. Gen. Sheikh Shariful Islam, Principal of Dhaka Residential Model College.
This year there was a total of 14 Olympiads, including a remarkable photogaphy exhibition. Robotics Competition (LFR) was organised for the first time which was a huge success. Team from Dhaka University took the championship and Ahsanullah University of Science and Technology was the runner-up. Other events included gaming competition and Marvel vs DC Quiz. Moreover, there were programming contest, chess competition, project display, and a Rubik's cube competition. More than 200 students participated in these events.
Author Anisul Hoque visited the carnival and awarded prizes to the winners. Dr. M. Kaykobad was present as the chief guest at the closing ceremony of the event.
Representative from Montpellier Business School, France visits AIUB
Gaelle Enjalric, Deputy Director of International Admissions & Asia Development Manager, Montpellier Business School, France visited AIUB on March 6, 2018. She toured the campus and met Dr. Carmen Z Lamagna, VC of AIUB. Later, she exchanged views and discussed the possibility of future collaboration between AIUB and Montpellier Business School with the Deans of the Faculties, Registrar, Programme Directors, and Office of Student Affairs. She also gave a brief presentation about Montpellier Business School.
Prime University welcomes students of Spring 2018 semester
On March 9, 2018, a freshers' reception was held by Prime University for the newly enrolled students under Spring 2018 semester. The function was presided over by Prof. Dr. M Abdus Sobhan, VC, Prime University. Mir Shahabuddin, Chairman, BOT was present as chief guest. Md. Ashraf Ali, Senior Vice Chairman; Nripen Maitra, Vice Chairman; Ashfaque U Chowdhury, Member, BOT; Treasurer Md. Arshad Ali; Registrar M A Jabber; Deans of different Faculties; Controller of Examinations; Heads, Faculties, Executives; students and guests were present in the function.
The academics and extra-curricular activities of the university were explained to the students. There was also a cultural show organised by the cultural comittee and participated by the students and teachers.