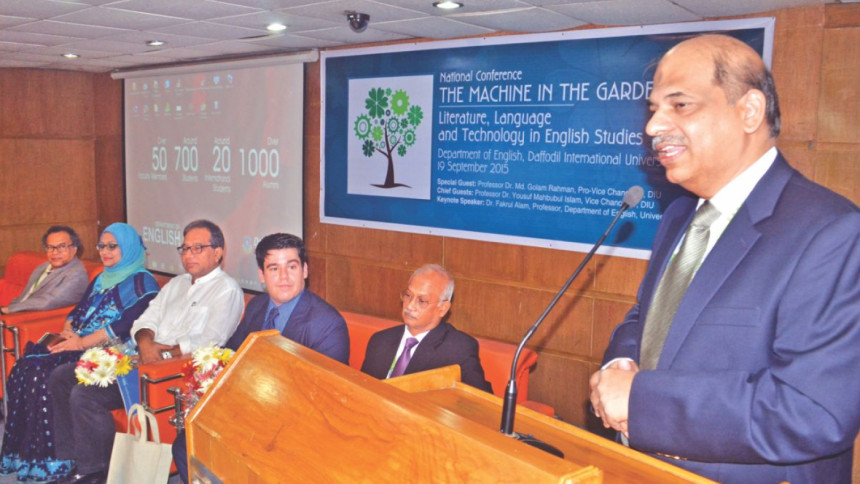 DIU holds national conference 
DIU held a national conference on "The Machine in the Garden: Literature, Language and Technology in English Studies" on September 19, 2015 at Daffodil International University Auditorium. 

Speakers said that technology itself is a language like English and these two are complimentary to each other. Technology has become an inseparable and indispensable part our everyday life and it has secured its place in our class rooms, no matter which discipline we belong to.
English Department of DIU organised the national conference. Dr. Fakrul Alam, Professor, Department of English, University of Dhaka shared the keynote speech during the daylong conference. Prof. Dr. Yousuf M. Islam, VC, DIU inaugurated the  conference as the chief guest while Prof. Dr. M. Golam Rahman, Pro-VC of DIU and George Mesthos, Cultural Affairs Officer of the American Center of  Embassy of the USA were present as the special guests. The inaugural session was also addressed by Umme Kulsum, Conference Convener and Head, Department of English and Prof. Dr. Shusil Kumar Das of DIU. 
The panellists of the conference were Prof. Claire Bradin Siskin, English Language Specialist of DIU; Dr. Arifa Rahman, Supernumerary Professor, IMI, University of Dhaka; Prof. Dr. Khaliquzzaman M Elias of NSU; Dr. Shireen Huq of NSU and Prof. Dr. Shamsad Mortuza of University of Dhaka. Thirty three papers of 42 presenters from 16 different public and private universities were presented at the daylong conference.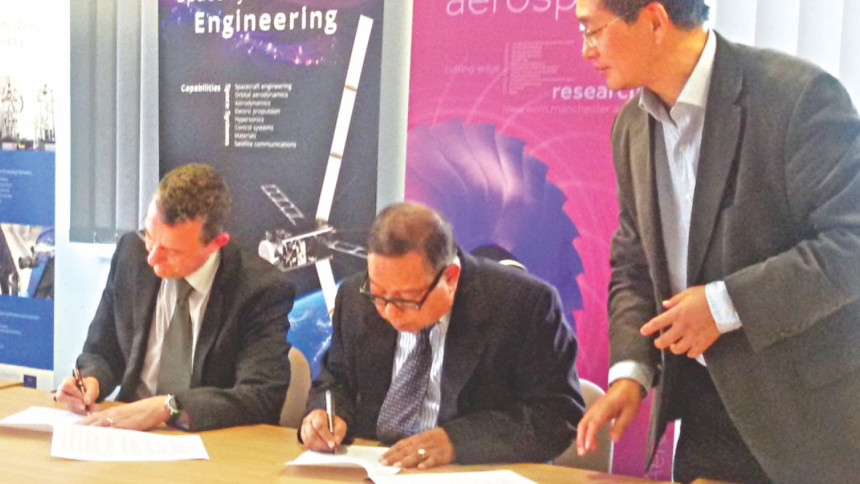 SEU signs MoU with University of Manchester
An MoU was signed between Southeast University (SEU) and the University of Manchester, UK on August 18, 2015 aimed at enriching intellectual capabilities through exchange of knowledge. The signing ceremony was held at the campus of the University of Manchester, where VC of SEU, Prof. Anwar Hossain; Dean, School of Science & Engineering of SEU, Prof. Syed Fakhrul Hassan and Head, School of Materials of the University of Manchester, Prof. William Sampson were present. 
Under this MoU, educational exchange, scholarship, students and faculty exchange, cooperation in joint undergraduate degree programme and study at Masters level at the University of Manchester for the eligible students of SEU have been agreed.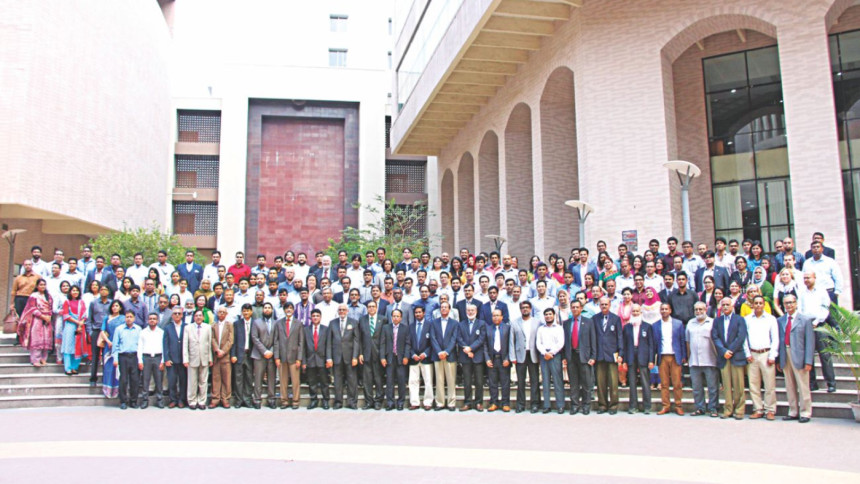 Faculty orientation ceremony at NSU
To introduce all faculty members, NSU organized an orientation ceremony on September 18, 2015 at Bashundhara campus and the BOT Chairman, NSU, M. A. Kashem addressed to the gala gathering of more than three hundred local and foreign faculty members as the chief guest. He said, "There was a time when Bangladeshi students used to go abroad for higher studies. Now the time has changed and higher education system in Bangladesh developed periodically with vision and meeting demands of time. Students as well as faculty members are coming to Bangladesh from abroad. North South University has become an example where foreign students and faculty members are coming to learn and teach every semester from USA, China, Netherland, Nepal, Sri Lanka, Pakistan, Somalia, Myanmar, etc." Prof. Gour Gobinda Goswami, VC (in charge), NSU, delivered a speech as the special guest among others.
UAP organises seminar on computer-assisted language learning
Prof. Claire Bradin Siskin, an ELT specialist sponsored by English Language Programmes of the U. S. Department of State presented a seminar on Computer-Assisted Language Learning (CALL) at the University of Asia Pacific (UAP) on September 17, 2015 at the seminar room of the Department of Business Administration. 
The seminar was aimed at exploring technologies as they are used in learning and teaching of language. It was intended mainly for the faculty members and M.A. in ELT students of the Department of English of the university.
Tasneem Siraj Mahboob, Member, BOT, UAP; Registrar, Sarwar Razzak Choudhury and Head of the Department of English, Prof. Shawkat Hussain also attended the seminar participated by a good number of teachers and students of the Department of English and the Department of Business Administration of the university. 
UIU holds seminar on scope of education for visually impaired people 
United International University (UIU), Dhaka along with Young Power in Social Action (YPSA), Bangladesh Visual Impaired Peoples Society (BVIPS), Access Bangladesh Foundation (ABF), Disability Rights Fund (DRF), Federation of DPOs Sitakunda and UIU Electrical and Electronics Club (UIUEEC) organised a seminar on "Scope of Education for visually impaired people and facilitating access to published works" on September 19, 2015 at the UIU auditorium. The main focus of the seminar was to create awareness on the current scenario regarding accessible books, publications and technology for people with visual and print disability. Bangladesh government has taken up a number of initiatives to promote the rights of people with disabilities. According to WHO disability report 2011, 15% people in Bangladesh have some form of disability out of which around 4 million people are visually impaired. A large part of this group is deprived of learning due to non-accessibility of basic learning tools at affordable price. Only a handful of the visually impaired groups are now studying at school, college and university with serious shortage of accessible reading material and technology. Modification of existing copyright law and ratification of Marrakesh Treaty may pave the way to expand the scope of education for visually impaired people in Bangladesh.
Vashkar Bhattacharjee delivered the keynote speech in the seminar. He gave a demonstration on accessible DAISY multimedia books and also his paper which covered ICT challenges and opportunity to ensure accessible publications and books for students of print disable and visual disable in Bangladesh. Arif Reza Anwary gave a presentation on Adaptive Technology Refreshable digital Braille display, Easy Digital Braille Learning tutor and Ashiqur Rahman Amit of BVIPS gave presentation on DAISY Talking book on Android system. Nazma Ara Poppy, General Secretary of BVIPS gave importance to create awareness on Marrakesh Treaty that needs ratification in Bangladesh. Albert Mollah, Chief Executive, Access Bangladesh also delivered a speech and emphasised to create awareness on the issue.
UIU has designed a refreshable digital display system for the visually impaired person which has been funded by access to information wing (a2i) of Prime Minister's office.