BULLETIN BOARD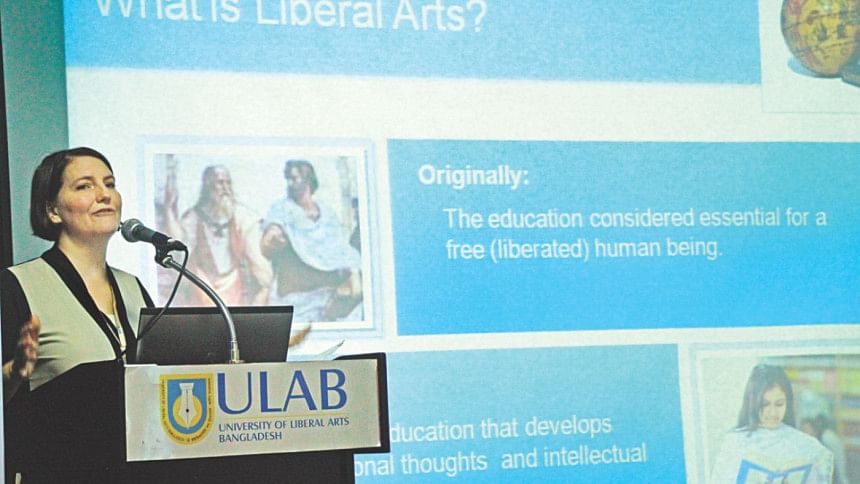 ULAB organises Summer Orientation Fest
University of Liberal Arts Bangladesh (ULAB) organised an orientation for freshers titled, "ULAB Summer Orientation Fest" at its own campus in Dhanmondi on May 22, 2016. 
Embracing the values of liberal arts, sustainability, and active learning, the orientation consisted of mixed media and video presentations about ULAB's mission, vision, code of conduct, handbook, library, career service center, IT, club activity and other facilities.  A quiz and a selfie contest were also held for the new enrolled students. 
During the formal ceremony of its first day, Prof. Imran Rahman, VC; Dr. Brian Shoesmith, Sr. Advisor & Dean of Academic Development and Research; Juditha Ohlmacher, Member, BOT; Prof. H.M. Jahirul Haque, Pro-VC, ULAB addressed the students and welcomed them. Heads of all departments, faculties and administrative staff were present in the ceremony. The program was coordinated by ULAB's Student Affairs Office along with the Communications Office.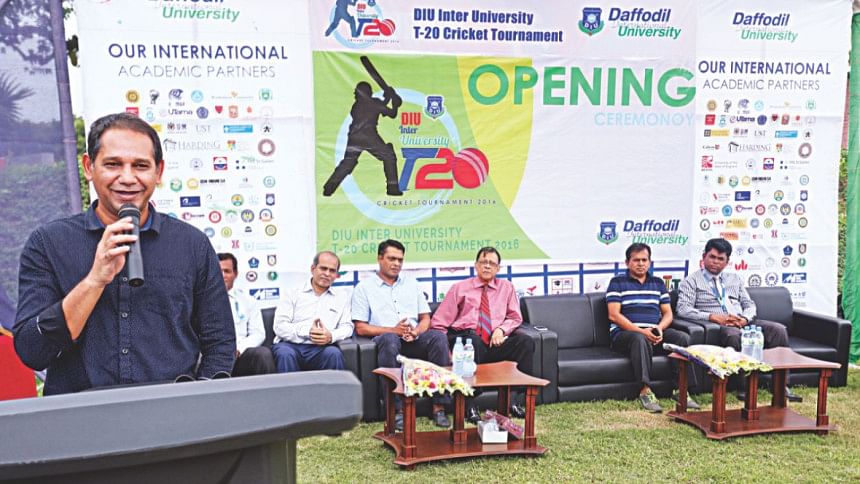 Inter University T20 Cricket Tournament by DIU kicks off 
DIU T20 Cricket Tournament 2016 began on May 20, 2016 at DIU Cricket Ground at Ashulia, Dhaka. Prof. Dr. S M Mahbub-Ul-Haque Majumder, Acting VC, DIU inaugurated the tournament as the chief guest. Habibul Bashar Sumon, former Captain of Bangladesh National Cricket Team and Hasibul Hossain Shanta, former fast bowler was present as the special guest at the inaugural ceremony. 
In the opening match DIU defeated Independent University Bangladesh by 74 runs. To increase sporting culture and practice, and develop interaction among the students of private universities, DIU is organising this tournament where country's leading 10 private universities, divided into two groups, are participating. The participating teams are BRAC University, Independent University Bangladesh (IUB), University of Liberal Arts of Bangladesh (ULAB), Daffodil International Academy (DIA), International University of Business Agriculture and Technology (IUBAT), City University, Green University, Eastern University, Bangladesh University and hosts Daffodil International University (DIU). 
State Minister for Youth and Sports Biren Sikder will enjoy the final match and distribute prizes among the winners on June 3, 2016. Champion and runner-up team of the tournament will get trophies and Tk. 50,000 and Tk. 30,000 respectively and the Fair Play winning team will get Tk. 15,000.
NUB conducts workshop on research methods and report writing 
To improve the quality of research being conducted, the Institutional Quality Assurance Cell (IQAC) of Northern University Bangladesh (NUB), in association with the World Bank and the University Grants Commission (UGC) conducted a three day seminar on "Research Methods and Report Writing". 
On the concluding day of the workshop, Dr. Abu Yousuf Md Abdullah, Chairman, Northern University Bangladesh Trust (NUBT) was present as the chief guest. 
Dr. AWM Abdul Haque, Acting VC, Prof. Dr. Anwarul Karim, Pro-VC, Anwar Hussain, Treasurer, Lt. Col(Retd) Aqtedar Ahmed Siddiqui, Registrar, Dr. M Shamsul Haque, Quality Assurance (QA) Expert and Director, IQAC, NUB, Dr. Md. Touhidul Islam, Professor of Law Department at Dhaka University, Hamidur Rahman, former Professor at the Institute of Modern Language, Dhaka University, Dr. Mir Md Akramuzzaman, Professor of Physics Department, Jahangirnagar University, and Dr. Mahmudul Alam, Economist were present as the special guests. 
The Lecturers, Senior Lecturers and Assistant Professor of NUB took part in this workshop. The workshop was conducted by Zillur Rahman, an expert of QA and Additional Director, IQAC, NUB and Dr. Dilruba Mahbuba, Chief Librarian, NUB.
The guests welcomed and truly appreciated this initiative of NUB. They also stated that with the combined effort of IQAC, it is possible for the quality of education and the teachers to improve and in this regard, NUB has taken giant steps.
In his speech, Dr. Abdullah stated that as a nation which has fallen behind, we must improve on research in order for the nation to go forward and he requested all the teachers to work diligently towards achieving this goal. 
Also present at the programme were Deans of the various programmes, heads of the various departments, teachers, officials and students.
WUB celebrates first anniversary of IEEE Student Branch
The First Anniversary of IEEE Student Branch of World University of Bangladesh (WUB) was held on May 13, 2016 in the auditorium of the university. Pro-VC, Prof. Dr. M. Nurul Islam graced the occasion as chief guest while Dr. Musfiq  Mannan  Choudhury, Secretary, BOT and Prof. Dr. Quazi Deen Mohd. Khosru, Advisor of the Department of EEE, WUB were present as special guests. Prof. Dr. Md. Amanullah Choudhury, Head of the Department of EEE, WUB presided over the ceremony. 
A quiz contest, followed by a cultural programme and prize giving ceremony was the main attraction of the ceremony. 
Faculty Teaching and Learning Programme at GUB
Green University of Bangladesh (GUB) has successfully completed the first phase of three-day long Certificate Course on "Teaching and Learning at GUB: Steps towards Quality and Excellence 9th Batch" followed by the three and half months certificate course on Teaching and Learning which will be its 2nd phase. The training programme was designed for orienting and developing teaching and learning skills of 13 newly recruited senior and junior faculty members. It was organised and facilitated by Green University Center of Excellence for Teaching and Learning (GUCETL) during May 17-19, 2016 at Green Auditorium. 
Prof. Dr. Md. Golam Samdani Fakir, VC of GUB provided overall guidance and acted as lead facilitator for the workshop. Prof. Dr. Syed Manjurul Islam of University of Dhaka; Registrar Lt. Gen. Md. Mainul Islam (LPR); Dean of Green Business School, Prof. Dr. Golam Ahmed Faruqui; and Md. Iqbal Hasan, Lecturer of Green Business School and GUCETL took some sessions. The workshop covered topics like social capital for classroom, managing the first class, students' learning styles vs. teachers' teaching, effective habits of high performing teachers, managing students' disruptive behaviour, efficient use of PowerPoint, the art of questioning, preparing course syllabus and lesson plan, behavioural ethics in Teaching and Learning, Roles and Responsibility of Teachers etc. 
Seminar on press freedom in Bangladesh at UAP
The Department of Law and Human Rights (L&HR), University of Asia Pacific (UAP) organised a Seminar on "Press Freedom in Bangladesh: Issues and Concerns" at UAP.
Eminent lawyer Dr. Shahdeen Malik, Senior Advocate of the Supreme Court of Bangladesh and Adjunct Professor, L&HR, UAP moderated the seminar while Prof. Jamilur Reza Choudhury, VC, UAP chaired the session. 
Lawyers, media experts and journalists addressed the seminar and called upon the government ensuring freedom of expression in Bangladesh.    
Among others, Mizanur Rahman Khan, Prothom Alo, Tushar Abdullah, Somoy TV, Shakhawat Liton, The Daily Star, Barrister Jyotirmoy Barua, Supreme Court of Bangladesh and Abu Saleh of The Daily Samakal addressed the session.
Faculty and students took part at the seminar that concluded with vote of thanks by Dr. A. N. M. Atahar Ali, Head of the Department.