BULLETIN BOARD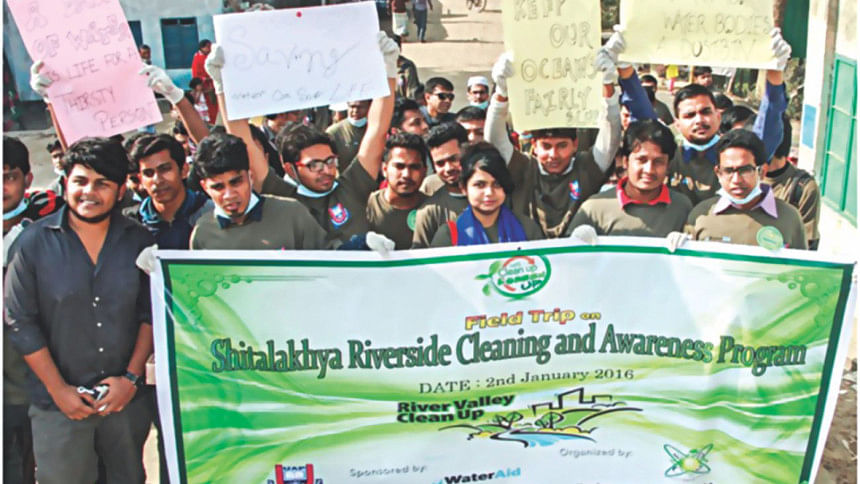 Awareness programme on Shitalakhya riverside cleaning by UAP 
An awareness programme on cleaning a riverside was decided to be carried out by the students of Civil Engineering Department at University of Asia Pacific (UAP) which was proposed and initiated by Dr. Nehreen Majed, Assistant Professor at UAP also as a part of her coursework on "Solid Waste Management". After a short reconnaissance survey, a stretch along the Shitalakhya River was chosen by the students who were greatly motivated and enthusiastic in making this program possible during January, 2016 with help from the Environment and Disaster Management Club (EDMC) of UAP and joint collaboration from WaterAid Bangladesh.  
The waste was collected in ten groups for two hours. Dr. Abdullah Al Muyeed, Technical Advisor (Water, Sanitation and Hygiene) and Saief Manzoor Al Islam, Program Officer Engineer were present from WaterAid. For creating consciousness among people and to encourage them in managing waste, a dustbin was installed at the location, and instructions were given to the people on how they should collect the waste. Organic, inorganic, plastic, paper, food waste, natural waste etc. were collected among which half were non-biodegradable, which were targeted to be collected as they cannot be decomposed and are potential burden on the nature. In total, 20 large waste bags and 12 small waste bags were filled up with waste. This project has made a new opportunity for the students to bring up many ideas even for bigger projects in future involving other universities and stakeholders. 
International Symposium on Multidisciplinary Engineering at IUBAT
The International University of Business Agriculture and Technology (IUBAT University) organised a two-day International Symposium on Multidisciplinary Engineering (ISMDE) in collaboration with Graduate School of Engineering, University of Hyogo, Japan on May 11-12, 2016 at IUBAT University Auditorium. 
Rumi Ariyoshi, Head, Public Affairs and Cultural Section, graced the inaugural ceremony of the ISMDE 2016. Prof. Dr. Monirul Islam, Chair, College of Engineering and Technology presided over the inauguration of symposium and Dr. Bishwajit Saha, Associate Professor and Convener of Symposium delivered the welcome address. 
The symposium is intended to introduce research in the field and initiate in-depth dialogue to clarify needs for bridging the existing disjoints between varied engineering disciplines to innovate new solutions to existing issues. The keynote speaker of the symposium was Dr. Syoji Kobashi, Prof. Naotake Kamiura, Dr. Masakazu Morimoto, Dr. Takayuki Fujita, Dr. Nowshad Amin, Dr. Farhana Zulkernine, and Dr. Abhijit.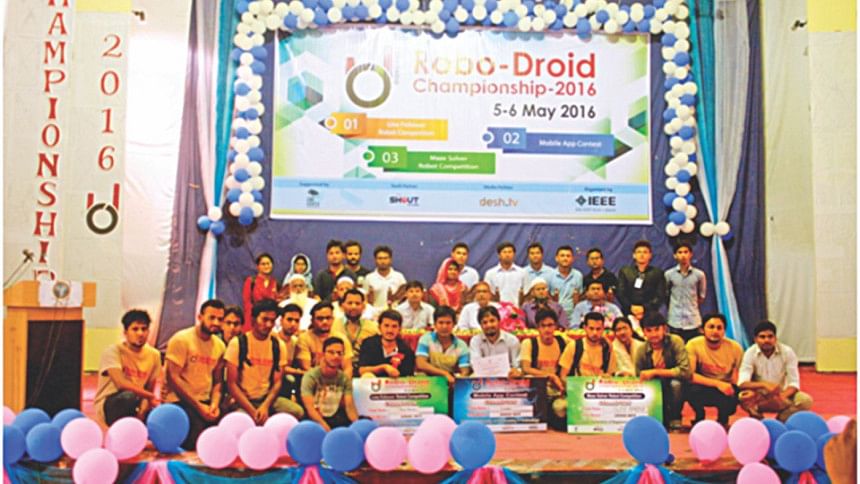 Robo-Droid Championship 2016 at RUET
Combining the excitement of sport with the knowledge of science and technology a contest titled "Robo-Droid Championship - 2016" was organised on May 5-6, 2016, at Rajshahi University of Engineering and Technology (RUET). The contest was organised by IEEE RUET Student branch. 
The contest was designed to develop mobile application development and robotics skill of students. Champion of line follower robot competition was Back Benchers from RUET. In the maze solver robot competition the champion was SUST Parina from SUST and in the mobile app contest Scorpion from RUET.  The total prize money was BDT 1,35,000.
Chief guest was the VC of RUET. The prizes were distributed among the winners by the guests. Prof. Dr Abdul Goffar Khan, Counselor of IEEE RUET Student Branch and Prof. Dr. Md. Rafiqul Islam Sheikh, Dean, Faculty of ECE was also present to the closing ceremony. 
MLIS holds first alumni reunion
After nearly 45 years of its foundation, Maple Leaf International School held its first ever official reunion to bring about all the bright minds it has nurtured over the years under one roof .Graduates from several past batches signed up for the gala event that was held on April 29 at the Nawab Ali Auditorium, located in the main school campus at Dhanmondi 11/A. The event was managed entirely by the Student Council.  
Zeba Ali, Principal, made an inauguration speech stating it was one of her big dreams to see so many old faces in the same place connecting to their roots. One of the event highlights was a talk by a graduate who was enrolled in the school around the mid 70s and that goes on to show how the school has stood the test of time. 
There were performances by the current batches and musician Topu went live on stage after dinner. The next reunion is to be held in 2018.
Seminar on Bangladeshi Students' Selection of Private Universities at BRACU
A seminar on "Factors Affecting Bangladeshi Students' Selection of Private Universities:  Implication for Branding", organised by BRAC Business School, was held on the May 12 at the BRACU auditorium. VC of BRACU, Prof. Syed Saad Andaleeb Ph.D, Dean of BRAC Business School, Prof. Rahim B. Talukdar Ph.D, Associate Professor & Head of Operations, Mohammad Rezaur Razzak and Rahma Akhter, Lecturer, BRAC Business School were present at the seminar to discuss the findings of the exploratory study.
The objective of the primary research was to find out the basic factors influencing choice of private universities by Bangladeshi students and what changes they expect. The research included 317 respondents and used an open ended questionnaire as the study instrument.
Data analysis of the result revealed 4 factors influencing the decision: physical, social, academic and financial. It was found that 21% of the respondents wanted a permanent campus as it gave them identity, dignity and better peer bonding; 21 % wanted universities to provide quality education with the curriculum being updated, analysed and compared to national and international institutes; 16% wanted university faculties to be experienced and from relevant fields, holding Ph.D degrees; 13% stressed on the university of their choice being well reputed; 12% were concerned about tuition fees and expenses; 10% expected the educational, cultural, political and social environment to be comfortable; and 7% considered appropriate location as a factor influencing their choice.
ULAB faculty selected for The Asian Council of Science Editors 
The Asian Council of Science Editors (ACSE) has selected Md. Shafiqul Islam Assistant Professor, Center for Sustainable Development, University of Liberal Arts Bangladesh (ULAB) as an Ambassador of Bangladesh for 2016.  
The Ambassador will disseminate and share ongoing and upcoming ACSE event among the research communities, organise workshop and seminars in home countries to disseminate quality research findings. The person will create and post regular activities related to ACSE in the Facebook page, ambassador blog and web page. He also is responsible to invite other researchers to become members and contributors for the programme. He will take initiatives to publish research findings in high quality publishing journals, attend in the annual meeting, conference and seminar organised by ACSE.