The Hoonigan lifestyle: 1993 Mitsubishi Lancer GSR
When you are a grip fanatic, you would probably want something that peels the skin off your skull when you dab the throttle. Md Noor Alam Ovi has not only loved cars all his life, but he also enjoys driving them around as they are meant to be driven. Unlike the majority, his passion for driving pleasure is not only limited to tarmac. As a result he went after something different - a 1993 Mitsubishi Lancer GSR. 
Wait, it's not an Evo?

Although it would sound and almost look like an Evo III due to the gaping, intercooled facelift, it is not. While Evos have 2.0 liter 4G63 turbo motors, the GSR's motor is 200 cc's short. This ought to be one of the most underrated cars Japan has ever produced. The GSR has a smaller 1.8 liter DOHC turbo motor (4G93T) and with all wheel drive, it is a mad house that has about 200 BHP and lb-ft of torque off the factory. Ovi's GSR is not stock- after a full GSR conversion done by Saad Sagir, Ovi went out of his way with particular details in perfecting the rally machine, from Hard Race engine mounts to Recaro seats. His Lancer GSR currently does well over 220 BHP at 16 psi of boost. The magic comes off the AWD capability and an Evo III full lock rear differential that Ovi installed, that spares no gravel, stone or dust, turning all of it into darting missiles when the throttle is pressed.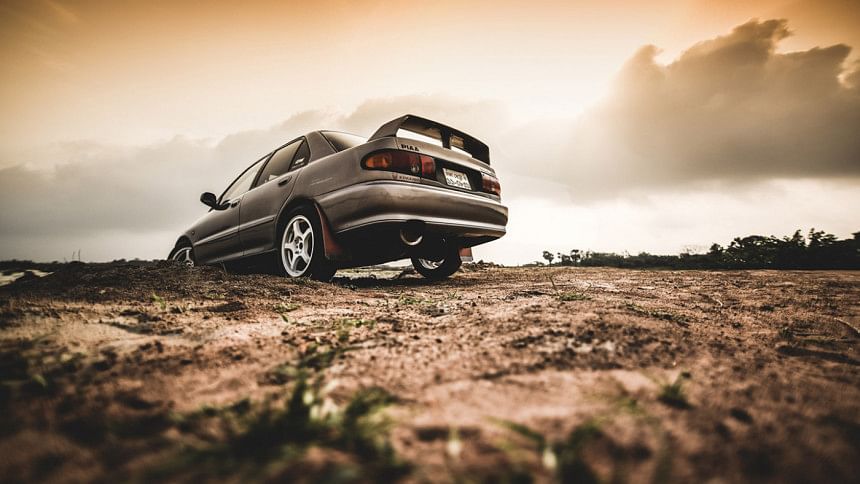 In-bred hoonigan charisma of the GSR
Hit the RPM towards 5,000 RPM and the Tial 38mm wastegates will start firing ear-deafening shots through the hardcore hood exit Turbo S downpipe and the HKS SQV4 blow off valve will scream the moment you back off the throttle. Hold the right foot for a moment and dump the Exedy stage 2 clutch for a sudden blizzard of dust, eargasmic Apexi N1 endbox rumble and a trail of the GSR's tail lamps screaming away into the distance.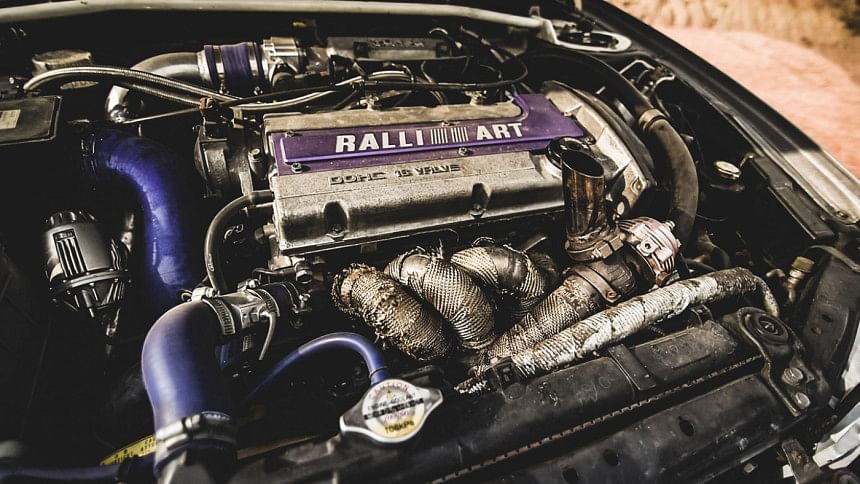 "Donuts, slides, drifts- nothing is spared with this", says a smiling, buckled up Ovi, quick shifting and maneuvering away his sturdy little car. He is a man of his words too, as I fell victim to his ravaging onslaughts in the dusty off roads of Purbachal. The car is fully mechanical - no extra computers or tech bits to control the inputs; everything is raw, from the power to the handling of the GSR. Despite being harnessed and bound in the Recaro buckets, I was tossed in the air each time the GSR leapt from a ridge to another. Like their cattle, some village folks were witnessed running away from the dust storm at the GSR's assault on their terrain. But I vouch, no humans, animals or even plants were harmed while having this much fun. 

Ovi's hoonigan-ing with the GSR made me realize that this is possibly the best vehicle for our terrain as it will literally stop at nothing. No ditch sized pot holes, mountain sized speed bumps, damaged roads, slushy mud or sand will keep it from shooting off the surface in rally style.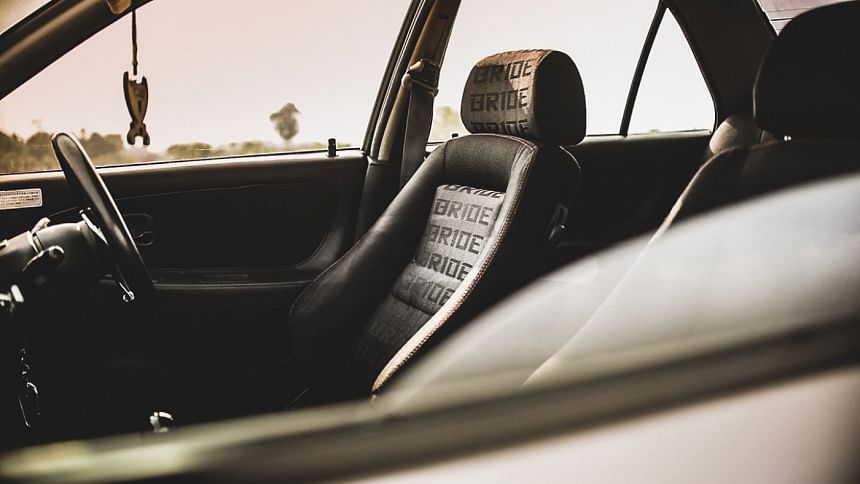 This Lancer GSR is also a Rallycross contender
Because Mr. Ovi is the licensed importer of Haida Tyres in Bangladesh, his one off Lancer GSR was sponsored by Haida in the 2015 and 2016 Rallycross championships. Having the right handling setup is critical for success - Ovi suggests tyres, suspension and brakes are vital. The car sits on BC BR series 32 step adjustable coil-overs, which are not butt hurting stiff, yet absorbs the violent corners that Ovi launches at it, thanks to the Super Pro poly bushes and UR bars on which he spent a fortune, but was worth every penny. No fancy brake kits for the conservative power, although the OEM set up is reinforced with Project Mu Bestop front and rear pads and Safe Brake SS brake hoses, giving Ovi assured braking confidence. The obvious choice of tyres for Ovi would be Haida HD921s wrapping the 16-inch Enkei rally spec wheels.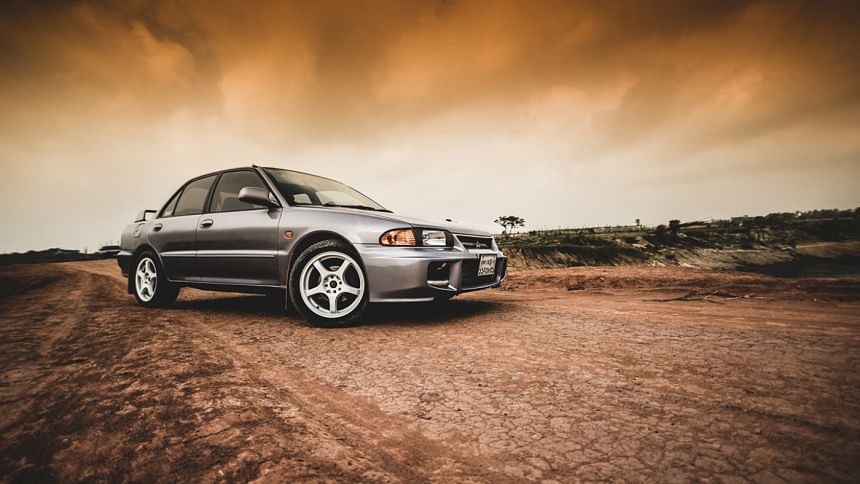 Mitsu or Scoobie?
Almost all changeable bits of this vehicle has been replaced with Evo III ones, albeit the motor. Ovi has plans to swap that too. He might not install the Evo III side skirts as that will lower the car and hinder the functionality of the vehicle. He drives it every day, be it work or car meets, and he drives it with fury. He absolutely loves his car. Ovi will not stop there. Considering his love for rally spec vehicles, Ovi chuckles he might also add an STi in his garage, as that would complete his JDM hoonigan bucket list.