Sayedee's death sentence commuted
Sayedee's death sentence commuted
Sentenced to imprisonment till death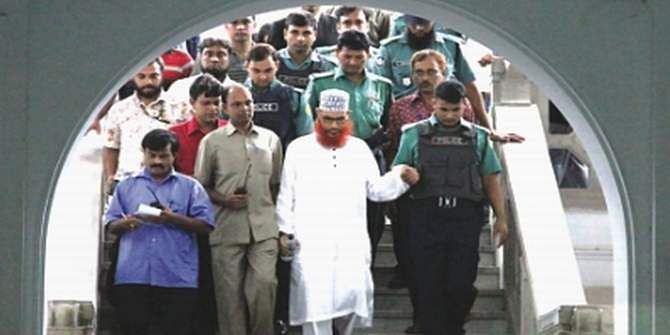 The Supreme Court today commuted the death sentence of Jamaat leader Delawar Hossain Sayedee to imprisonment till death for his crimes against humanity committed during the country's Liberation War in 1971.
A five-member bench of the apex court, headed by the Chief Justice Md Muzammel Hossain, pronounced the verdict by majority view at 10:06am amid tight security.
However, the chief justice did not disclose names of the judges who gave different opinions over the judgement of the 74-year-old Jamaat nayeb-e-ameer.
Attorney General (AG) Mahbubey Alam, the additional, deputy and assistant AGs, prosecutors and defence counsels and a good number of journalists were present at the Supreme Court Appellate Division Court-1 where the verdict was pronounced.
The International Crimes Tribunal-1 on February 28 last year sentenced Sayedee to death for killing Ibrahim Kutti and one Bisa Bali in Pirojpur in 1971, even though it had found him guilty on eight charges filed against him.
On March 28 last year, Sayedee filed an appeal with the SC seeking acquittal on all charges. The same day, the government submitted a separate appeal seeking Sayedee's punishment on all the eight charges.
The other charges Sayedee was convicted of include his association with Pakistani soldiers to abduct three women and rape them, torturing people, looting and setting fire to the houses of Hindus, forcing them convert to Islam in Pirojpur, and forcing them to leave the country in 1971.
After the SC verdict, Imran Siddique, a counsel for Sayedee, told The Daily Star that they will file a review petition with the apex court seeking his client's acquittal of all the charges once they get the copy of full judgement.
The SC bench on April 16 this year kept the appeals waiting for delivering judgment on them. The hearing went on for 48 days.
Protesting the Tribunal-1 verdict, the activists of Jamaat and pro-Jamaat student body Islami Chhatra Shibir last year went on the rampage in many places across the country that left several people dead.
The Jamaat-Shibir men in Bogra even tried to coax people into joining in by a propaganda that Sayedee's face was seen on the moon and that it was people's holy duty to save the Jamaat nayeb-e-ameer.
This is the second crimes against humanity case appeal on which the Appellate Division announced a judgment.
On September 17 last year, this court had handed down the death penalty to another Jamaat leader Abdul Quader Mollah for his wartime atrocities in 1971. Mollah was executed on December 12 last year.