The shoes that killed football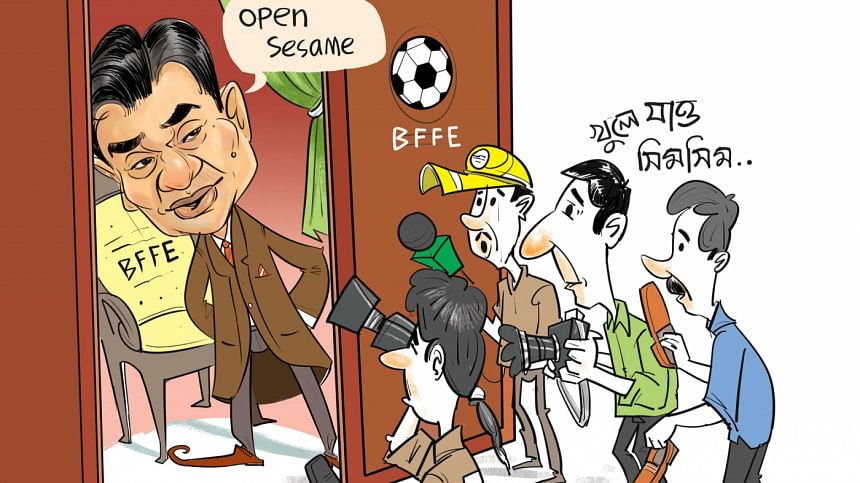 The month of May, 2077.
The BFFE (Best Friends Forever and Ever) are holding a grand ceremony to celebrate 50 years of the successful eradication of any kind of football-related activities in the country.
For decades at the BFFE headquarters, informally known as Bluffufo, a celebration has been taking place this time of the year.
May marks the pivotal month when, 54 years prior, BFFE ensured that half the sports journalists could not cover football any longer. It stemmed from one classist "inside joke" from the then and the now president of the football board, Don Vito Salamanca.
This reporter -- who travelled through time as part of an inter-temporal investigation to find out what drove a board to declare war on the very sport they were assigned to steer to growth -- first learned upon arrival that no one could recall exactly when the term "Bluffufo" was coined.
Rumours had it that a certain leading spyware company of the 2020s hacked the BFFE website and replaced its name in an act of protest, saying Salamanca was hampering their business by leaking sensitive content himself.
In a tell-all interview back in 2027, the football boss said that he wanted to make football elite, because that is the only way standards would be raised.
The rumour refers back to when the BFFE chief was overheard demanding that sports journalists must carry a photo of their fathers wearing shoes to secure entry to the BFFE House.
It first drew ire from people from all walks of life, and some naive folks even thought that was to be the last straw for Salamanca but the reality was different.
The remaining half of the journalists, who had the required photos, faced further challenges as Salamanca demanded pictures with their fathers wearing "branded shoes", and DNA results showing Caucasian ancestry.
Once sports journalists were eliminated, Salamanca's elitist attitude did not spare the footballers as they too were subject to the demands, and by May 2027, had stopped playing the game altogether. The spectators were gone before any of this happened.
In a tell-all interview back in 2027, the football boss said that he wanted to make football elite, because that is the only way standards would be raised.
Fast forward to 2077, and it is impossible to find any sports reporter who once covered football or knew anyone who admitted to doing so.
Asked, a sports journalist who covers Crazeball -- a hybrid of cricket and baseball, the most popular game here -- said football is a taboo topic in this part of the world, mainly because it triggers PTSD in people.
During the 50-year-celebration, this reporter discovered a bizarre costume party going on, where BFFE officials were dressed in red and white -- reminiscent of the uniform worn by the East India Company.
Moreover, the hosts were seen sipping on this particular drink. It was learned that the so-called beverage, considered sacred at BFFE, was made by soaking the boots and socks of their beloved colonial masters for at least 12 years.
Football is not completely dead, though. A few BFFE officials, who requested several times that their names be mentioned, told this reporter that they have been taking the video game industry quite seriously for a while now and expected more funding from FIFA, EA Sports, PlayStation et al in future.
They also mentioned that spreading the FIFA game to the grassroots is their primary goal, following which everyone laughed hysterically and made a toast.
Soon Salamanca, still BFFE president somehow, tuned in via a hologram from an undisclosed location, somewhere in Europe.
Salamanca was accompanied by his personal lawyer and psychologist. He began his speech, saying, "We must not let every Abul, Mokbul and Emily play the football video game; only the ones whose great-great grandparents had tickets, passports, etc. to show that they had travelled to England can play. It should be made mandatory, alright?"