Speedboats to tow high officials' SUVs amid austerity measures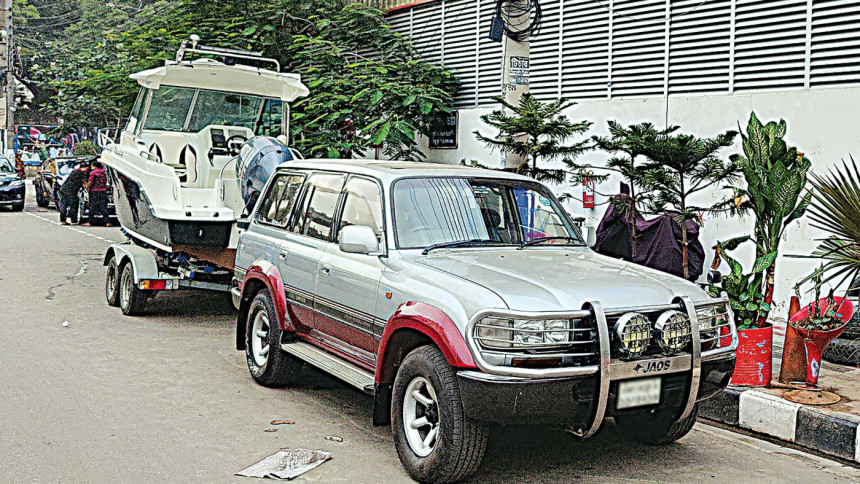 A circular of the high officials' welfare division yesterday said due to the curbs on buying fuel and the consequent restrictions on using vehicles, officials high enough can use their boats to tow their cars across city streets.  
Subsequently, at least 872 speedboats are being brought to the capital on 400 diesel-run trucks today, said sources whose profession it is to be sources.
Some have already been connected to SUVs.
A high official, when quizzed about this development, said it would further help them in being more austere.
"We have plans to tie large sheets of tarpaulin to the boat, so that the car moves when the wind blows. I heard there's a storm coming. Please don't name my mention in the story," said the high official.
Star Satireday contacted Baba Songgo, the highest official of the division, to ask what would happen if there is no wind.
Baba said the brilliance of the plan was that in that case, the boats could be filled with fuel and the tires of the SUV attached to the sides.
"We were asked not to unnecessarily use our cars amid the austerity measures, but in this way, we won't be using our cars. We will be sitting in them, but the boats will be driving. I think that is what being a high official is about.
"This time, when austerity is the need of the hour in Chapasthan, calls upon us high people to use all the resources at our disposal.
"We have so many idle speedboats lying out in sea, we must use them" he said.
Another official, also anonymous, but not quite so high, although he said he aimed to get higher, said, "This measure has multiple benefits.
"The speedboats being brought to the capital also provides opportunities for homeless people to get some shelter -- and from what I have seen, the speedboats are made of pretty solid material. "