Human error challenge goes viral after Shakib apology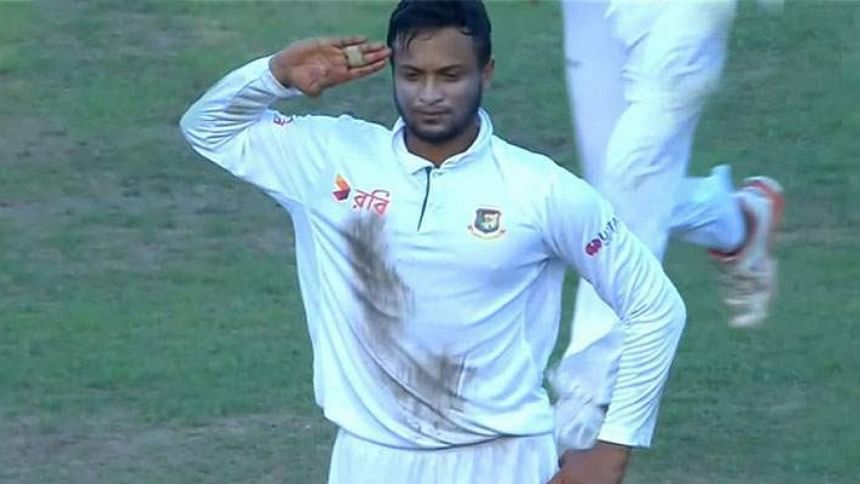 Bangladesh woke up today to a new craze that has gripped social media following ace all-rounder Shakib Al Hasan's Facebook apology last night.
Called the "Human error challenge", young people on TikTok have been recording themselves landing a solid kick on the backsides of their friends, siblings, parents and shouting "Human error!" before running off and breathlessly nominating their friends to do the same. 
Shakib had ruffled feathers and simultaneously gained new fans when he kicked the stumps after an umpire turned down a leg-before appeal during a Dhaka Premier League T20 match on Friday. 
Less than five minutes later, after the other umpire suspended play because of a drizzle, Shakib went over to the umpire, dragged out all three stumps and hurled them down on the floor. Before storming off, he picked up one stump and placed it between the umpire's legs. 
"It was a seminal moment of raging against authority, of the little man crying out against the injustices of the establishment," said a TikToker filming himself in what looked like a plush office in the tri-state area. 
He then knocked on the door of an office, "Boss, may I come in?"
After going in he kicked the chair in front of the boss's table and ran back out screaming "Human error! Human error! Shakib Al Hasan! Human error!".
The chair didn't fall. 
After kicking the stumps, uprooting them and slamming them down Hulk Hogan style, Shakib issued an apology on Facebook later the same day: 
"Dear fans and followers, I am extremely sorry for losing my temper and ruining the match for everyone and especially those who are watching from home. An experienced player like me should not have reacted that way but sometimes against all odds it happens unfortunately. I apologise to the teams, management, tournament officials and organizing committee for this human error. Hopefully, I won't be repeating this again in the future. Thanks and love you all."
The format of the challenge is similar to the ice-bucket challenge, which was done to raise awareness of ALS. 
When asked about the cause behind this challenge, the 20-year-old Shakib superfan who started the "Human error challenge" in the wee hours of today by kicking his father while he was asleep, said, "It is to raise awareness about the terrible umpiring and injustices suffered by cricketers like Shakib.
"He has played the IPL, CPL and BBL but has never acted like this. There he is a model citizen. But because he is so proud of his country and so emotionally invested in domestic cricket, he cannot take this injustice. We need more of this kind of 'Protibad'."
Presenting the other side of the coin, a man who calls himself "Sensible Cricket Fan" went on Facebook Live and said: "People who say Shakib was protesting the corrupt umpiring are delusional. Yes, umpiring is corrupt, but as a Mohammedan player and a Dhaka player in the Bangladesh Premier League, his teams have enjoyed more than their fair share of the favouritism equation. As Bangladesh's biggest player, he has benefitted from the cricket board's lack of professionalism… only a few days ago he was excused for breaching the bio bubble. Please, he enjoys favouritism as much as…"
That was all he could say as his speech was cut off by a swift kick from right of camera. All viewers could see was someone wearing the 75 jersey, who after delivering the kick rushed off laughing. 
"Human error! I nominate Riyad bhai, Mashrafe bhai, Tamim, Mushy and Papon bhai…"