Bangladeshi comment warriors dream of getting higher degree on victim blaming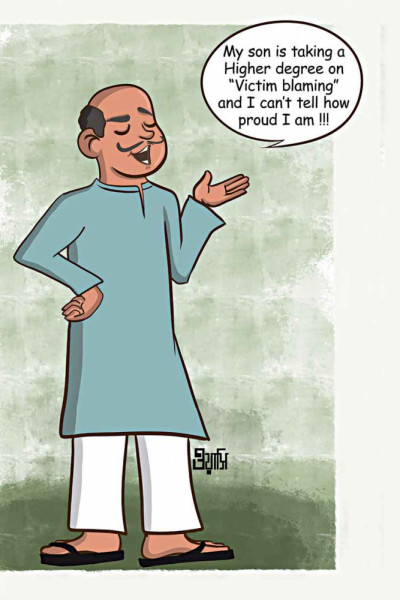 Victim blaming has become 'almost an art' in Bangladesh. Whenever any news portal publishes news of any violence, comment warriors start their war of blaming the victim, especially when the victim is a girl.
According to the UN (Unidentified Notion), Bangladesh is the largest comment-warrior producing country in the world. The growth rate of this type of warrior is quite enviable for other countries and the number is rising by leaps and bounds.
Comment warriors, however, are running out of excuses and logic due to the lavish use of these on various comment sections. Statistics show that they have actually nothing new left to use when it comes to blaming victims. So, the warriors have come up with a new plan! They want to pursue a higher degree on victim blaming in a foreign country, either from the USA or any European country that will have them.
Asked about this ambition, a comment warrior, said, "Our stock is empty now. We have been blaming victims for decades with our limited homemade logic, words and excuses. We need to learn new ways and logic so that we can blame the victims more severely and ruthlessly. A higher degree on victim blaming from a foreign country can enrich our knowledge of blaming. We are dreaming of utilising this opportunity."
The bewildering behaviour of comment warriors has left millions of people astounded. Even the Hubble Telescope would fail to find a structured and relevant comment. Referring to this as an immense success, another warrior said, "People are talking about us because of jealousy. Victim blaming is an art and we deserve to be treated like artists. To flourish our knowledge and wisdom, we must acquire a higher degree on victim blaming from a developed country. We need the government's attention to fulfil our dream. We promise we will take this art to another level if we are given a chance."