Partner with local media to raise awareness about CSR activities
Speakers emphasise at CSR Dialogue: Sylhet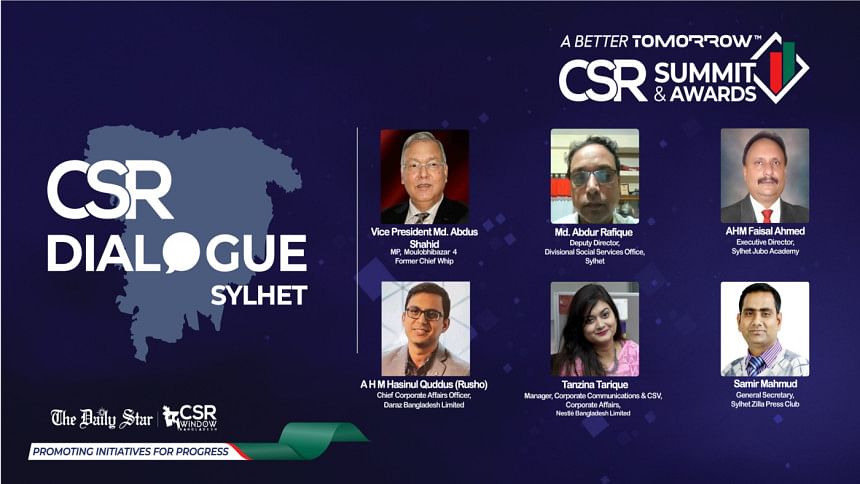 Speakers at an online discussion recommended that Corporate Social Responsibility (CSR) initiatives partner with local media agencies to increase awareness amongst the local community. This will allow local non-governmental organisations (NGOs), youth organisations and other relevant stakeholders to actively participate in the CSR projects and make them more effective and sustainable.
The event titled CSR Dialogue: Sylhet was held on August 19, 2021. It was part of a joint initiative of The Daily Star and CSR Window known as "A Better Tomorrow: CSR Summit and Awards". The annual nationwide programme aims to create dialogues for future development and sustainability solutions and recognise corporations for their innovative and world-class CSR initiatives, social projects and programmes implemented for sustainable impacts in society.
AHM Faisal Ahmed, Chief Executive of Sylhet Jubo Academy, said, "The problem is that local stakeholders and beneficiaries are not always aware of these initiatives. Therefore, the visibility of their CSR projects should be increased. It's always challenging for local NGOs to contact and get the attention of big corporations working with CSR funds. So, I would recommend we establish a platform or forum where we can regularly discuss these issues. This will also help corporations determine the modality of CSR and for local NGOs and organisations to understand exactly what kind of issues the corporations want to work with."
Samir Mahmud, General Secretary of Sylhet District Press Club, said, "A challenge is that we are not always informed about the CSR projects in our areas. We only receive such information when the companies send us a press release. However, these press releases are often only sent to the national media. As a result, local news media cannot report on these CSR projects. The local media can play an important role here, and that is why I suggest that the corporate sector partner with local media whenever they launch a new CSR project."
AHM Hasinul Quddus (Rusho), Chief Corporate Affairs Officer of Daraz, said, "Daraz is working with a variety of NGOs for the implementation of our CSR and Sustainable projects. We have a few potential projects in Sylhet that we are working towards, and we understand the importance of leveraging the local media to raise awareness about these projects. I would recommend that local NGOs and youth organizations create a platform through which they can jointly identify the most crucial issues being faced by the division. This will help to shortlist the most important issues that corporates can address through their CSR and Sustainable projects. Through this platform, corporates can reach out to these local NGOs and resolve the subsisting social issues."
Tanzina Tarique, Manager- Corporate Communications and CSV, Corporate Affairs at Nestle Bangladesh, said, "In Nestlé we perform our corporate social responsibilities through creating shared value (CSV) initiatives. As such visibility of all such CSV initiatives under different projects is very much required to foster awareness. To increase this visibility, we feel it is necessary to update the journalists regularly through an appropriate communication medium. The frequency of our CSV activities has been increased primarily due to the success of such efforts. The idea of creating a CSR Forum in newspapers is a great idea. It will allow all the different companies working with CSR to showcase their work. This type of forum can also encourage companies to participate in CSR activities"
MD Abdur Rafique, Deputy Director, Department of Social Services, Sylhet Division, said, "It is important to ensure that all CSR activities include the participation of the local people. Specifically, we want to encourage the participation of the youth, as they are the future of the country. The current registration procedure for social welfare organisations is difficult, mostly in obtaining the National Security Intelligence (NSI) verification. The new rules for the registration process are currently being evaluated, and we hope to make the registration process simpler in the future."
The session was moderated by Ahsan Rony, Founder, Green Savers.