'Joint working group by Nov 30 to repatriate Rohingyas'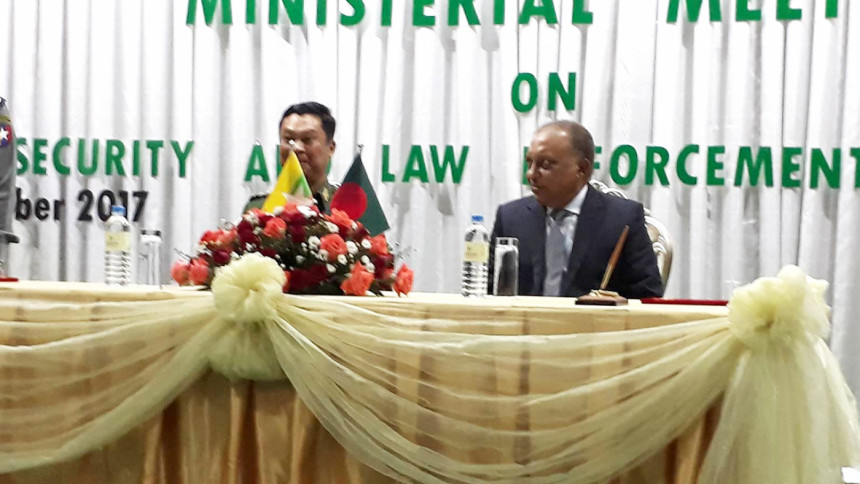 Bangladesh and Myanmar today decided to constitute a joint working group by November 30 to repatriate the Rohingya people, who fled persecution in Rakhine state.
The decision was taken at a home ministry level bilateral meeting between Bangladesh and Myanmar at Naypyidaw, the capital of Myanmar, said a press statement of the home ministry.
Home Minister Asaduzzaman Khan Kamal led the Bangladesh delegation while his counterpart Lt Gen Kyaw Swe led Myanmar.
Myanmar also agreed to implement the Kofi Annan Commission recommendations in accelerating the repatriation work of the Rohingya people, it said.
Two Memorandum of Understanding (MoUs) were signed between the two countries to ensure security on bordering areas, the release said.
Kamal, who went Myanmar yesterday to discuss the smooth and immediate repatriation of the Rohingyas, is scheduled to meet Myanmar state councilor Aung San Suu Kyi around 10:00am tomorrow.
On October 2, Bangladesh and Myanmar agreed to form a joint working group to start the repatriation process of all the Rohingyas living in Bangladesh. Bangladesh has also proposed a bilateral agreement with Myanmar to facilitate the implementation of repatriation process.