Prove allegations or face punishment: PM to demonstrators in universities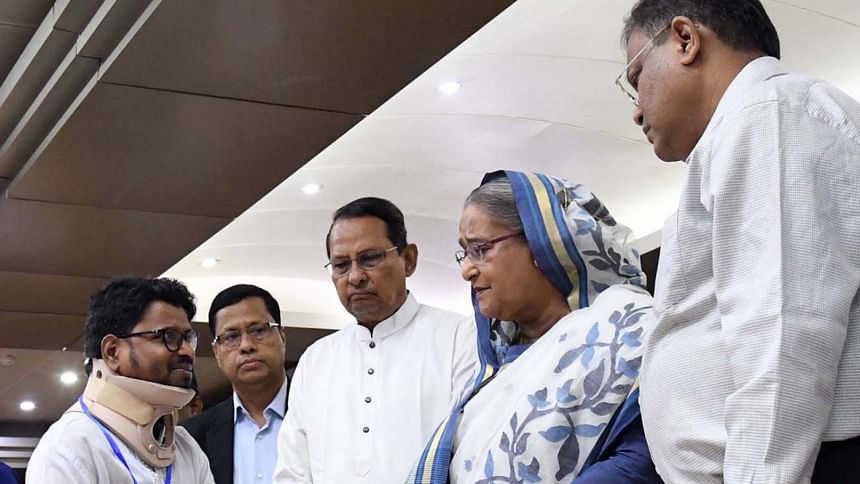 Coming down heavily on those engaged in the ongoing movements against the vice chancellors of several universities, including Jahangirnagar University, Prime Minister Sheikh Hasina today said they will have to face punishment if they fail to prove their allegations.
"If they fail to prove their allegations, they'll be punished for bringing false accusations… we'll definitely do this. Because, I can't tolerate that the classes will remain closed for days after days," she said.
The prime minister said this while distributing cheques of financial assistance at a simple ceremony at her office among sick, financially insolvent and injured journalists as well as the families of journalists killed in road accidents. The money came from the Bangladesh Journalists Welfare Trust.
She said movements started suddenly against vice-chancellors in several universities and they are calling the VCs as corrupt.
Noting that they must prove the allegations in Jahangirnagar University, she said, "If anyone fails to prove, the complainer will have to face the same punishment what may be awarded to the accused person as it is stated in the law."
"Legal actions will be taken if they raise false allegations. We'll take such actions. I've made it clear," said the Prime Minister adding that she has already directed the authorities concerned to keep the records and footages of speeches and words of everyone who is bringing allegations.
"I would like to say it unequivocally that those who are bringing graft allegation, they'll have to prove their allegations and provide information. If they can provide information, we'll surely take action (against the corrupt)," she said.
Hasina said carrying out attacks on the VC's residence, office, vandalism as well as disrupting classes and university activities in the name of movement is also one kind of terror act.
She said those who are bringing allegations surely have information. "Otherwise, why will they bring the allegations?"
"It won't be enough to say that some amount of money is given out. They'll have to find out where the money has been given and what for the money has been kept aside, the PM added.
Talking about Buet, Sheikh Hasina said the government took action immediately after the killing of its student Abrar Fahad and arrested all involved in the killing.
"We took action soon after receiving information…everybody (accused) has already been arrested. Everything, including case proceedings, is going on. Now what're they waging the movement for? My question is here," she said.
Hasina questioned as to why they will remain (as students) there at the university hindering the classes for days after days. "Those who're engaged in such activities should be expelled from the university immediately."
Being an autonomous body, a university is supposed to run with its own financing. But the government provides money from the *national budget to the universities every year, she said.
Mentioning that the government provides money for their study, Hasina questioned how much money the students spent at the universities.
"We give the money from the national budget. But the government can't do anything there where the classes remain closed for days after days. It can't be allowed to go like that," she said.
Information Minister Dr Hasan Mahmud presided over the function. State Minister for Information Md Murad Hassan and Chairman of the Parliamentary Standing Committee on Information Ministry Hasanul Haq Inu were present as special guests.
Information Secretary Abdul Malek delivered the welcome speech.