PM Sheikh Hasina reaches Delhi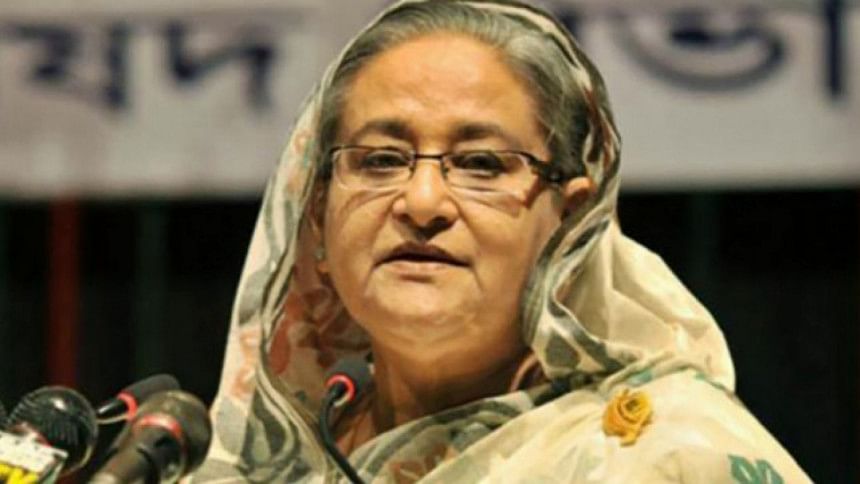 Prime Minister Sheikh Hasina reached New Delhi today on a four-day official visit.
India's Minister of State for Women's Development and Child Welfare Deboshree Choudhury received Sheikh Hasina at the New Delhi airport when she reached there, reports our New Delhi correspondent  
Around 8:15am, a VVIP flight of Biman Bangladesh Airlines carrying the prime minister and her entourage departed from Hazrat Shahjalal International Airport.
The PM's tour, the first after her re-election, comes after her visits to China in July and Japan in May. During those visits, Rohingya crisis was one of the main topics of discussion as Bangladesh faces a formidable challenge of sheltering more than 1.1 million Rohingyas.
On October 3-4, Hasina will co-chair the Indian Economic Summit of the World Economic Forum in Delhi.
The summit will host more than 800 leaders from 40 countries, including senior public figures and leading representatives from various sectors. Hasina is expected to highlight there the achievements of Bangladesh over the last decade and the challenges it faces now.
On October 5, Hasina will hold a meeting with her Indian counterpart Narendra Modi.
The two leaders will discuss issues including cooperation in stopping deaths of Bangladeshis on Indo-Bangla borders and smuggling, easing Indian visa regime for Bangladeshis, enhancing cooperation in curbing terrorism and maintaining peace in the region and promoting trade and connectivity.
The two countries may also sign a standard operating procedure on the use of Chattogram and Mongla ports for transporting Indian goods through Bangladesh.
The Teesta water-sharing agreement could not be signed between India and Bangladesh in 2011 due to objections from West Bengal Chief Minister Mamata Banerjee. Though the two countries have 54 common rivers, only one river -- the Ganges -- is covered by a lone water-sharing treaty.
Other issues of discussion will be enhancing cooperation on reginal and sub-regional groupings in South and Southeast Asia, and air, rail, and road transport.
The two sides will also discuss the celebration of Bangabandhu Sheikh Mujibur Rahman's birth centenary next year, and the 50th anniversary of both Bangladesh's independence and Indo-Bangla diplomatic relations.
Ten to 12 memorandums of understanding may be signed on sports, shipping, economy, marine research, fixing standard of products, trade, education, information and communication technology and establishing economic zones.
Hasina will make a courtesy call on Indian President Ram Nath Kovind, Foreign Minister Dr S Jaishankar and Congress President Sonia Gandhi.
Hasina will return home on October 6.