Release of leaders, 'religious-minded' people among Hefajat's 4-point demand
A delegation placed the demands in a meeting with home minister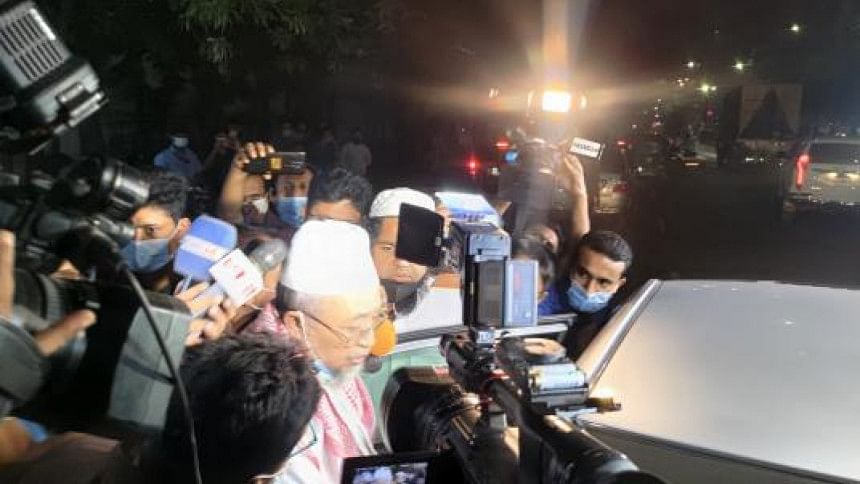 A delegation of Hefajat-e-Islam yesterday placed a four-point demand including the release of "Alem-ulema and general religious-minded people" who were arrested in connection with three days of violence surrounding the organisation's protest of Indian Prime Minister Narandra Modi's visit in late March.
The demands were made by a 10-member delegation of Hefajat that met with Home Minister Asaduzzaman Khan Kamal at his residence in the capital last night
The delegation was led by Nurul Islam Jihadi, the secretary general of Hefajat's convening committee.
The Daily Star has obtained a copy of Hefajat's 4-point demand.
Apart from release of arrested leaders and religious-minded people, the Hefajat leaders also demanded an end to what they termed as the ongoing harassment of religious-minded people across the country.
They also demanded withdrawal of cases filed in connection with Hefajat's mayhem in Dhaka's Shapla Chattar in 2013 as per an earlier discussion.
The other demand is the immediate reopening of Qawmi madrasas.  
After the meeting, Nurul Islam Jihadi told reporters that the home minister had told them that their demands would be considered.
Under pressure due to the ongoing crackdown on its top leaders, the Hefajat leaders called on the home minister in a bid to come to a consensus over the arrest of its leaders and to free them from jails, sources said.
The meeting that started around 9:20pm continued for more than two and a half hours.
The delegation included Ataullah Hafeji and member of Hefajat's convening committee Mizanur Rahman.
State Minister for religious affairs Faridul Haque Khan, ruling Awami League MP RAM Obaidul Muktadir Chowdhury from Brahmanbaria-3, among others were also present at the meeting.
The meeting was held just over a week after Hefajat Amir Junayed Babunagari dissolved its central committee on April 26 and announced a five-member convening committee headed by him.
Earlier on April 19, a delegation of Hefajat led by Nurul Islam Jihadi also met with the Home Boss at his residence.
Hefajat insiders said the delegation had then tried to convince the government that Hefajat leaders were not involved in the recent violence activities from March 26 to March 28.
From the government side, it was said that Hefajat leaders involved in the recent violent activities must be brought to book.
From March 26 to March 28, the outfit had carried out mayhem in different parts of the country, especially in Brahmanbaria, in protest of Modi's visit during the twin celebrations of Bangabandhu Sheikh Mujibur Rahman's birth centenary and the golden jubilee of the country's independence.
The government's crackdown followed countrywide mayhem by Hefajat men in late last month.
Hefajat's Joint Secretary General Mamunul Haque was arrested, among others.
So far 142 cases were filed and around 21 top leaders of Hefajat and around 890 people, mostly Hefajat supporters, were arrested for the violence.