Indian Foreign Minister Jaishankar in Dhaka
Talks with Dr Momen tomorrow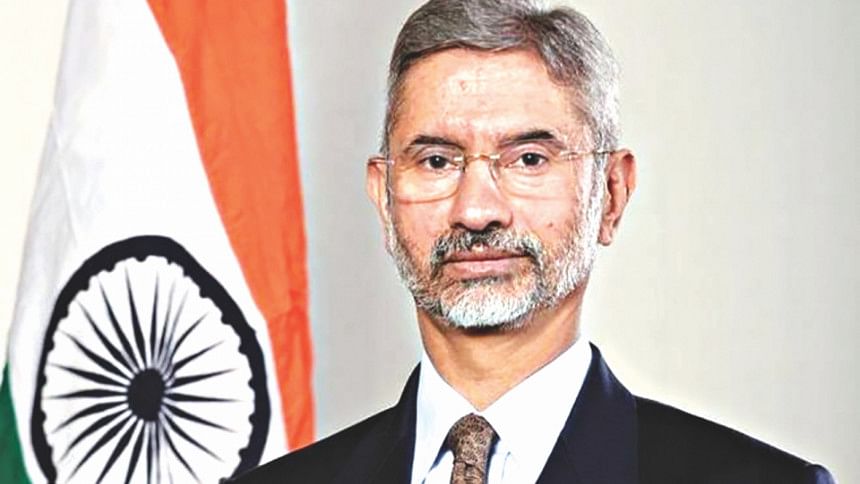 Indian External Affairs Minister Dr S Jaishankar arrived in Dhaka tonight, aiming to further strengthen the relations between Bangladesh and India. 

Foreign Minister Dr AK Abdul Momen received his Indian counterpart at Hazrat Shahjalal International Airport upon his arrival around 9:15pm, said an official at the Ministry of Foreign Affairs here. 

Indian High Commissioner in Dhaka Riva Ganguly Das was, among others, present. 

Though Dr Momen described Jaishankar's maiden visit (as minister) to Bangladesh as a "courtesy trip," the two sides are likely to touch upon the matters relating to Prime Minister Sheikh Hasina's forthcoming visit to India, connectivity, water issues and Rohingya crisis during the visit. 

Indian High Commission here said Dr Jaishankar is visiting Bangladesh "taking forward the high-level exchanges" between the two countries. 

The Indian minister will visit Bangabandhu Memorial Museum at Dhanmondi-32 around 9:30am tomorrow and pay tributes to Father of the Nation Sheikh Mujibur Rahman by placing wreaths at his portrait there, an official told UNB. 

He will have a bilateral meeting with his Bangladesh counterpart Dr Momen around 11am on the same day. 

There will be a media briefing around 12:00pm following a meeting between the two Foreign Ministers at state guesthouse Jamuna. 

Dr Momen will host lunch in honour of his Indian counterpart after the meeting. 

The Indian Foreign Minister is scheduled to meet Prime Minister Sheikh Hasina at her official residence around 5:00pm tomorrow. 

Indian High Commissioner in Dhaka Riva Ganguly Das will host private dinner for Jaishankar tomorrow evening. 

He will leave Dhaka for Kathmandu on Wednesday morning. 

India is a leading development partner of Bangladesh as it has extended concessional lines of credit to the tune of around 8 billion US dollars. 

Dr Momen said he will discuss the LOC projects, expenditures and barriers to implementation of those projects, if any, and identify reasons to expedite the implementation process. 

Meanwhile, Prime Minister Sheikh Hasina will visit India in October next to discuss bilateral issues, including the ones related to common rivers, to take the growing relations between Bangladesh and India forward. 

She will attend the India Economic Summit of the World Economic Forum with the theme 'Innovating for India: Strengthening South Asia, Impacting the World' to be held in New Delhi on October 3-4, a diplomatic source told UNB. 

Hosted in collaboration with the Confederation of Indian Industry (CII), the meeting will build on its more than three decades of success and have a special focus on promoting deeper collaboration between South Asia and Asean to leverage their distinctive demographic and digital dividends to boost global growth and enhance collective future. 

Key leaders from governments, private sectors, academia and civil society will address strategic issues of regional significance under four thematic pillars - the New Geopolitical Reality - Geopolitical shifts and the complexity of our global system, the New Social System - Inequality, inclusive growth, health and nutrition, the New Ecological System - Environment, pollution and climate change and the New Technological System - The Fourth Industrial Revolution, science, innovation and entrepreneurship.