Hefajat delegation meets with home minister over crackdown on top leaders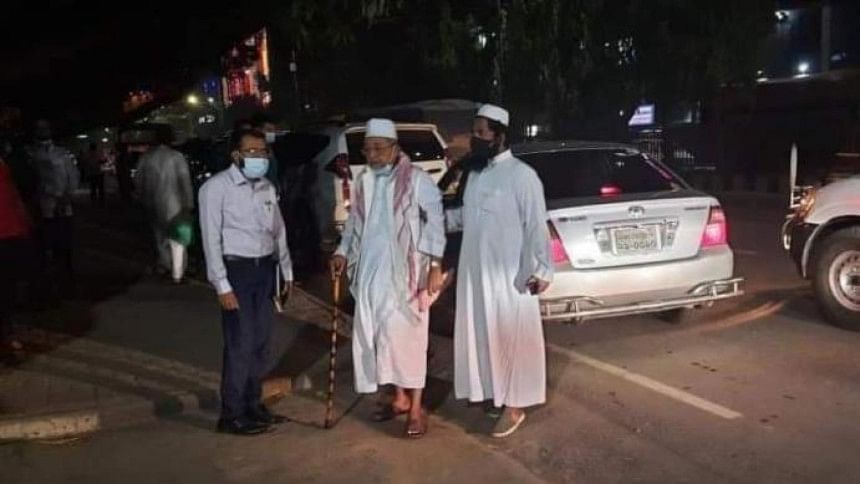 A delegation of Hefajat-e Islam held a meeting with Home Minister Asaduzzaman Khan Kamal at his residence in the capital to negotiate the ongoing crackdown on its top leaders following the recent violent activities of the Qawmi-madrasa based organisation.
Led by Nurul Islam Jihadi, secretary general of the convening committee of Hefajat, the 10-member delegation of the organisation entered the Home Minister's residence around 9:30pm tonight. The meeting lasted for more than two hours and ended around 12:00am. 
The delegation included Ataullah Hafeji and member of Hefajat's convening committee Mizanur Rahman.
Hefajat has engaged its senior and apparently apolitical figures to negotiate with the government in an aim to stop the arrest of its leaders and to release the ones already arrested, sources said.
State Minister for religious affairs Faridul Haque Khan, among others, was present at the meeting.
Under pressure due to the ongoing crackdown on its top leaders, Hefajat is now trying to come to a consensus over the arrest of its leaders and to free them, sources inside the organisation said.
Hefajat insiders said they are trying to convince the government and gain its confidence.
Earlier in April 19, a delegation of Hefajat led by Nurul Islam Jihadi also met with the home minister at his residence.
In that meeting Hefajat leaders assured the home minister that Qawmi madrasa students will not be involved in any anti-government or anti-state activities.
The Hefajat leaders in that meeting said they want to bring an end to the "misunderstanding" between the government and the organisations centring the protest that coincided with the celebrations of golden jubilee of Bangladesh's independence.
The government's crackdown followed countrywide mayhem by Hefajat men in late March.
Hefajat's Joint Secretary General Mamunul Haque was arrested, among others.
According to law enforcement agencies, a section of Hefajat top leaders including Mamunul tried to grab state power using madrasa students who had been provoked by his speeches and sermons, sources told The Daily Star.
Hefajat Amir Junayed Babunagari dissolved its central committee on April 26 and announced a five-member convening committee headed by him.