Arson: Khaleda's indictment, arrest decision Jun 28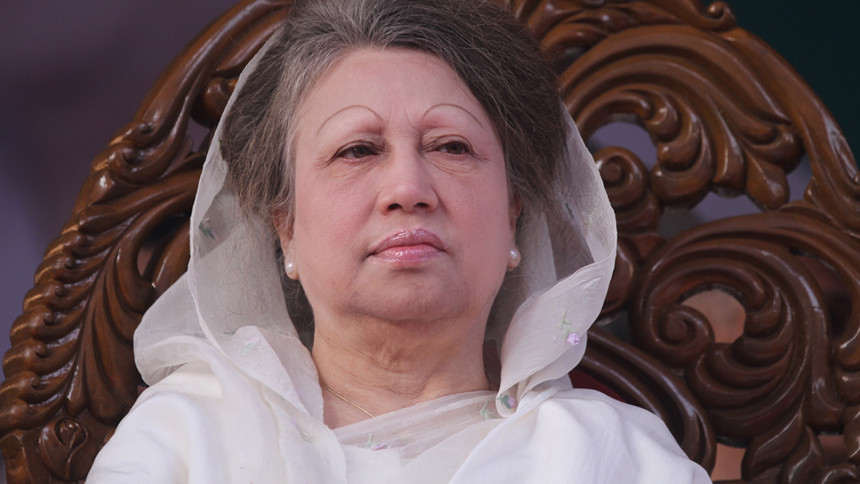 A Dhaka court today set June 28 to decide on the indictment of BNP Chairperson Khaleda Zia and 37 others in two cases filed over Jatrabari arson.
The court will also decide on arrest warrants against 31 accused, including Khaleda Zia, who have been shown fugitive in the charge sheet.
Charges have been pressed against the accused for burning alive a civilian and injuring 30 others for firebombing a bus in Dhaka's Jatrabari on January 23.
Investigation officer of the case has moved the court seeking arrest of the accused in the cases.
After hearing concluded today, Metropolitan Magistrate Shamsul Arefin set June 28 to pass order on whether BNP chief Khaleda and others will be framed and whether they will be arrested.
The charges pressed said Khaleda masterminded the arson and showed her along with 30 others fugitives because they had not secured bail in these two cases. Others are already in jail.
THE CASE
A day after the January 23 arson, Jatrabari police filed two cases against 68 BNP and Jamaat-e-Islami leaders. The cases were later transferred to the Detective Branch (DB) of police.
On May 6, Basir Ahmed, a DB sub-inspector submitted two charge sheets to the Chief Metropolitan Magistrate's Court of Dhaka in one case. One charge sheet involves killing and causing injuries and the other involves blasting firebombs.
The accused include BNP leaders MK Anwar, Ruhul Kabir Rizvi Ahmed, Amanullah Aman, Barkatullah Bulu, Habibunnabi Khan Sohel, Mir Sarafat Ali Sapu, Azizul Bari Helal, Sultan Salauddin Tuku, former BNP lawmaker from Dhaka Salauddin Ahmed, Khaleda's advisors Khandker Mahbub Hossain and Shawkat Mahmud, her special assistant Shimul Biswas and press secretary Maruf Kamal Khan.
Seven of the accused, including Rizvi, are in jail.
Four of the arrestees -- Parvez, Sohag, Liton and Jony -- gave statements before magistrates on different dates admitting their involvement in the attack. The four said they were hired by some central and local BNP leaders to carry out the arson attack to create anarchy in the city, court sources said.
After submitting the charge sheets, Basir Ahmed, also the investigating officer of the case, appealed to the court to issue arrest warrants against the fugitives.
The IO appealed to the court to drop charges against 31 people named in the FIR, including BNP Standing Committee Member Rafiqul Islam Mia and Vice-chairman Selima Rahman, as their involvement was not proved.