Bridge breathes new life into railway
Travelling, transportation of goods to and from South and beyond await massive boost as master plan being rolled out
Completion of the much-awaited Padma Multipurpose Bridge will not only efficiently connect the southern region to the capital, it will herald a new horizon of railway communications in the country.
The rail line via Padma bridge will cut short the travel time between Dhaka and south-western districts like Khulna and Jashore by half, creating scope for expanding rail networks in these and other southern districts -- crisscrossed by rivers -- earlier thought to be too logistically challenging.
The government has already undertaken a project titled "Padma Bridge Rail Link Project (PBRLP)" to connect the capital and Jashore with a 169km rail line via the bridge. The link is a part of the Trans-Asian Railway Network.
Moreover, Bangladesh Railway (BR) is now carrying out a feasibility study with detailed design for construction of a rail line from the under-construction Bhanga junction to Payra deep seaport via Barishal.
Currently, BR has a rail network in 44 districts and as per its 30-year master plan (2016-2045), all districts save for Bhola -- the country's lone island district -- will be brought under the network.
"Padma bridge will play a very big role in railway expansion in the country," said NajninAra Keya, chief engineer (bridge viaduct) of PBRLP.
"Keeping scope for rail lines, alongside road connectivity, will give much more benefit to the nation," she told The Daily Star on December 8.
EXPANDING RAIL NETWORKS
The government in 2016 undertook PBRLP to build a rail line between Dhaka and Jashore through the under-construction Padma bridge.
Physical work of the Tk 39,246 crore project started in July 2018 and as of October this year, witnessed 28 percent progress.
The rail line will reduce the distance travelled between Dhaka and Jashore by more than 200km and connects four districts -- Munshiganj, Shariatpur, Madaripur and Narail -- with the country's growing rail network, officials said.
Currently, Jashore is linked with Dhaka by a 480km rail line through Bangabandhu Bridge, which takes more than eight hours.
"It will take less than half of the current travel time once the rail line is constructed," a mid-level railway official said.
NajninAra Keya said it wouldn't have been possible to establish the rail link had the bridge not been constructed.
She said, following PBRLP's request, Economic and Social Commission for Asia and the Pacific (ESCAP), a regional office of the UN, agreed to incorporate the Dhaka-Bhanga-Jashore route as a part of Trans-Asian Railway Network.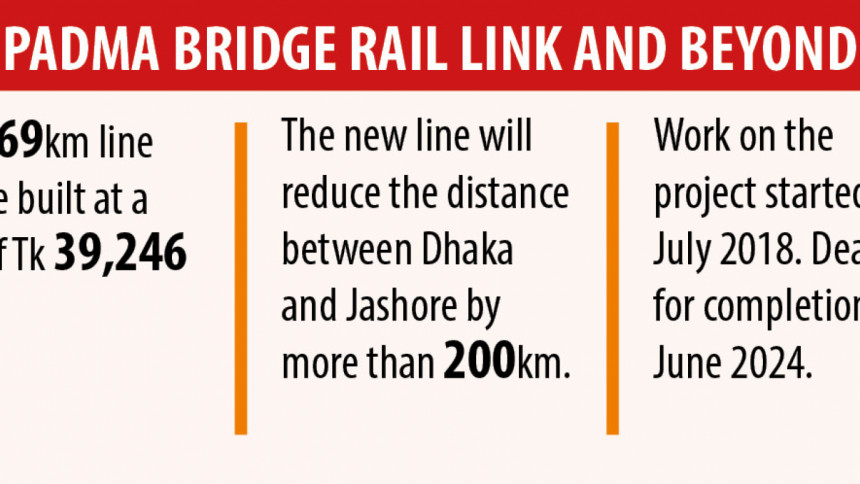 Bangladesh is linked with India through Benapole in Jashore and Darshana in Chuadanga and the line will help boost connectivity with not only India but also Nepal and Bhutan, another railway official said.
While the rail authority is set to complete the total Dhaka-Jashore section within 2023, it wants to open the Mawa-Bhanga section when the Padma bridge will be open for the public -- tentatively in 2021. Bhanga is already connected with the railway network.
"We have given a target [to the contractor] to complete this section [Mawa-Bhanga] keeping the matter in mind. We think CREC [China Railway Group Limited, the contractor] has the ability to do that," Railways Minister Nurul Islam Sujan told reporters on December 2 during a visit to the project site.
BOOSTING CONNECTIVITY IN THE SOUTH
Transport expert Prof Mizanur Rahman said the rail line via Padma bridge will boost both passenger and goods transport between the capital and south-western districts.
He said for passengers between Dhaka and this region will be faster than existing transport options.
On the other hand, Dhaka will also be connected with Mongla and Payra seaports through rail communication and thus transportation costs will be less than that incurred by road, which will ultimately boost the economy, he said.
From the perspective of road safety, Mizanur Rahman, also a former director of Buet's Accident Research Institute, said rail lines in the southern part of the country will reduce pressure on roads and thus, also lower the number of road accidents.
Meanwhile, the government has planned to bring Barishal region under the railway network and undertook a project in 2016 to carry out a feasibility study and detailed design of the rail line from Bhanga to Payra port in Patuakhali via Barishal.
Project Director MdShahidul Islam said they have completed the feasibility study and hope to complete the detailed design within this fiscal year.
Once the project is implemented, Barishal and Patuakhali will directly come under the rail network and several other southern districts will also benefit from it, he told this correspondent on December 8.
BR is implementing a project for construction of Khulna-Mongla port rail line, to connect the country's second seaport with the rail network. The Tk 3,801.61 crore project is expected to be completed within June 2021.
Besides, it has undertaken a project to connect Magura with the railway network. The project, titled "Construction of broad-gauge rail line from Madhukhali to Magura Via Kamarkhali", is being implemented at a cost of Tk 1,202 crore between May 2018 and April 2022.
Moreover, a feasibility study and detailed design for construction of a new broad-gauge railway line from Gobra in Gopalganj to Pirojpur and to Bagerhat are underway, shows a railway document.
Another feasibility study is going on for the construction of a rail line from Darshana to Meherpur via Damurhuda and Mujibnagar, it also shows.
"Dhaka has a railway connection with Jashore which is a U-shaped structure. Construction of the Dhaka-Jashore rail line via Bhanga will actually directly connect the two ends of the 'U' and will boost rail connectivity in this entire region," a railway official told The Daily Star, wishing to remain unnamed.