Women, Peace and Security
Women at the forefront of peacebuilding
War and conflicts are ravaging communities across the world today. The recent years have also seen wide-spread targeting of women and girls in conflict zones and a marked pushback on women's rights. Sixteen years since the adoption of UN Security Council resolution 1325 in 2000, the women, peace and security agenda remains relevant and critical in the face of rising violence, extremism and deadly conflicts.
Even as women continue to bear the brunt of war, there is increased recognition of their pivotal role as peacebuilders. For example, in 2015, 7 out of 10 peace agreements signed included gender specific provisions—a vast improvement compared against the analysis showing that only 73 out of 664 agreements produced between 1990 and 2000 included a reference to women. More security sector personnel are now trained to prevent and respond to sexual and gender-based violence, and more countries are implementing national action plans or related strategies.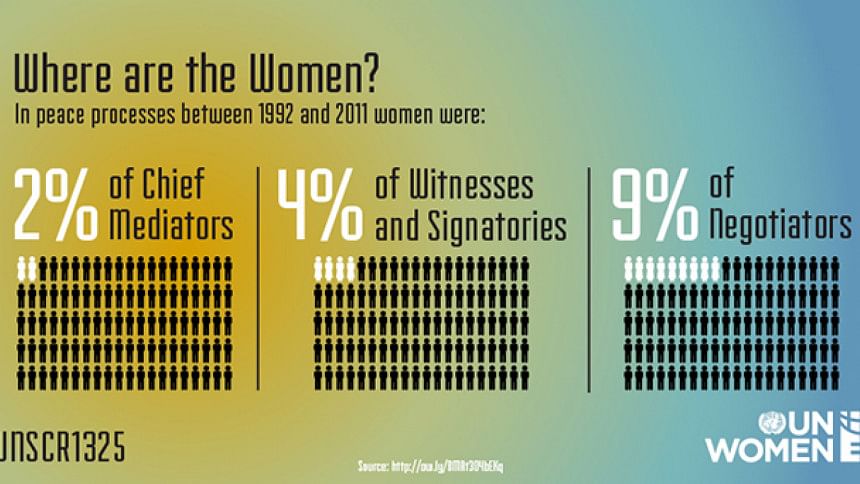 When women are included in peace processes, there is a 20 percent increase in the probability of an agreement lasting at least 2 years, and a 35 percent increase in the probability of an agreement lasting at least 15 years. There is a growing momentum for fulfilling the women, peace and security agenda: at the 2015 High-Level Review of the implementation of resolution 1325, more than 180 political, financial and institutional commitments were made by Member States and regional organizations. Resolution 2242, which was adopted unanimously by the UN Security Council during the 2015 Open Debate, together with the seven previous resolutions and related policy commitments on women, peace and security, provide a strong common agenda for action.
Yet, implementation of policies and international commitments on the ground remain unfulfilled. Much more needs to be done. For example, women make only 3 per cent of UN military peacekeepers. In conflict-affected countries, women's share of seats in parliament is four per cent lower than the global average of 22.7 percent. UN Secretary-General Ban Ki-moon recently urged all actors, including governments, to earmark 15 per cent of peacebuilding funds to projects that directly advance gender equality, which would not always require new funding, but rather, a prioritization within existing funds.
On 25 October 2016, the UN Security Council will convene its annual Open Debate on Women, Peace and Security, with a focus on how Member States, regional organizations and the UN have followed-up on commitments and recommendations from the 2015 High-level Review and the related Global Study on the implementation of Security Council resolution 1325 (2000). The Debate will also consider future steps to advancing the agenda, taking into account new threats and emerging challenges, including the rise of violent extremism, the protracted nature of displacement and the impact of climate shocks.
The new report of the UN Secretary-General on women, peace and security (S/2016/822) brings forth information on recent trends and highlights latest development and results. It also provides an update on the status of implementation since 1 January 2015 and draws attention to areas of stagnation and regression and other concerning developments. The report features initiatives such as the new mechanism in the Security Council, the Informal Experts Group on women, peace and security, designed to ensure greater flows of quality and actionable information to the Council; the new Global Acceleration Instrument on women, peace and security and humanitarian action, aimed at catalyzing new funding for commitments on this agenda and country-level progress in a range of areas from implementation of National Action Plans to increased women's leadership in institutions responsible for peace and security. It further notes that the priority areas identified last year continue to require urgent action.
On the 16th anniversary of UN Security Council Resolution 1325, UN Women spotlights women's leadership and the critical role they play in preventing conflict, sustaining peace and shaping more effective responses to today's complex crises.
This story was replicated from the UN Women website. The Daily Star is an official partner of UN Women's Step It Up! Media Compact, an alliance of media organizations committed to playing an active role in advancing gender issues within the framework of the Sustainable Development Goals (SDGs).