We are poor but so many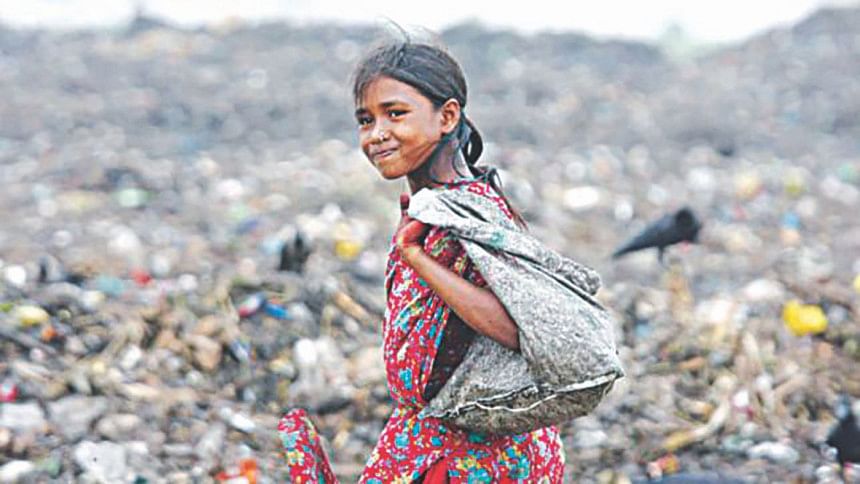 That's the title of a book published in 2005, by an Indian writer who has dedicated her life to fighting for labour rights and women's empowerment. Ela Bhatt, a noted Gandhian, gives a poignant first-person account of the rise of a trade union of self-employed women that she formed in 1972. Through her book also emerges a picture of India's poor, scattered in its lumbering backwater as well as metropolitan areas with greater access to economic opportunities.
Living next door to a country poised to become the world's fifth largest economy soon, it's tempting to compare the state of the poor people in India and Bangladesh, or any other country of similar socioeconomic backgrounds for that matter. I was struck by the similarities shared by these countries in terms of the way poverty remains a mystery to them.
A majority of the population in these countries live in poverty. Their existence is a blight on the phenomenal economic growth that their governments are so proud of having achieved over the decades. These people, some argue, suffer not because their governments are not doing enough to help them rise out of poverty, but because they are doing exactly what's necessary to keep them in that state. Poverty, in that case, is not just something that happens—it is something that's made to happen. Because if you believe in the Machiavellian prescription for a well-ordered republic, perpetuation of poverty is how you keep that order.
How are the poor people faring in Bangladesh? That's a reasonable question to ask as we observe the International Workers' Day today. This year, the day's focus is on uniting workers for social and economic advancement, which seems particularly relevant at this time for Bangladesh. The country is celebrating its eligibility for graduation from the group of Least Developed Countries (LDC), following years of steady growth in various indicators, yet one fails to comprehend how this recognition came about when, clearly, the poor are suffering as before and the poverty machine remains as functional.
According to the Labour Force Survey (LFS) 2015-16, 86.2 percent of the labour force in Bangladesh is engaged in some type of informal employment, up from 75.2 percent in 2000 (The Daily Star). It's a huge number by any estimate. The fact that informality remains pervasive, even after those rosy GDP statistics that are shoved down our throats every now and then, means poverty and inequality are still pervasive too. Whoever had predicted that globalisation would reduce poverty and help the developing countries grow with all their jobs, sooner or later, coming within the bracket of the formal sector was just updating the colonial-era formulae of exploitation.
The poor and marginalised, low-income groups working in the agriculture and non-agriculture sectors, in construction, wholesale and retail trade, accommodation, restaurants, in the garment sector, in the streets cleaning, sweeping or vending, in the breaking yards dismantling ships, or extracting stone from the quarries… they don't figure in the success manual. They are the pariahs, a shameful chapter in the glorious book of our success. Ela Bhatt, who equates poverty to "violence with tacit consent," gave a moving description of how these people function in an increasingly urban world. 
"An urban world is a literate world," she wrote, "where the written word reigns supreme. The illiterate are at a loss because entire systems pass them by. Public notices, street signs, newspapers, legal documents, bank accounts, and employment advertisements are all beyond their reach. They are forced to remain local, among things they know and people they trust, in order to survive." But climate change and rapid urbanisation have changed a lot of equations for them. They are now increasingly mobile, increasingly detached from the world they knew and felt comfortable living in, and increasingly vulnerable to exploitation. If poverty is a form of violence, these people are feeling the full weight of its impact.
The vulnerability of those in the informal sector, according to a report by the International Labour Organisation (ILO), "presents a challenge to stable and sustainable development as the workforce in this sector usually engages in activities which are unregulated, unrecognised and 'low productive' in nature." But there are bigger risks at hand, that of life-or-death for the people involved, that of being exploited and deprived, year after year, without any meaningful change whatsoever, because their life or demands are of little value in the grand scheme of things.
To understand the true extent of poverty in Bangladesh and the condition of these poor, untaxed people in the informal sector, far removed from the benefits of our growing economy, it's important to look at things at disaggregated levels instead of trying to see the whole picture. The conditions of these people vary from each other. They come from different backgrounds and face different realities and challenges. Among some challenges faced by them are lack of access to quality education, wide infrastructure gaps, social discrimination, shock-induced vulnerabilities, insecurity, etc. Add to them the fact that often they lack skills necessitated by the rapid technological changes, lack of overall employment and job security, as well as absence of an inclusive growth policy in the country.
Unless we take all these factors into consideration and push for changes in how poverty or "development" is still treated at the highest level of policymaking, the poor will get poorer and the rich will continue to be richer. This is a difficult fight, hence the need for unity among the poor themselves for the social and economic advancement that they desire. The oligarchs of the rich and powerful who influence our growth charts and statistics as well as our policies will always be around trying to control them but they can always push back through their unity and clarity of purpose. They have the number in their favour. As some recent demonstrations have proved, no change is impossible when enough people unite with integrity and fight for their own rights.
---
Badiuzzaman Bay is a member of the editorial team at The Daily Star.
---
Follow

The Daily Star Opinion

on Facebook for the latest opinions, commentaries and analyses by experts and professionals.
To contribute your article or letter to The Daily Star Opinion, see our

guidelines for submission

.
---