Pain and anger in Sri Lanka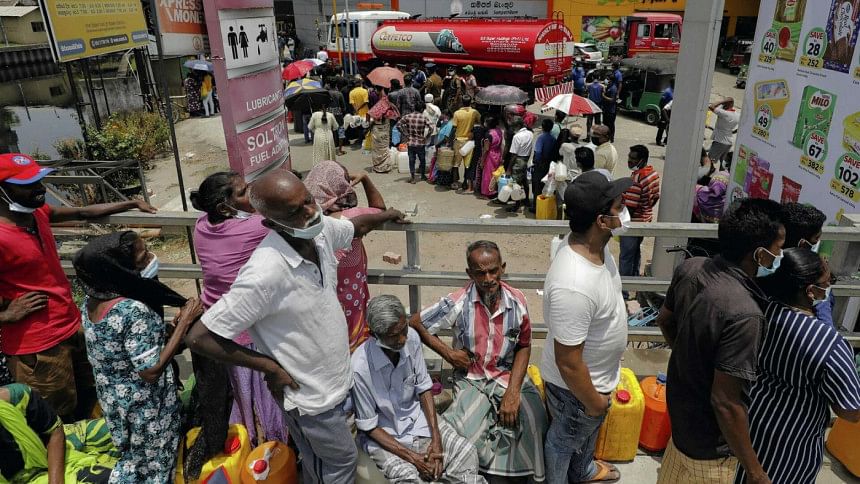 Sri Lanka is known as the country of smiling people because of their friendliness. But recently, the island nation has been experiencing an explosion of pain and anger. An unprecedented economic crisis has been sweeping across Sri Lanka, and although signs of it started to emerge in 2019, not many foresaw back then how badly and quickly things would deteriorate.
The Sri Lankan government is running low on foreign currency. Over the last two years or so, it has exhausted over 70 percent of its foreign reserves and now is only left with USD 2 billion, while it has a whopping USD 7 billion in debt due in 2022. As a result, the country has been unable to pay for essential imports such as fuel, food items and other critical products.
Things have gotten so bad that, on April 5, 2022, Sri Lanka's top medical body declared a public health emergency due to a scarcity of medicines and equipment in the country. That means the state healthcare facilities, which a majority of Sri Lankans depend on, will now only prioritise emergency and urgent care services. People are being forced to withstand rolling blackouts for up to 13 hours a day due to fuel shortage. Retail inflation is estimated to have crossed 17.5 percent, and that's not even the worst of it. According to reports, food inflation has risen over 25 percent, leading to a steep rise in food prices.
On the surface, it is obvious that the island nation has experienced a series of bad luck. In 2019, its economy took a big hit because of the Easter bombings. The Covid-19 pandemic followed next year, devastating its lucrative tourism industry and its foreign workers' remittances. Finally, as the shroud of the pandemic started to be lifted off of the global economy, the Russia-Ukraine war and its resulting destabilisation of global trade, currencies and commodity prices have dealt a knockout blow to Sri Lanka's already feeble economy.
Most, if not all, of these occurrences can be considered as "black swan" events—unpredictable events that are beyond what is normally expected of a situation and have potentially severe consequences. And this does give some legitimacy to the idea that the crisis in Sri Lanka is the culmination of a number of unfortunate and unforeseeable incidents, thereby excusing its policymakers from some of the blame. Why, then, is there so much anger in Sri Lanka?
On March 31, 2022, more than 1,500 people protested outside President Gotabaya Rajapaksa's private residence. Among the slogans they shouted was one asking him to quit. Others included "Prosperity for rulers while hardship for people," and "Country is for all and not for one family." Later, a section of the crowd attempted to break through the barricade before the president's private residence, leading to the police cracking down on them.
Incidents of violence became more frequent as the government imposed a 36-hour curfew on April 2, deployed troops backed with sweeping new powers under a state of emergency to quell protests against the president and his relatives, and forced a social media blackout. But even as hundreds of people continued to get arrested for peacefully demonstrating, that did not stop thousands more from taking to the streets, ignoring the curfew.
This anger is partly driven by just how bad things have gotten for ordinary people, while partly driven by years of frustration. Through this demonstration of anger, the Sri Lankan people are expressing their refusal to be taken for fools. Because, despite the external factors that have affected Sri Lanka's economy, its policymakers are not completely blameless, and people recognise that.
For years, Sri Lankan policymakers have refused to prioritise diversifying the country's export basket through proper policies and support. Its overdependence on only two major export items—similar to Bangladesh—is what cost Sri Lanka so dearly. As exports slumped, Sri Lanka's forex reserves nosedived, which made it increasingly difficult for it to import essential items; consequently, its currency suffered through massive instability and prices continued getting pushed out of control.
Sri Lanka also undertook a number of megaprojects, many of which were not viable and were expected to give returns at much later dates. A number of these projects were financed through borrowing—from other countries or international organisations—which put added repayment pressure on the country. Additionally, corruption and nepotism became widespread in Sri Lankan politics. As family-based politics came to dominate the overall national politics, people's resentment towards the political class grew. The political class became increasingly distant from the ordinary people, which made it more difficult for them to recognise the clear warnings that were sent out by both the experts and the people. As a result, some of the major policies that the government adopted, such as slashing taxes and pursuing fully organic farming, were not feasible—they were taken to quickly appease the masses, not to address the root problems.
As tragic as what's been happening in Sri Lanka is, there is a great lesson in it for Bangladesh. Many of the problems that have brought the Sri Lankan economy to its knees are also present in our country. And for the policymakers and people who might be thinking, "What's the worst that could happen if we continue to leave ourselves vulnerable to external shocks and forces?"—the present economic suffering and civil strife in Sri Lanka should serve as a clear reminder that it's best not to try our luck and find the answer to that through first-hand experience.
Eresh Omar Jamal is an assistant editor at The Daily Star. His Twitter handle is: @EreshOmarJamal