A disaster we made worse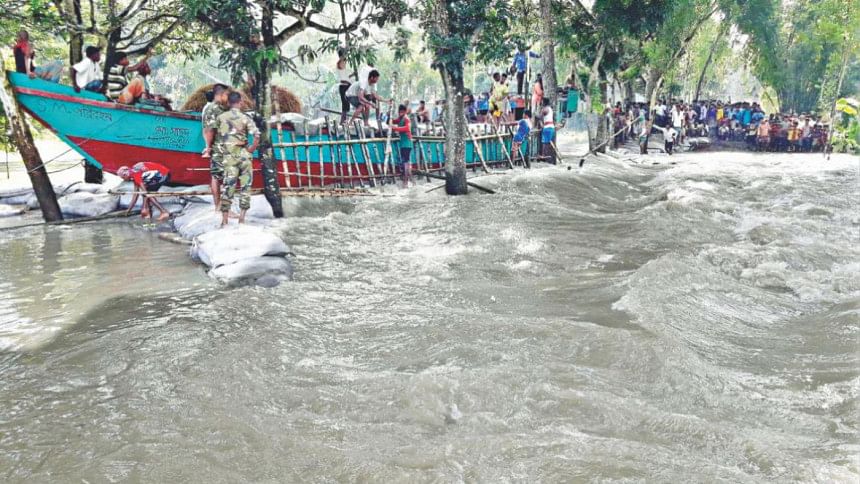 "Bangladesh is a disaster-prone country due to its geographical location. So, we've to live with the phenomenon with necessary plans to keep the extent of damages and loss of lives to a minimum during any disaster."
—Prime Minister Sheikh Hasina
Bangladesh is indeed a disaster-prone country, especially when it comes to floods. An article published by The Daily Star revealed that at least 142 people had died in this year's flood which had impacted over 8.5 million people and their lives and their livelihoods ("The way forward as floodwater recedes", September 8). According to government estimates, at least 61,877 hectares of cropland, mostly for growing rice, had been "completely damaged" and another 531 million hectares "partially damaged" by floods.
In Tangail and Gaibandha alone, Aman paddy, on over 20,000 hectares of land and worth around Tk 14 crore respectively, were damaged, leaving thousands of farmers and their families completely helpless and wondering when and how it is that they would regain some sense of stability into their lives—or whatever is left of it.
Eighty-eight primay schools, madrasas and high schools have remained suspended in Moulvibazar, while thousands more across the country have been forced to shut down because of flash floods and the onrush of water from the hills. Additionally, massive numbers of school children could not attend their classes in the haor areas of Sunamganj, having joined different types of works to support their families, who had, reportedly, had their Boro paddy (the main crop of the area) washed away by floodwater, leaving them on the cusp of financial ruin.
Overall, according to the district's primary and secondary education offices, average attendance of students fell by about 70 percent since April among its (approximately) 350,000 and 121,000 students at the primary and secondary levels, respectively. How much of a setback thousands more will have to endure and for how long is anyone's guess.
Amidst such sufferings, some flood victims in the haor areas, having had their houses submerged underwater for four months, have erected houses on roads risking their lives and of those travelling along, alleging that the chairman and members of the Union Parishad (UP) had refused to provide them with shelter, in spite of their desperate pleas. But that's not all. They alleged that most of the villagers were denied relief when they had gone to the flood centres and in general, completely contradicting the Deputy Commissioner who had claimed that "they [had] distributed a large quantity of relief goods" which, if true, begs the question: "to whom?"
While this is going on, people across the country are suffering miserably. In Fenchuganj upazila of Sylhet, at least 30 villages have remained under floodwater for the last three months, affecting around 60,000 people as the Kushiara River swelled because of the onrush of water from the upstream in Assam. Business too has been suffering according to local traders, a commonality in the many places still submerged underwater, and many more that lie devastated in other ways.
Yet, the saddest part of the situation, as the floodwater recedes, is that some of the relief gathered for today's unfortunate victims, are being diverted by a handful of shamelessly corrupt individuals, public officials and their cohorts. In one incident, Rapid Action Battalion (Rab) found, for example, a huge discrepancy in rice being released for relief from Tejgaon central storage depot meant for distribution among the flood-affected people in the area of a Jatiya Party lawmaker. Whereas each sack was supposed to contain 30 kilogrammes of rice, Rab found some to contain only 12 kilogrammes while others had 14 or 20 kilogrammes of rice in them.
More discrepancies were detected on further inspection by Executive Magistrate of Rab, Sarwar Alam, who said that they had found a record, "which shows that 258 tonnes of rice was [sic] supplied to Dhaka district Ansar," who "received [only] 75 tonnes" ("9.5 tonnes relief rice missing!", The Daily Star, September 7). At a time when men, women and children in massive numbers are potentially in danger of starving to death, that some people are willing to deprive them of what is possibly life-saving relief to make a profit is, perhaps, indicative of how exactly it is that we have failed on our part, "to keep the extent of damages and loss of lives to a minimum," as the prime minister had suggested.
And the same applies to our flood preparedness as, for example, according to flood victims in 15 villages at Kulaghat union in Sadar upazila, it was the Water Development Board (WDB) who was at fault for the collapse of a dyke along the Dharla River at Dakkhin Shiberkuti village, who further alleged that the WDB did not do repair work of the dyke properly. One victim said that, "The government [had] allocated money to save us from erosion by the Dharla River, but WDB officials did not use the money properly," adding that "There were a large number of bags filled with sand," which "were not dumped before the flood," leading to the dyke's collapse—an allegation the Kulaghat UP Chairman also made and that should be carefully investigated.
That, however, is not all when it comes to the allegations of corruption, mismanagement and incompetence that have been made against the WDB. In Kurigram district, 23 kilometres of a 210-kilometre-long embankment was completely washed away by floods and 60 percent severely damaged, while in total, 280 kilometres of embankment were damaged and 35 kilometres wiped out by the recent floods in the rest of the northern districts. According to locals, the main reason for this was the lack of maintenance work done by the WDB, which the Executive Engineer of WDB stationed in Kurigram had himself admitted.
The Director General of WDB too did admit, to his credit, that his organisation's "efforts to control floods with embankments has [sic] proved quite ineffective in many cases due to flawed construction and lack of maintenance." Given the cost of the WDB's failure, however, mere admission is not enough. What is needed is for the government to conduct proper investigations and to prosecute those found guilty of failing to perform their duties satisfactorily, so that in future, such debacles are never again repeated.
And here is where the government must fare better in future—paying attention to details that could very well decide the fate of millions of people and be the deciding factor when it comes to preserving the lives of our citizens. With forecasts predicting that there will be increased numbers of natural disasters in future, it is time for both the government and society in general to pay greater attention on how we can better prepare ourselves for what is to come.
---
Eresh Omar Jamal is a member of the editorial team at The Daily Star.
---
Follow

The Daily Star Opinion

on Facebook for the latest opinions, commentaries and analyses by experts and professionals.
To contribute your article or letter to The Daily Star Opinion, see our

guidelines for submission

.
---