'A' is for 'orange'
The trouble with Bangla spellings in Latin script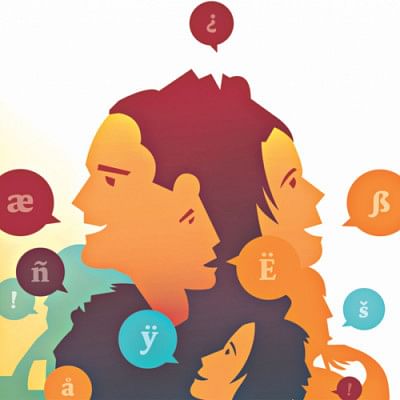 A is for apple, b is for bear, c is for cat... English spelling is easy enough at the beginning. It clearly deteriorates thereafter. Yet one must have extra sympathy for Bangladeshi students of English because for them, sometimes 'a' is for orange.
Consider: "The phone rang." Rang is a kind and friendly English word. It's spelt phonetically. The 'a' is the 'a' in apple. But in Bangladesh we have Rangpur, which isn't really rang-pur but rong-pur.
Today the Bangladesh government will consider changing the spelling of five district names. The proposed spellings are: Chattagram (Chittagong), Barishal (Barisal), Kumilla (Comilla), Jashore (Jessore) and Bagura (Bogra). To shift from colonial to home-grown spellings is commendable. The question is whether the result is tailored for linguists or everyday speakers.
Ideally, Bangla should be written with the beautiful Bangla alphabet, tailormade with letters to represent every Bangla sound. When a language is written in an alphabet that isn't its own there must be compromise, such as the 'th' in Thakurgaon which signifies a Bangla sound unavailable in English with an English sound that doesn't exist in Bangla.
Despite the good dose of compromise required, there are standards that can make it easier. One is that 'a' just isn't 'o'. Thus we sometimes see 'Rongpur', 'Sirajgonj', etc. The 'modern' use of an 'o' is much closer to the pronunciation.
So why was it Rangpur in the first place? The short answer is that it makes sense to linguists. It's worth noting the difference between transliteration and transcription. The former system attempts to maintain the exact spelling of the word from the source language while the latter pays heed to pronunciation. Which is more important?
Well, it depends... If the point is to communicate, to do business, to study, to watch movies and talk, pronunciation is a useful focus. For almost all of the advantages that English as a global language may have for non-native speakers, pronunciation will rank highly.
Is it a big deal? Any language teacher can explain how if one repeats an error multiple times it becomes learnt knowledge. To correct the mistake, to un-learn it, is far more difficult than taking the time to learn it correctly in the first place. The use of the Rangpur spelling subtly reinforces the idea that sometimes 'a' is for orange. Given how many Bangla words written in English use 'a' for an 'o' sound, it's not unreasonable to question if it isn't an impediment to higher English standards.
Conversely, it makes Bangla less accessible to English-speakers. All their lives 'a' has been for 'apple'. As students of Bangla, assuming they are yet to master the script, they suddenly have to learn that sometimes 'a' is for orange, except when it isn't. In terms of promoting Bangla abroad, Rongpur has the advantage.
To pronounce 'Chattagram' sounds quite unlike what is truly said, which is Chottogram. The first 'a' in Barishal will be pronounced unwittingly as the 'a' in apple. It'd be a bit like spelling the name of the former Russian president as Baris Yeltsin and expecting people to say Boris.
As for Kumilla, well the hard 'c' and 'k' sounds are identical in English so substituting has no pronunciation value. The substitution of the 'o' for a 'u' might be worthwhile to mirror the Bangla spelling, but in this instance it won't make much difference to English pronunciation because both words, Comilla and Kumilla, favour stressing the second syllable, the 'mill'. Thus the pronunciation change is from C'milla to K'milla with minor influences of 'o' and 'u': almost identical.
The traditional spelling of Jessore is a good candidate for change. 'E' is, after all, for 'egg'. But the proposed version, Jashore, isn't much closer. Imagine the poor tourist asking for a bus ticket to Jash-ore, pronouncing the 'a' as in apple. Nobody would understand them! Clearly, the most approximate pronunciation is Joshore.
Looking at Bogra, the current spelling isn't bad. Yes, it misses the 'u' in the Bangla spelling but the sound is close. It's actually closer in sound than 'Bagura' which for any English-speaker will rhyme with Magura.
Of course the main point is not how spelling affects English-speakers. Much more important is how uncoordinated pronunciation systems affect Bangladeshi students of English, who then have to master two distinct ways of pronouncing some Latin script letters. The matter might seem minor, but it might just prove the difference between landing a great international job later in life and missing out because someone from a country where the transcription system is a better parallel can speak English more clearly.
On a final note, it is important to bear in mind that English does not own the Latin alphabet. Nevertheless, in the case of shifting Bangla place names, the revision most probably has the English version foremost in mind.
---
Andrew Eagle is an author and regular contributor to The Daily Star.
---
Follow

The Daily Star Opinion

on Facebook for the latest opinions, commentaries and analyses by experts and professionals.
To contribute your article or letter to The Daily Star Opinion, see our

guidelines for submission

.
---