Bibi's Faustian bargain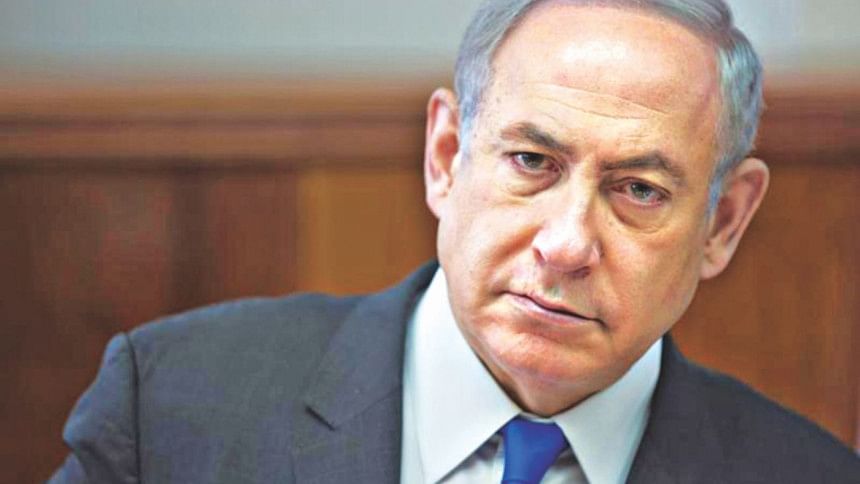 On February 13, after an investigation that began in 2016, the Israeli police recommended charges against Prime Minister Binyamin Netanyahu for bribery, fraud, and breach of trust. Now, the spotlight is on Attorney General Avichai Mandelblit, who must decide whether to issue a formal indictment against a man who has become virtually synonymous with modern Israeli politics.
If the current government survives until the summer of 2019, Netanyahu will become Israel's longest-serving leader. At the moment, it is far from certain he will last until then.
Since returning as prime minister in March 2009—he first held the job from June 1996 until July 1999—Netanyahu has overseen unprecedented economic growth and a series of diplomatic feats. At the same time, extreme divisiveness has become a political hallmark of his tenure, and the drumbeat of potential war in Syria, Lebanon, and Gaza has grown deafening. How Netanyahu's political predicament plays out will dictate which narrative prevails.
The just-completed police inquiries—code-named "Case 1000" and "Case 2000"—are not the only legal challenges Netanyahu faces; other corruption probes are ongoing. The ripple effect of these scandals—which include allegations of accepting some USD 300,000 in gifts over the course of a decade—could engulf an already-fragile political dynamic in Israel, where rivals within Netanyahu's coalition hold tremendous sway over him and his Likud faction.
Members of Netanyahu's government are wary about deciding their leader's fate prematurely. But they are also monitoring carefully which way the political winds are blowing. None of his ministers is particularly interested in new elections, but no one wants to go down with a sinking ship.
The dilemmas faced by Moshe Kahlon, the finance minister, and Naftali Bennett, the education minister, are instructive. Each currently wields a degree of influence that would not be guaranteed in a new Knesset (parliament). So, as crisis envelops Netanyahu, members of his government are focused on amassing enough accomplishments to appeal to the electorate on their own merit.
As the slow-motion political tragedy gathers pace, Netanyahu is rallying his troops to defend his innocence and deter any foe from hastening his demise. But distancing themselves from the perception of wrongdoing will be essential to his cabinet colleagues' ability to realise their own long-term political aspirations, especially if calls for resignation grow louder.
The danger of this predicament is that it could make Netanyahu amenable to the demands of his coalition's more ambitious factions. For example, hawks advocating for a more spirited response to Iranian-sponsored aggression in the Golan Heights will be emboldened, as will those insisting on more construction of Jewish settlements in the West Bank. Ultra-orthodox powerbrokers will also pressure Netanyahu not to accommodate liberal expressions of Judaism in Israel.
Any one of these groups could instigate a revolt and compel their Knesset representatives to bring down Netanyahu's government. Amid such pressure, the cost of Netanyahu's political survival could be steep.
Complicating all of this is—somewhat ironically—Netanyahu's relationship with US President Donald Trump. The Israeli government has been feeling invincible in the United States—buoyed by the Trump administration's decisions to recognise Jerusalem as Israel's capital and move its embassy there, as well as its open hostility to the 2015 Iran nuclear deal.
But today, that confidence is waning. The Trump administration's red line was apparently crossed this month, when a White House spokesman issued a rare rebuke of Netanyahu, dismissing reports that US officials had discussed an annexation plan for the West Bank with their Israeli counterparts. If this scolding does represent growing discord, any hard-line tilt in Israel could further strain the country's relationship with the US.
Netanyahu is no political neophyte; he knows exactly what kind of dilemma he faces. If he goes against his principles and surrenders to the aggressive demands of his coalition, he will be compromising his allegiance to the office he holds and the country he governs. But if he resists the temptation to pander, it could very well mean his downfall. The stakes have never been higher, both for Netanyahu, and for the state that, at the moment, he continues to lead.
---
Shalom Lipner, a former foreign policy adviser to the Prime Minister's Office in Jerusalem, is a nonresident senior fellow at the Center for Middle East Policy at the Brookings Institution.
Copyright: Project Syndicate, 2018.
www.project-syndicate.org
(Exclusive to The Daily Star)
---
Follow

The Daily Star Opinion

on Facebook for the latest opinions, commentaries and analyses by experts and professionals.
To contribute your article or letter to The Daily Star Opinion, see our

guidelines for submission

.
---