Combating violent extremism cannot be limited to just security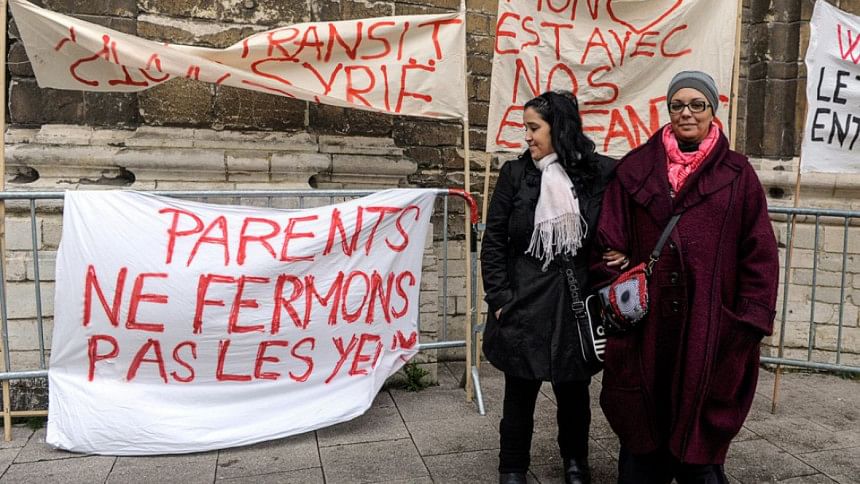 "Mother I know three languages but I can't find a job."
"I am tired of all those police checks while I am waiting for my bus."
"Why is it the Muslims who are always bullied?"
The words of Sabri blared on the big screen with the red-light of mike regulators blinking in the semi-darkness of the Senate Bhaban. Sabri was a 19-year-old Belgian Muslim boy who in 2013 went to Syria to join ISIS and was killed three months later. Sabri's mother, Saliha Ben Ali, in an incredible show of strength, decided to start a movement to counter this problem that was taking the Muslim youths of Belgium at the time. She set up SAVE (Society Against Violent Extremism), an organisation that works as a platform for mothers to seek support when dealing with the situation she had faced. On February 14, 2017, she was invited to Bangladesh to work on a campaign on "combating violent extremism" organised by the Innovation for Wellbeing Foundation and the American Center, Bangladesh.
Typically the focus of discussion around violent extremism becomes about national, international security and religious extremism. However, extreme violence is a reaction, a reaction to a problem much bigger than the act of violence.
When people for political reasons or otherwise are referred to as "being de-railed", extremist, terrorists, we fail to acknowledge that at the heart of such violence are social injustices that manifest into a serious emotional reaction for them. For years now, we have been waking up to the news of mass killings somewhere in the world almost every day, mostly Syria and Palestine. While of course, this has not resulted in mass PTSD (post-traumatic stress disorder), it has been a reason for continuous feelings of frustration and anxiety. As attacks continue around the world, counter-attacks in what is called "hate crimes" on Muslims have been taking place across Europe. Do we stop to think what the emotional toll of all this is?
If we were to zoom in from ISIS and the conflict in Syria to Sabri's individual crisis, we would see the problem of violent extremism in its entirety: an emotional struggle with injustice. Sabri was being harassed by police, he was struggling to find a job and when he saw Syrians being persecuted, he related his personal struggles to that. Saliha spoke about the early days of her son's radicalisation when she had sought help from the police who said this is a problem of "your" community. Saliha's community is the Muslim minority of Belgium most of whom had migrated to Belgium after WWII from Morocco to provide the manual labour needed to rebuild Belgium. In 2015 an article published by Al Jazeera America on Saliha and SAVE talked about a fellow mother who lost a son to ISIS, and the encouragement she provides to youths saying "maybe you will never be 100 percent Belgian, but if you work hard you can get a job."
However, the terrorist attack in Gulshan, Dhaka in July 2016 where 29 people were killed, is an antithesis to all this because the youths of that incident were from well-off families. The recent church and hotel bombings that caused devastation across Sri Lanka killing 250 people and injuring over 500 people, were also carried out by members of an extremist group, most of whom were not struggling economically.
Dr Mekhala Sarkar, a psychiatrist at the National Institute of Mental Health presented a study at the seminar that found that the psychological motivation of youths towards violent extremism is not due to relative economic condition, various forms of brainwashing, criminality, mental illness or deep "Muslim" faith. The potential for radicalisation is due to seeking fulfilment of "some psychological need". These needs are identity and belonging, absoluteness of an idea and "perceived injustice". The Christchurch attack in New Zealand where 50 Muslims were killed was not carried out by a religious extremist but a white supremacist: Brenton Harrison Tarrant, a 28-year-old Australian man who has been arrested and charged with murder in relation to the attacks. Tarrant distributed a 73-page manifesto online minutes before the attack where he expressed anti-immigrant sentiments and called for all non-European immigrants in Europe who he claimed were "invading his land" to be removed. Apparently he also says he supports US President Donald Trump as "a symbol of renewed white identity and common purpose", but not as a leader or policymaker.
In the wake of the Gulshan attack, there were numerous media content on how ISIS recruits, criteria they look for, markings of youngsters who feel strongly about the wars in Palestine and Syria.
Scott Atran, an American and French anthropologist who was the first to observe, interview and carry out systematic studies among people on six continents who were drawn to violent action for a group and its cause, addressed the UN Security Council in April 2015. As a research professor at the University of Michigan and of the Centre for the Resolution of Intractable Conflict at Oxford University, he has studied and written about terrorism, violence and religion, and has done fieldwork with terrorists and Islamic fundamentalists, as well as political leaders. Atran points out that "violent extremism represents not the resurgence of traditional cultures, but their collapse, as young people unmoored from millennial traditions flail about in search of a social identity that gives personal significance and glory. This is the dark side of globalisation. They radicalise to find a firm identity in a flattened world: where vertical lines of communication between the generations are replaced by horizontal peer-to-peer attachments that can span the globe."
Atran added, "unless we understand these powerful cultural forces, we will fail to address the threat. When, as now, the focus is on military solutions and police interdiction, matters have already gone way too far. If that focus remains, we lose the coming generation."
Both Scott Atran and Dr Mekhala Sarkar have suggested positive youth engagements to solve the problem of violent extremism. Scott suggested offering youths something that makes them dream, of a life of significance through struggle and sacrifice in comradeship, a positive personal dream, with a concrete chance of realisation through the chance to create their own local initiatives. Volunteering activities should be part of school and education systems where they work towards establishing equality. Emotional hygiene should also be part of educational curriculums so that young people know how to process information and channel strong emotions. With more concerted systemic efforts and recognition of volunteering activities we could not only utilise the energy of our youth and solve unemployment issues but also create peace-builders.
Shamsin Ahmed is founder and project director of Identity Inclusion.