Reflections of life
Mushtaq is my brother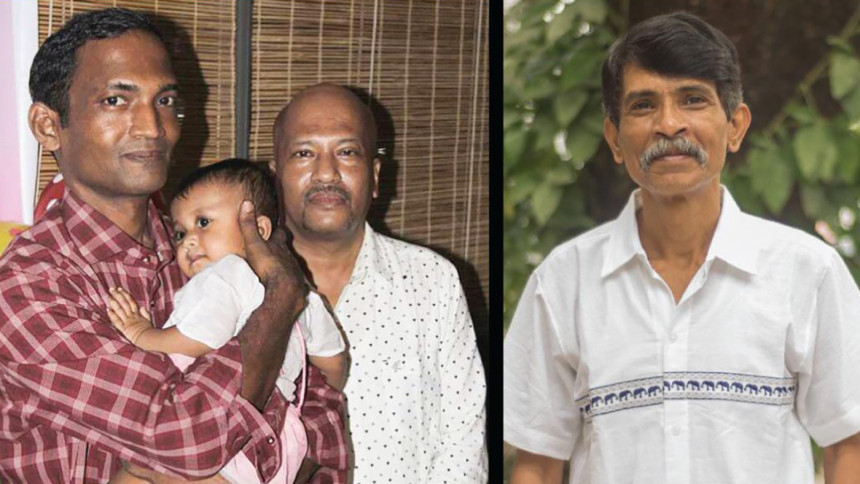 Kishore could never complete things. He was not known for completing any endeavour that he would take up. Perhaps, this is the first time in his life he has completed something which is worth an accolade!
He has completed three hundred days of prison life. Congratulations to Kishore.
Kishore is my brother. His name is Ahmed Kabir Kishore, but he is also known as "Cartoonist Kishore". It was I who introduced him to the world of drawing cartoons. I never took a minute to think about how good a cartoonist Kishore is.
Now he has made newspaper headlines all around the globe. He received some international awards, too. Cartoonists from 25 countries have drawn cartoons about him. Naturally, famous people have to go through a lot of hassle. They may even end up in jail. Kishore has also been jailed.
On May 6 last year, Kishore was shown arrested by Rab-3 at Ramna Police Station. Later, he was transferred and detained on the 2nd floor of Shapla Cell, which is situated inside the Central Jail (in Keraniganj).
Thanks to the coronavirus-related complicacies, no one could meet Kishore till February 23 this year.
I wonder, does a person get pen and paper inside the jail? Did Kishore manage to draw some cartoons there? Or is it true that he can't even move his hands and feet properly now? Who held such a massive grudge against him? I am not in the mood of writing a descriptive essay about the people who met him at Ramna Police Station on May 6.
Kishore was unable to get up from the floor of his own cell. On that fateful day, Mushtaq Ahmed's wife Lipa (her husband passed away recently) could not hold back tears after seeing Kishore in such a state. Luckily, I didn't get to meet him that day. My tears were spared.
He was born with an unusually large head. He could not move it properly. When he was 11 months old, we, his family members came to know that he has Meningitis disease, which caused his head to expand.
From his early days, he was benefitted by "liberation". Among our seven siblings, four were born after the nation got liberated. Maybe that is why Kishore was free spirited from the very beginning of his life. I would have to thank Kishore for my first airplane ride. I had to bring an eleven-month-old Kishore to the PG hospital in Dhaka for his Meningitis operation. We arrived in Dhaka by air from Khulna. Dr Karimullah was the surgeon-in-charge for his operation.
I really do not know whether he is alive or not. Had my parents been alive, they could shed some more light on his current whereabouts. Mother thought Kishore would not live through the operation. The day before starting for Dhaka, she took a photograph with Kishore. The operation was successful, but it still took a very long time until Kishore's head settled to a specific shape. Kishore survived, and mom went to the studio to get that photo of herself and Kishore. That photograph still exists. After developing and bringing home that photograph, we noticed that Kishore is seen itching some unknown, rear parts of his body.
From his childhood, Kishore had a habit of itching his hands, and the hands would sweat a lot, too. He had a very short temper, thanks to Meningitis. He also bit the teacher's hand on a few occasions. He couldn't stand people saying things to his face- that kind of incident never failed to agitate him. The only exception was our mother; he would calmly listen to every word she would say to him. Our mother passed away ten years ago. If she were alive today, she could have scolded Kishore.
I can't forgive myself because I am to be blamed for bringing Kishore to the path of drawing cartoons. I reiterate, Kishore could not finish anything easily. Once he thought he could not pass out of college. He dropped out of the examination. After paying heed to everyone's request, he finally passed out of the college, and also managed to get himself admitted in to the architecture department of BUET. But he could not finish it. Afterwards, he joined the navy as an officer cadet. Not too surprisingly, he failed in that venture, too. He returned from the navy as a mid-shipman; he had quit just the day before the passing out parade was supposed to take place. Once, I was involved with the humour-based periodical of Prothom Alo "Alpin", tabloid daily Manob Jomin's "Khobor Ache" and also with another periodical "Bhimrul" (Amar Desh), which was similar to Alpin. Kishore used to draw cartoons for all three of these publications. Some of his cartoons were also published in Shaptahik 2000 and daily Jugantor's "Bicchu". 
The years from 1998 to 2007 can be coined as the golden era of humour-based periodicals in Bangladesh. The two prime ministers of the country: Sheikh Hasina or Khaleda Zia, former presidents Badruddoja Chowdhury, Iajuddin Ahmed, even the then minister Zillur Rahman also became the target of satirical, cartoonish depictions on print, let alone the other leaders and ministers! At that time, presidents from a wide array of nations, e.g. USA, Russia, South Africa, and even the middle-eastern sheikhs became the subject matter of witty cartoons. As long as Kishore conducted his proceedings under my tutelage, he faced no issues. In the year 2005, the country's only cartoon magazine "Unmad" introduced an award for accomplished cartoonists, and Kishore became the first recipient of the "Unmad Medal". As a result of the rising popularity of online magazines, Facebook, imo, WhatsApp, funny posts and cartoon strips in twitter, the appeal of print-based humour periodicals kept declining steadily. In order to ensure a proper livelihood, Kishore forced himself to think of other ways of earning money.
In 2010, just three days before our parent's 50th marriage anniversary, mother left us forever. Kishore kept on saying that he has lost everything he ever had. Until she was buried, Kishore kept on holding mother's coffin in a tight hug. Before leaving the Khulna home and coming to Dhaka, he collected the entire collection of mother's memorabilia fondly, and brought them along with him. We still don't know whether Kishore could bring everything that reminded him of mother. On her death anniversaries, Kishore would never be found at his home. He would instead prefer to spend the time at our mother's grave site. We do not even know whether Kishore managed to hold on to mother's memory in its full essence. If he could manage that, then, perhaps he would not have ended up in jail. Kishore always confesses that the only thing he manages to hold on to is his ill temper. After separating himself from me and mother, he embraced his day job in an advertising agency, often ignoring the former passion of drawing cartoons. Maybe that was the right path for him. He worked in the country's most accomplished advertisement agencies like Bitopi, Asiatic, Adcomm, Mediacom, Pran, etc. But no job could put him on leash. His life was constantly affected by a feeling of restlessness.
One fine morning, a different thought crossed his mind. He resigned from his secured position at the Pran group, and immediately returned to Khulna. He started an innovative school for young children, and named it "Akibuki School" (scribbling school). But even this venture could not keep him satisfied for long. He brought in the school inside the boundaries of our ancestral home. One day, he left home again. From the middle of 2019 till May 6 last year, Kishore became a completely estranged island. Apart from a handful of near and dear ones, no one knew Kishore's whereabouts. He removed many people from his Facebook and phone contact list. Once he wrote: "It is better to live in an isolated island like Robinson Crusoe." I never got to know whether Kishore stayed well in his isolated island, or whether he could manage to miraculously contact mother somehow. As a chance event, I once stumbled upon him on the streets. He informed me that he is in isolation at a place nestled within Niketon. I noticed that he has lost a lot of weight. He also endured some injuries in his hands and suffered jawline fracture due to a bike accident. The broken jaw was not healing as per expectations, but the reasons were unknown.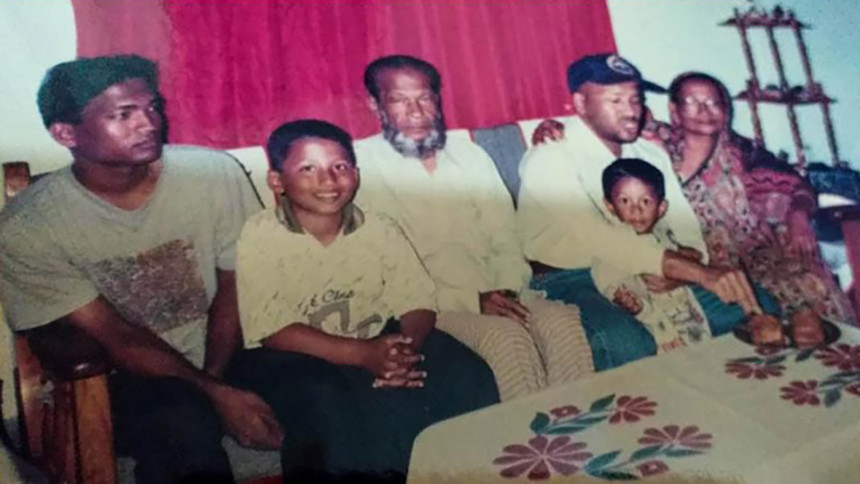 Fast forward to May 6 last year, a newscaster whom I consider as a younger brother informed me that Kishore has been detained. Instantly, our heart broke, just like Kishore's broken hands, and it still has not repaired itself. Then the search was initiated. Soon we found out that he was at Ramna Police Station. Upon reaching there, we discovered that he had been taken to the court. Fate eluded us again; we found out from the court that he had been taken to the central jail in Keraniganj. Kishore is now an inhabitant of the infamous Kashimpur jail. Neither I nor my family has the slightest bit of clue as to why these incidents took place. How come Kishore has been convicted as the mastermind behind an anti-government conspiracy? The complaints against him are "spreading rumours about Father of the Nation Bangabandhu Sheikh Mujibur Rahman, the War of Independence of Bangladesh and the coronavirus pandemic, and using slander, confusion and discord in order to create chaos", etc. He has been accused under section 21/25 (1) (kha) 31/35 of the Digital Security Act of 2018.
This Kishore, as he has been depicted in the accusations, is a completely new and unknown person to us. When and where did Kishore draw a satirical cartoon about Bangabandhu? Instead, during the period 2001 to 2008, he drew cartoons against Jamaaat, Shibir, BNP and militancy, and these cartoons were exhibited, too. He regularly contributed cartoons to the weekly Bichitra magazine run by Sheikh Rehana and Baby Moudud during the period 2002 to 2005. He was in the forefront of the Shahbagh movement. He has drawn cartoons and exhibited them in support of punishing the miscreants who were accused of crimes against humanity, and also took part in other similar movements. We still can't comprehend whether Kishore has been a victim of the undue wrath of a certain sect. His cartoon about the coronavirus- did it truly tarnish the image of the government? Every day, many trolls and cartoons regarding people connected with the government gets posted on social media, along with a plethora of written posts and status messages criticising the establishment. Has Kishore been set as an "example" against such activities? I am calling him an example, because I earnestly hope that no one else would get exemplified like Kishore. Let the regular citizens keep themselves well, and outside of the jail.
Four books written by Kishore have been published so far. These are "Bhalobashar Chhoragolpo (Jagriti Prokashoni, 2006), Kishorer Nirbachito Chushil Cartoon (Amar Prokashoni, 2012), Bangladesher Cartoon, Cartooner Bangladesh (Shrabon Prokashoni, 2012 and Priomukh Prokashoni, 2016) and Deyaler Golpo (Priomukh Prokashoni, 2016).
The name Kishore is now a story on its own. A renowned writer, and Bangladesh's first crocodile farming entrepreneur Mushtaq Ahmed became his constant companion after both of them were arrested in quick succession. The jailing of Mushtaq added a new trauma in Kishore's life. Perhaps he has lost courage. Kishore is thinking that he may not survive for too long. After Mushtaq passed away, the government side sought to take Kishore on remand but the plea was denied on February 27.
At the very beginning, I mentioned that Kishore could not complete anything easily. I wonder whether he will be able to see through this life of accusations, criminal cases and imprisonment. 
Special Disclaimer: February 28 was the birth anniversary of freedom fighter Azam Khan, who is mostly known as the King of Pop Music, as well as "Guru". Kishore used to draw a lot of cartoons regarding Azam Khan with the hope that he will be given the highest national recognition. Azam Khan did receive that medal after he passed away. In the same structure of one of his most famous songs, one person wrote to me – "Maa tar kade/Mushtaq More Geche/Hay amar Bangladesh" (His mother cries/Mushtaq has passed away/Alas, this is my Bangladesh).
Kishore didn't steal from anyone, he is not a convict in a robbery case, nor is he a loan defaulter, and he didn't even grab any government property illegaly. Still, he has to be in prison. Whichever issue caused discomfort to Kishore, he protested against them through his drawings. Unconditional love towards his motherland was the sole motivator behind the actions he took. Many have been punished for loving their homeland, and similarly, many others will keep on receiving punishment for the same. But whether anyone has ever been punished for showing hatred—the answer to that is not known to me.
It's a pity that Kishore has not learned to show hatred, yet. He feared getting too close to power. Power teaches people to hate others. The pen and the pencil don't understand the language of the emperors. To comprehend the language of power, one needs to wield a sword. Kishore didn't have a sword. He was like a paper tiger -- a person without a sword and a shield -- and yet who could not stay dormant, just like our national animal. It's the very same animal which has now become so rare that it is almost on the verge of extinction.
Every month, no more than five or six people came forward to meet him. Mushtaq could not bear with the pains and miseries that Kishore was enduring inside the jail. Maybe he wanted to make arrangements for the freedom of Kishore by giving away his own life. Tears didn't flood my eyes while I was writing about Kishore. But I can't hold them back while thinking about Mushtaq.
I thought I would give this article the title "Kishore is my brother". But I changed it to "Mushtaq is my brother".
KISHORE IN A NUTSHELL
Ahmed Kabir Kishore is the first Unmad medal recipient cartoonist. Unmad is the sole cartoon magazine in Bangladesh.
He is the child of AKM Mozammel Huq and Begum Kohinoor Huq.
He passed SSC from Khalishpur Crescent School in Khulna, and passed HSC from BL College, Khulna.
He got admitted in the Architecture department in BUET.
Then he joined the Bangladesh Navy as an officer cadet.
He has drawn cartoons and worked for the humor periodical "Khobor Ache" of Daily Manobjomin, Prothom Alo and Amar Desh magazine's humor periodicals "Alpin" and "Bhimrul", respectively. He also drew some cartoons for "Bicchu", Daily Jugantor's supplement.
He took part in different cartoon exhibitions which were organised in order to oppose autocracy, Jamaat, Shibir and Rajakars. Cartoons drawn by him were the subject of several exhibitions which had an objective of protesting against anti-humanity crimes.
He worked in a number of advertising agencies and multinational companies; e.g. Asiatic, Adcomm, Mediacom and Pran.
So far he has published four books: Bhalobashar Chhoragolpo; Jagriti Publications, 2006; Kishore er Nirbachito Chushil Cartoon: Amar Prokashoni, 2012; Bangladesher Cartoon, Cartooner Bangladesh: Shrabon Prokashoni, 2012 and Deyaler Golpo: Priomukh Prokashoni, 2016.