Family doctors can help us manage the pandemic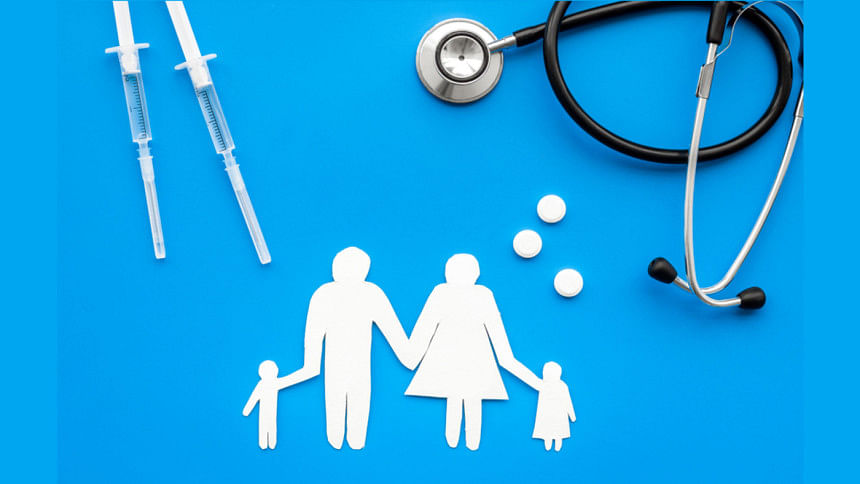 The observance of World Family Doctor Day on this day every year can highlight the role and contribution of family doctors in the healthcare system. Family doctors, or physicians who are regularly consulted by all family members in the time of medical need, have been the backbone of healthcare systems around the world. But what do we mean by family doctors, and why are they important?
A family doctor is a personal medical guide and health adviser with a holistic approach to patient management irrespective of age, gender or organs involved, which is known as the comprehensive approach. They are competent and equipped to serve diverse health needs. Usually, they are specialists in Family Medicine, which is a structured training programme to meet patients as a first point of contact, address their total health needs, both urgent and chronic, and offer personal medical care in one or more fields of healthcare within the context of the family and community.
The importance of family doctors lie in the fact that they link the community to higher medical centres for specialised healthcare. Therefore, they play a pivotal role by establishing effective referrals of patients. Family doctors also tend to be more aware about the specific health needs of the community, changing epidemiological patterns and diseases load, so they can be in important positions to plan health services.
Family doctors can also help to reduce health disparities in underserved population by strengthening primary medical care in the remotest areas of the community. Multiple evidences suggest that family doctors can provide quality and cost-effective healthcare and strengthen the prevention and promotion of health-related activities in the community to add value to the healthcare system.
World Family Doctor Day has opened up opportunities to create awareness amongst the general population and highlight the important contributions of family doctors, as well as create an atmosphere of global solidarity among family doctors. This year, the theme of this day is "Building the Future with Family Doctors", which is aligned with the Year of the Health and Care Workers 2021, declared by the World Health Organization (WHO).
There are also four fundamental pillars of World Family Doctor Day 2021 which aim to overcome challenges and build a better future. These are: family doctors working together with multidisciplinary primary care teams to strengthen health systems and deliver high quality and affordable care to all; putting patients at the centre of all activities to provide ongoing support and ensure continuity of care; adopting new technologies as fundamental tools, especially during the Covid-19 pandemic; and involving everyone to raise their voices, share their activities and efforts, and contribute to building the future with family doctors.
The world is now experiencing an unprecedented health challenge as the global coronavirus pandemic continues to spread, with almost all countries experiencing a second or even third wave. The threat of the third wave is knocking at our door as our citizens are not following precautionary measures to ward off the infection, and our neighbouring countries are experiencing unprecedented sufferings in the face of the new Covid-19 variants.
Lack of access to quality healthcare has become a significant challenge in combating Covid-19 in Bangladesh. Due to insufficient resources, poor healthcare delivery infrastructure and lack of coordination in health sectors, patients are struggling to receive healthcare—not just to manage Covid-19, but for other chronic health conditions as well. We have also seen how patient loads can quickly overwhelm the local healthcare system, forcing patients to move from one hospital to another one without any support. In this scenario, a family doctor can act as a leader amongst frontline health workers and provide primary care, which is the first point of contact for those who seek any type of health services.
The need of the hour is to understand and incorporate into our healthcare system well-trained family doctors who can form the backbone of our healthcare system. As "gate-keepers" at primary care facilities, they can improve the cost-effectiveness of healthcare delivery, during the pandemic and beyond.
In the present pandemic situation, the roles and responsibilities of family doctors as primary care physicians are manifold. They can maintain the triage (order of treatment) at the frontline by disease screening, provide telemedicine consultations, train auxiliary healthcare providers, educate the community, guide community leaders and assist public health authorities. They can act as a family friend and healthcare advocate in this crisis situation, and can address mental health issues as well. They can also reduce the load of patients in specialists' chambers as well as the number of hospital admissions. This would, in turn, improve patient satisfaction and build confidence in our healthcare system despite the resource constraints in the country.
Covid-19 infections have been divided into four categories—mild, moderate, severe and critical. Almost 80 percent of all cases are mild, and 15 percent are moderate. It is now well established that all mild and a small potion of moderate cases can be easily managed at home under the supervision of a family doctor though the help of telemedicine. In this way, trained family doctors can play a vital role in managing the current pandemic. For example, some private hospitals are providing access to quality healthcare through video consultations by well-trained family doctors and other family health professionals, along with testing for Covid-19, home sample collection and pharmacy deliveries all over Dhaka.
Bangladesh is in dire need of more family doctors in order to build a stronger health system. There should be strong policy directives with detailed roadmaps regarding the utilisation of family doctors in the public health system by the government. There should also be some initiative to raise awareness regarding the role of family doctors in caring for families and communities.
Dr Lt Colonel (Retd) Md Kabir Ahmed Khan is Consultant Family Medicine at Praava Health.