Right to return, repression and resistance
70 years after Naqba (the Catastrophe)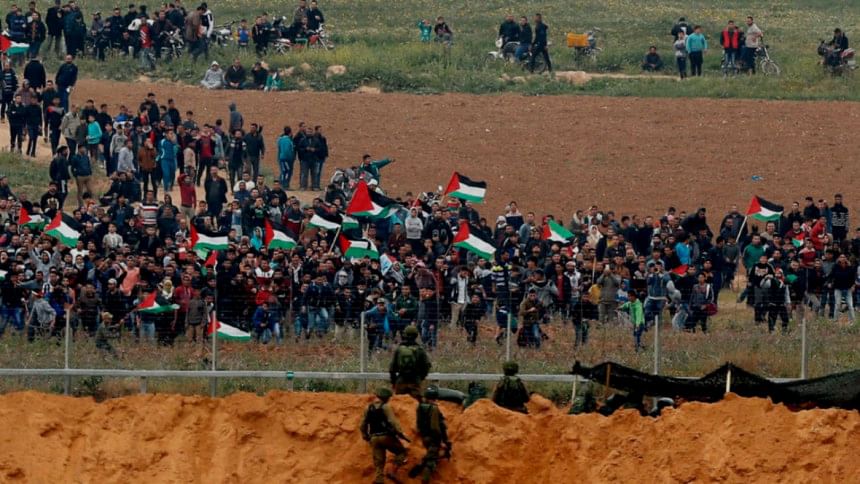 March 30 marked the beginning of a six-week passive resistance of the Palestinians to highlight their expulsion from their ancestral land by the Zionist forces 70 years ago. Over this period Palestinians of Gaza and the West Bank have been joined by thousands of Palestinian diaspora refugees in holding a Great March of Return along the Israeli border. The event is a reiteration of the Palestinian people of their claim to the land that they had lost to illegal occupiers.
Not surprisingly, on the first day of the resistance the state of Israel met the peaceful demonstration with disproportionate force with live bullets and drones dumping tear gas on the marchers. A row of one hundred snipers were posted to deal with unarmed non-violent protestors in the vicinity of the Israel Defence Force (IDF) declared a 350-metre no-go zone.
By April 13 thirty-one Palestinians were martyred and thousands were injured. In a shocking incident, a volley of a tank blew off a farmer to bits who was out of range of rifle-shot. As one observer put it, "The innocents were shot like fish in a barrel; no place to hide, no place to run, no chance of escape. The hunters were all around them: easy targets."
The protestors did not breach and were never a threat to the Israeli border. They were not armed; they merely burned tyres and threw rocks and crude petrol bombs that fell far short of the thirty-foot-high electrified security fence. Through these acts they wanted Israel and the world to know that they refused to accept their fate, they would not surrender to the machinations that made them strangers and unwanted in their own land. Human Rights Watch refuted the IDF claim that the protestors had threatened with firearms during demonstrations. In fact, IDF spokesperson's own tweet on March 31 accused demonstrators of "hurling burning tires, throwing Molotov cocktails, and attempting to harm or destroy Israel's security infrastructure," but did not make any reference to Palestinians using firearms at the protests.
Israel remains defiant of international criticism of disproportionate and indiscriminate use of force to quell the protest. Instead of castigation, the defiance was rewarded by the US veto of a UN Security Council resolution calling for an international investigation. The IDF leader Avigdor Leiberman claimed that his troops were only "doing their job" and all involved in the cold-blooded carnage "deserved commendations". This act of quashing protest through disproportionate violence, which may be deemed as a war crime, was publicly admitted by an IDF spokesperson when he tweeted "Nothing was carried out uncontrolled; everything was accurate and measured, and we know where every bullet landed".
The occupation of Palestine seventy years ago was legitimised by imperial Britain and systematically and consistently aided, abetted and armed by the United States. Over a period of more than a decade, inhabitants of Gaza and the West Bank were systematically "brutalised and terrorised" by the aggressors and were left to fend for themselves by the international community. The Israeli state continues its inhumane stranglehold of the territory through choking access of Palestinians to food, shelter, water, healthcare, education and livelihood opportunities.
Conditions in the Gaza Strip has been described as, "as close to hell as one can get". With poor supply of food, residents are barely surviving, electricity is available for two to four hours a day, and the supply of potable water is almost non-existent. Added to the woe is the lack of employment opportunities due to the siege laid by the Israeli authorities.
In recent times, the apathy of the international community has encouraged Israel to intensify its settlement programme. Within the last few months the government has approved building of 3,736 new settlement units in the West Bank, clearly sending out the message that the settlers "are here to stay". The settler population now stands at 600,000—"a population growing at a rate two times higher than that within Israel" (A glimpse inside the West Bank, Global Exchange).
Palestinians are dispossessed of their land on alleged security grounds, only to find their lands being handed over to the settlers. While settler communities are served with bypass roads and highways, the Palestinian parts are infested with "checkpoints, walls, permit requirements, and Israeli soldiers tightly confining Palestinians to ever shrinking territory". As a recent visitor to the Gaza notes, "the maze of control makes it so (that) a Palestinian might grow up able to view the Mediterranean from her town without ever having received a permit allowing her to travel to its shore. Several Palestinian teens expressed dreams of one day touching the sea" (Global Exchange).
Palestinian homes are routinely subjected to demolition on various pretexts: security purpose, for building them without permits (which are expensive and difficult to secure by Palestinians), and collective punishment (for alleged attack on Israeli targets). On average Palestinians can access 73 litres of water against the WHO's minimum recommended level of 100 litres. In contrast, Israelis use 300 litres. Increased incidence of harassment and bullying by the Israelis of the Palestinian children in schools has resulted in their dropping out and diminishing enrolment. A legal support group informs that securitisation of the territory has resulted in a situation where forty percent of the Palestinian male population are likely to be detained. This is no surprise as "unlike their Jewish counterparts, Palestinians exist under military, not civil law. This means that they can be held by administrative detention indefinitely, without charge, and without trial. Children are overwhelmingly accused of throwing stones, an offense that can lead to 10 to 20 years, depending on location" (Global Exchange).
The Israeli plan to create intolerable conditions in Gaza so that its residents are forced to migrate did not work. If anything, it made the Palestinians further determined to stay and resist, living up to the Palestinian adage: "The occupation will not remove us from our land. We will stay in our land as the roots of olive trees."
At a time when the Israeli politico-military establishment was beginning to think their mission of cowing down resistance was being accomplished, the residents of Gaza successfully organised this prolonged massive passive resistance. The new strategy has baffled the occupiers. As another observer notes, "Israelis don't know how to deal with passive resistance. They shoot in order to turn it into violent resistance … that they know how to deal with more violence".
The 17-year-old Ahed Tamimi has emerged as the new symbol of Palestinian resistance. Her valiant act of slapping and kicking two armed Israeli soldiers in the West Bank has gone viral. Distraught at the rummaging of her home and the shooting of her cousin in the face by IDF for throwing stones in their direction, Tamimi confronted the soldiers in full defiance. She was apprehended and subsequently sentenced to eight months of jail by an Israeli court which she declared as 'illegal'. Tamimi's courageous act has earned her the reputation as the new hero of the Resistance, the Joan of Arc of Palestine.
The much celebrated international legal regime and institutions such as the United Nations achieved almost nothing to work out a just and durable solution. The protracted negotiations at various paces over the implementation of the two-state solution in reality created an enabling environment for the Israeli state to pursue its long cherished genocidal agenda with complete impunity.
Princeton Professor and activist Richard Falk insists "the time for goodwill has long past". The situation calls for conscientious members of the world community, individuals and states, "to intensify the boycott, divestment and sanctions (BDS) campaign against Israel. In the name of justice … isolate Israel."
---
C R Abrar teaches international relations at the University of Dhaka. He would like to acknowledge information and insights gained from several contributions on the issue from the week 15, 2018 edition of Transcend Media Service.
---
Follow

The Daily Star Opinion

on Facebook for the latest opinions, commentaries and analyses by experts and professionals.
To contribute your article or letter to The Daily Star Opinion, see our

guidelines for submission

.
---