Most vulnerable Rohingyas left by the wayside
Better organised services are needed to deal with this manmade crisis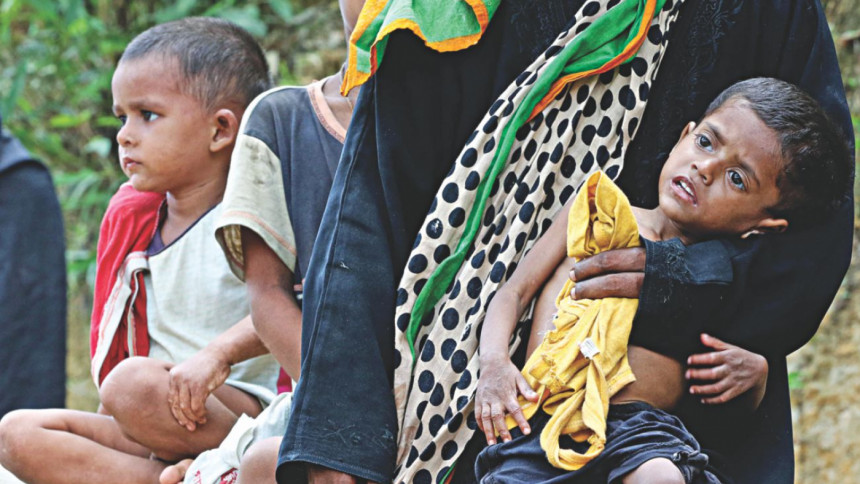 Driving south from Cox's Bazar along the marine drive, it is impossible not to be struck by the beauty of the sea on the right and the hills on the left. But before long a few lost and disoriented-looking faces appear until eventually the highway is lined with thousands of them.
Some of them break down as they tell us the horrors they have witnessed: the Myanmar army and angry locals setting fire to their houses, killing family members in front of them, taking girls away to rape, throwing children into the fire, and slaughtering people. Their journey to Bangladesh was like a nightmare—painful and uncertain. On the way, they heard the shots and mine explosions that killed their people near the border. Many saw overcrowded boats with panicked passengers capsizing. Many of them, including children, walked across forests and hills for several days before they could get on a boat to Bangladesh.
On the way to Shah Porir Dwip, one of 20–30 entry points of Rohingyas to Bangladesh, I imagined (since Bangladesh had announced its intention to welcome Rohingyas fleeing the violence in Myanmar) that we might find volunteers helping the fleeing Rohingya people off the boat to a shaded booth or a drink of water. After the arrivals were recorded and their biometrics taken, a shuttle service would take each family to their assigned camp. They might even receive a token, and information about where to get medical care, food and other services. Perhaps even a message of solace: "No worries, you are safe now."
But unfortunately, most of the thousands arriving—pale, malnourished, traumatised and broken-hearted—were far from finding relief. On our first trip to the border after the disaster, our team found aged women and mothers with newborns at their breast, lost and disoriented among lakhs of unknown faces in an unfamiliar land. Despite an immense outpouring of aid from across the country, and generous efforts by the local community, these people were afraid and had no idea where to get basic services.
At the boat station, I met a family with a baby, Mohammed Omar of eight months, on his mother's lap. The parents were not asking anyone for help, just staring blankly at everyone passing them. They had been in the same place for two days, with no money to pay for transit to a camp. I touched the baby and felt burning temperature and unusual breathing which clearly indicates pneumonia. I took them back to Teknaf with me. On arrival, I had to leave them with some cash and whatever directions I learned from the locals. 
We came upon another woman who had collapsed on the road. After one of our medics attended to her, she told us that she had crossed the border with her family. For two days they stayed put without food, so as not to lose their spot. Eventually her husband took their children to go look for food. They never returned. After waiting for half the day, she set out to find them. She roamed until she collapsed.
None of these people were suffering due to lack of aid. In fact, host communities have selflessly donated food, clothing, and even shelter in their own homes. Compassionate members of the Border Guard Bangladesh have given incredible support to asylum seekers. Many young people had organised spontaneously at the camps. At Balukhali makeshift camp, we saw volunteers of Cyclone Preparedness Programme on duty. However, there is no organised system for asylum seekers, particularly the disabled, elderly, pregnant women and mothers with infants, to access these services. 
The army, to their credit, is distributing a vast amount of aid in a systematic way. But it requires recipients to stand in line for hours, often in the scorching heat. I met mothers with infants at their breast who were unable to stand in line, and therefore had not eaten for days. There are days when there is surplus food, but many still have no access to it.
Within a month of the unfolding of the disaster, the army set up booths at a few entry points. This is a huge improvement from when we first visited the area and found them taking biometrics near Kutupalong makeshift camp, which is between five and 40km from the various entry points.
However, we could benefit from extending coverage to each of the entry points where undocumented Myanmar nationals are arriving. Besides this, ensuring the new arrivals are taken care of is to our own advantage, as it can prevent future crises. 
It is possible for the government to manage the new arrivals so that they have a comprehensive record of those who have crossed the border and the location of these individuals or families—making it easier to maintain security in the area. At the same time, we would also be able to minimise the misery of the families separated or stranded before reaching makeshift shelters.
Many arrive needing immediate medical assistance due to their injuries. Some are of old age, are pregnant, or suffer from some kind of disability. Ensuring that these people get basic healthcare when they enter means we can avoid more expensive treatment down the line.
An overwhelming number of women who have fled the violence have been raped, and need reproductive and sexual healthcare. If the Department of Family Planning and associated agencies provide contraceptives and specialised care, we can avoid a population increase in the future and the spread of sexually transmitted diseases, while ensuring the good health of newborn children. Furthermore, a space to provide support and counselling for children and adolescents could help them cope with trauma.
Bangladesh is well-experienced in managing disasters. We have been able to quickly evacuate entire habitations during a crisis and arrange shelters for the affected. Applying our experiences and mobilising our resources can help us to tackle this manmade disaster.
---
Kazi Amdadul Hoque is the Director for Strategic Planning and Head of Disaster Management at Friendship NGO, and has over 22 years of experience in public health and community development.
---
Follow

The Daily Star Opinion

on Facebook for the latest opinions, commentaries and analyses by experts and professionals.
To contribute your article or letter to The Daily Star Opinion, see our

guidelines for submission

.
---