Wooing women voters in poll-time India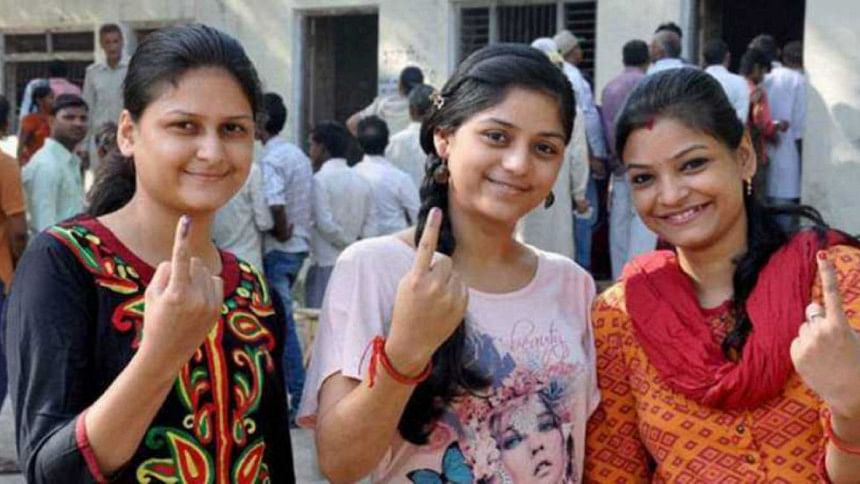 Three separate announc-ements in quick succession by bachelor Chief Minister Naveen Patnaik and his West Bengal counterpart Mamata Banerjee on March 10 and 11 regarding the number of nominations given or proposed to be given to women in the forthcoming Indian parliamentary elections have brought one of most crucial segments of India's nearly 900-million strong electorate into the spotlight. On March 10, Patnaik said his party Biju Janata Dal (BJD) would reserve 33 percent of the total 21 parliamentary seats in Odisha for women. Two days later, Mamata Banerjee went a step farther and came out by nominating 41 percent women as her party Trinamool Congress' candidates for the total of 42 seats in West Bengal. Not to be outdone, Congress Party President Rahul Gandhi, during his interactions with students of a women's college in Chennai on March 13, said his party, if voted back to power, would pass a constitution amendment Bill to reserve 33 percent of seats for women not only in parliament and state legislatures, but the same quantum of quota for them in federal government jobs.
Naveen Patnaik's popularity among women voters is one of the key reasons attributed to his party's uninterrupted rule in Odisha for the last two decades. It was he who was behind the passage of a resolution in the state assembly recommending 33 percent of seats be reserved for women in parliament and state assemblies. It was Naveen's father Biju Patnaik as Chief Minister who had brought in 33 percent reservation for women in the three-tier panchayat administration in the state several years ago. Naveen Patnaik as Chief Minister took forward his father's legacy by increasing that quota to 50 percent in 2012. But interestingly, Naveen is yet to specify if his promise of reserving 33 percent of the BJD's nomination would be extended to state assembly elections which would be held along with the coming parliamentary polls.
Parties can ill afford to ignore the women voters. In fact, all political parties are vying with each other to woo women voters. The thrust of many of Prime Minister Narendra Modi's government social welfare schemes Swaach India (cleanliness and an end to open defecation), Ujjwala Yojana (cooking gas cylinder supply), Maatru Vandana Yojana and Awaas Yojana (housing project) is aimed for women. The Bharatiya Janata Party declared that the objective of its the Bill to criminalise instant triple talaq (talaq-e-biddat) was to secure gender justice for Muslim women.
There are strong reasons why parties are rushing for women voters. The number of India's women voters for the coming national elections has registered an increase from 47 percent in the previous such exercise five years ago to 48.13 per cent this time around. Out of the total of nearly 90 crore voters eligible to exercise their franchise in the parliamentary elections to be held in April-May, 43.13 crore are women and 46.47 crore are men, according to the statistics of the Election Commission. The rest belong to third gender category. The increase in the total electorate from the last national polls in 2014 was about 8 crore and women constitute more than half of that with 4.35 crore million voters registered. More importantly, more and more women are exercising their franchise. That was why one saw the narrowing of the gap between the turnout of men (67 percent) and women (66 percent) in 2014 when the overall voters' turn-out was pegged at 66 percent.
While most of the political parties publicly speak in favour of women's quota in legislatures, ironically the Constitution (108th Amendment) Bill to implement 33 percent reservation for women in parliament and state legislatures has somehow or the other, ran into severe resistance from some parties several times in the last years, reflecting the deeply patriarchal tendency unwilling to cede ground. The Bill was passed by the Rajya Sabha, upper House of parliament, in March, 2010 but failed to get the nod of the Lok Sabha, the lower House. According to one estimate, none of India's parties come anywhere near the 33 percent mark when it came to nominating women as their candidates in six parliamentary polls since 1996.
Every time the issue of quota for women in legislatures come up, the debate over it gets entangled in heated arguments over the desirability of reservation for women in light of the idea of universal adult franchise that seeks to treat women to contest elections on the same terms as men. It is also often questioned by some if a quota for women would benefit ordinary women in the lower runs of economic and social strata or only upper caste women at the expense of the backward castes and Muslims. Secondly, it is also contended that such reservation could lead women to rule as proxies of politically and economically resourceful men in their families. Leading woman journalist Mrinal Pande rightly argued in an article in The Indian Express that it is time for women to "move beyond reflections about family relationships and motherhood." In this context, she quoted women's rights and political activist Aruna Asaf Ali as having said once that "we all joined the movement not so much for ideological reasons but because of our love for our husbands, sons or brothers. Men decided the next course of action and we followed like lambs, no questions asked. We loved and trusted them so much that we forgot to push for gender equality." Nothing perhaps could be a better sum-up of the status of women in Indian politics.
Even as the debate raged, the Indian parliament passed 73rd and 74th amendments to the Constitution in 1993 envisaging 33 percent quota for women nationwide in rural and urban local bodies. However, the representation of women in both Houses of Indian parliament remains poor—at just 11.2 per cent, placing the country below many countries including Bangladesh, Afghanistan, Nepal and Pakistan in this respect.
Pallab Bhattacharya is a special correspondent to The Daily Star.