Don't let scammers exploit refugees
Government must be vigilant about fake NIDs and tampered voter lists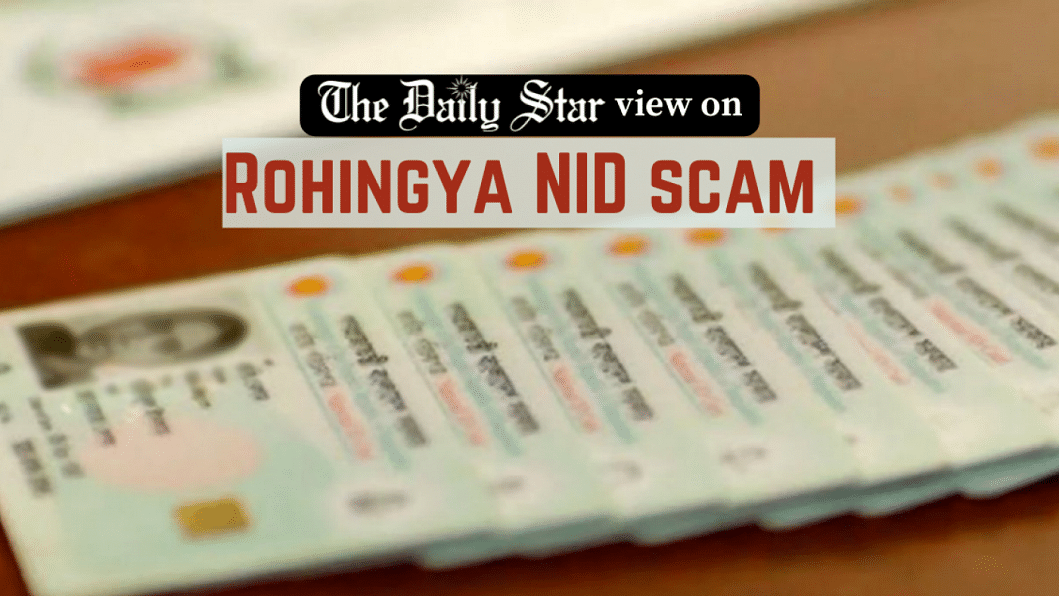 It is clear from recent news reports that the condition of Rohingya refugees in Bangladesh is becoming increasingly vulnerable. On Wednesday, a Rohingya man was picked up from his house in Balukhali refugee camp and shot dead. The day before, another was killed at the Kutupalong camp. Last week, a young Rohingya man was killed by miscreants, not long after his father was also killed in the Tajnimar Khola 19 camp.
In the meantime, the Myanmar military junta has started the process of transferring the ownership of land that originally belonged to Rohingya refugees, often for generations, before they were forced to flee in 2017 – thus adding a new layer of complications to any potential repatriation process.
In the midst of all this, it is reprehensible that criminal elements have been preying on this vulnerable group of refugees and dangling the carrot of Bangladeshi citizenship in front of them in exchange for exorbitant amounts of money. According to a report in this daily, a syndicate operating from Chattogram city has been charging Tk 1.30 lakh per head to issue fake national identity (NID) cards for Rohingya refugees.
This is the third time that such a scam has been discovered in the area. Out of the 10 people who were arrested by Chattogram Metropolitan Police in this connection, we are horrified to find that five are local Election Commission (EC) employees. Police investigations have revealed that these are data entry operators engaged in creating updated voter lists, and they have been abusing their positions to make a quick buck at the expense of national security.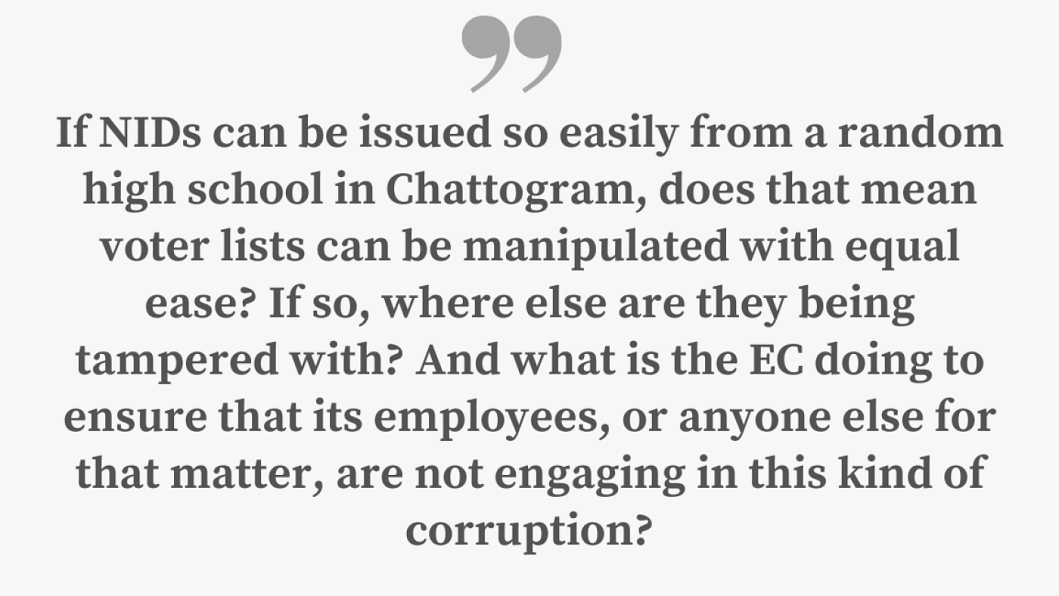 The fact that some employees of the institution that is charged with organising free and fair elections in the country are engaging in such exploitative practices is indeed alarming. If NIDs can be issued so easily from a random high school in Chattogram, does that mean voter lists can be manipulated with equal ease? If so, where else are they being tampered with? And what is the EC doing to ensure that their employees are not engaging in this kind of corruption?
It is also concerning that police found evidence of the use of fake birth certificates for obtaining NIDs, and that these certificates were produced in Dhaka for Tk 1,500 each. How far does the rot, and this criminal network, extend? Can any certificate required by citizens be duplicated? While we appreciate that police are conducting investigations, it is worrying that two of the recently arrested criminals already had cases against them for a similar scam in Cox's Bazar, but were still able to continue their activities in Chattogram. Police action, clearly, hasn't had the restraining effect expected.
We urge the authorities, especially the EC, to treat this NID scam with the utmost seriousness. While it may seem to be a relatively small operation, its implications are huge, and can raise many questions about citizenship rights and democratic exercises in this country.