A moving martyrdom on a trail track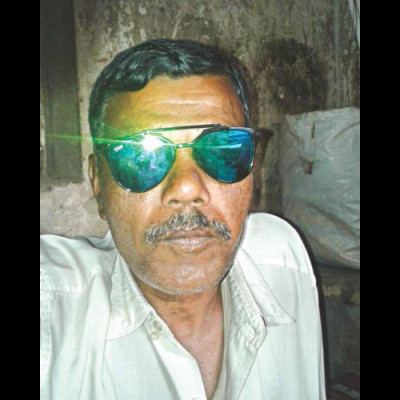 An assistant technician of Bangladesh Railway did last Friday what nobody does these days. Not since those fateful days of 1971 and some of the political movements in this country when our martyrs laid down their lives for their countrymen. Dying for others has long been a dying art until this one man reminded us that giving one's life for another individual still holds its charm. His has been a unitary act of martyrdom, when one life was sacrificed to save another.
Believe it or not, Badal Mia died to save a little girl who was going to come under a speeding train. He pushed her out of the track before the locomotive ran him over. It sounds more absurd when you learn that the girl wasn't his own blood or related to him in any manner. He basically gave up his precious life for the sake of a complete stranger! The girl and her mother reportedly left the scene right after the accident. They may have done it out of confusion or fright or both.
Those of us, who believe in life after death, also believes that he is going to be rewarded in the next life. But no appreciation or reward seems to be in the making for him on this side of the grave. In a country littered with award recipients and reward winners, Badal may have died in vain. There hasn't been a single initiative taken, not even by his employer Bangladesh Railway, to recognise his uncommon valour and self-abnegation.
Late US president Ronald Reagan said that heroes may not be braver than anyone else, but they are just braver five minutes longer. And those five minutes make a helluva difference between life and death. In those five minutes, they may take bullet hits, get stabbed by knives, fall from heights, fiercely fight with ferocious animals, or stand in front of a running train. A small-time railway staffer has done something larger than life. He showed the courage to resist the temptation of life just a little longer than others.
In many countries of the world, Badal Mia would have been given a hero's treatment. Stories would have been written about him, and streets would have been named after him. There would have been monuments dedicated to his memory. His story might have gone in textbooks as a shining example of selflessness. None of that is going to happen in this unfortunate land where heroism, like many other things, is just another entitlement of the privileged class. Those who can afford to desires, regularly clobber those who qualify to deserve.
Not to speak of the government, none of the private organisations or social bodies have come forward either. Yes, some newspapers including this one have repeatedly tried to hold up the story.But a nation living on the mother's milk of acquisitive impulses has grown unaccustomed to giving up for others.
It's said that an extraordinary salesman can sell refrigerators to Eskimos. Badal certainly didn't have a business plan for his daredevil act. He surely didn't have much time to do a cost-benefit analysis before he fell into the jaws of an awful death. Better dead than alive, he has escaped the embarrassment that his slice of martyrdom has long gone out of style. He has tried to sell self-sacrifice in a selfish land.
That rude awakening is too late for him. We don't know how much time one gets to think in the process of being cut up by a train. Maybe he died before assimilating his action in his own mind. Maybe he died without realising if the girl was safe. He couldn't have ascertained in his precarious mind if what he had done was stout-hearted or stupid.
Mark Twain believed that if everybody was satisfied with himself, there would be no heroes. Badal had a marginal job, and must have had his share of complaints in life. In spite of being condemned to a life of drudgery, he was clearheaded enough to have human considerations. He is a double-deal hero, who at once lived and died as one.
Whatever we decide to do, it doesn't matter to Badal anymore. But he matters to us as the living example of a dead man whose heroic act can inspire generations from the other side of his grave. If we don't give him his due, it'll be like that proverbial spit in the air that's going to land in our face. Our failure to honour him doesn't diminish his sacrifice. It undermines our capacity to accommodate heroes in our ever-shrinking minds.
Badal Mia recreated martyrdom after many years. It was a chastening glimpse of heroism within the narrow space of a rail track. We shouldn't miss this rare opportunity to reconnect with our heroes.
The writer is Editor of the weekly First News and an opinion writer for The Daily Star. Email: badrul151@yahoo.com