Trafficking in Rohingya: Exploiting the desperate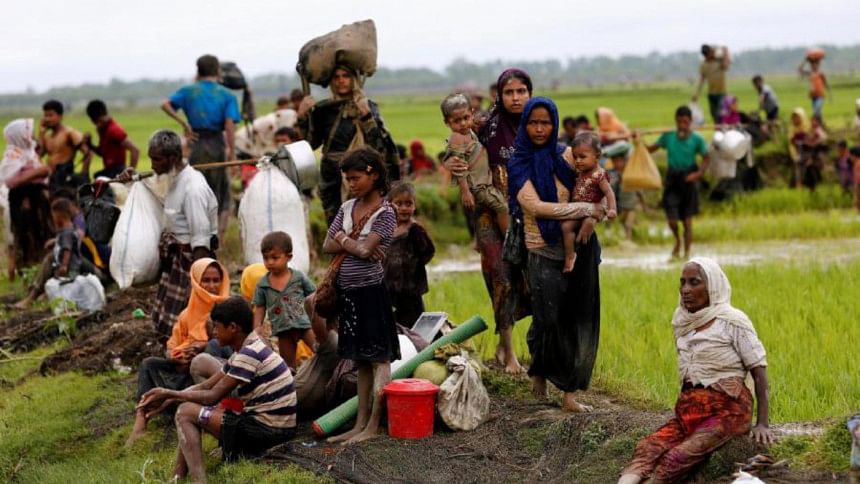 In Myanmar, the Rohingya have faced persecution, witnessed murder, endured sexual violence. While fleeing the genocide perpetrated by the Myanmar military, they had only one aim: survival. And survive they did once they crossed the border and made it to the world's largest refugee camp in Bangladesh's Cox's Bazar.
While coping with the changed circumstances—from having a life in their native Rakhine State to finding themselves displaced and stateless—the Rohingya population has had to face up to another insidious and menacing threat lurking in the shadows in their place of refuge: human trafficking.
As it turns out, refugees are some of the easier prey for the human traffickers.
Human trafficking is a profitable business. Data from International Labor Organization (ILO), as reported by Fortune, suggests that "Human trafficking is estimated to bring in global profits of about USD150 billion a year—USD 99 billion from sexual exploitation".
The majority of the victims of human trafficking are women and girls. According to the Counter-Trafficking Data Collaborative (CTDC), females make up for about 71 percent victims of human trafficking.  A lot of these women and girls are sold into forced prostitution. ILO estimated suggests, "Women represent 99 percent of the victims of forced labour in the commercial sex industry and 84 percent of forced marriages."
The Rohingya have been vulnerable to human trafficking for years. Between 2012 and 2015, human trafficking trade involving the Rohingya is estimated to have generated between USD 50 and USD 100 million a year.
The result: trafficking of around 170,000 Rohingya from Bangladesh and Myanmar, and "'murder, extermination, enslavement, deportation or forcible transfer, imprisonment, torture, and rape, as part of a widespread and systematic attack directed against Rohingya civilians from Myanmar and Bangladesh' with knowledge of the widespread and systematic attack underway", as revealed in a six-year investigation by Human Rights Commission of Malaysia (SUHAKAM) and Fortify Rights, a nongovernment rights body.
And the influx of new refugees has only made it easier for the notorious human traffickers to prey on the vulnerable people. Rampant poverty; insecurity; and lack of access to even the most basic of necessities, such as food, clothing, medicine; force the despairing people to accept whatever income-generation options that are presented to them by the traffickers.
Taking advantage of the desperation of these displaced people, the traffickers trick the more vulnerable ones into sex slavery, domestic servitude, and forced labour. And although men and young boys also fall victims to the lure of the traffickers, who give them false hopes of better lives abroad, it is the women and girls who are easier targets and the more lucrative ones.
Witness accounts, testimonials of the victims and various reports by the media and humanitarian agencies suggest that a lot of the Rohingya women have been pushed into forced prostitution and domestic slavery.
While talking to AFP, a Bangladeshi police official suggested that teenage girls, especially between 15 and 19 are at a higher risk of being sold into sex slavery. According to the US state department's Trafficking in Persons Report 2019, Rohingya girls are transported to Dhaka, Kathmandu and Kolkata, among other destinations, where they are forced into prostitution. In the booming sex industry in Kolkata and Kathmandu, these girls become faceless sex slaves, with no prospect of ever reuniting with their families.
And some of the others become involved with the sex trade closer to home—in Chattogram, and even in the prostitution business in Kutupalong itself. According to a report by South China Morning Post, in Kutupalong the "sex industry is thriving". "At least 500 Rohingya prostitutes live in Kutupalong," the same report quoted a fixer as saying while elaborating the sex trade situation in the biggest Rohingya camp in Cox's Bazar.
Most of these women and girls work in secrecy, making sure their families are unaware of their work. Fear of social stigma and retribution force these girls to endure sex slavery in silence—a fear fully taken advantage of by sex traffickers.
And prostitution by Rohingya women pose multidimensional problems for everyone involved. First of all, these women are being deprived of their dignity and pay. While the traffickers and sex traders take bigger cuts of the money earned through this trade, the women are given a paltry amount to live on.
Secondly, the women are being exposed to unsafe sex with the possibility of being infected with all kinds of STDs, including HIV. Especially because the customers are often not willing to use condoms. While talking to South China Morning Post, a Rohingya sex worker said, "I take birth control injections, but I worry about HIV every day". Unfortunately, she has never been tested for STDs.
And not testing these girls pose a bigger and more serious threat for the customers: HIV. It is a known fact that a lot of the Rohingya women and girls have been subjected to gang rape and sexual violence by the Myanmar military. And given that Myanmar is one of the 35 countries making up for 90 percent of new HIV infections globally, as reported by UNAIDS, many of the rape victims might have been infected with the disease and other STDs during rape.
Unprotected sex exposes the customers to the sexually transmitted diseases that these women might be carrying. And spread of these diseases remains a potential threat for the region, and it is important to address this at the earliest.
Being sold into domestic slavery is another major problem faced by the Rohingya women and girls. Small girls especially are more vulnerable to this problem. Often traffickers approach desperate parents and offer to take their children to better households in the city—where life will be much easier and food more frequently available. In the hope of a brighter future, parents give away their children, who end up in domestic servitude—often exposed to battery and abuse at the hands of the employers.
Child marriage is another threat that these young Rohingya girls face. Often these girls are sent away with unreliable traffickers to distant lands—Malaysia, Indonesia, among other countries—to be married off to much-older Rohingya men who had fled to those countries earlier.
These Rohingya men are undocumented and are involved in low-paid jobs in factories and industries in those countries. And they cannot marry local women. Therefore, their only way of getting married and starting a family is by smuggling these young, vulnerable girls to those countries through traffickers.
These marriages are usually arranged over phone by the grooms' relatives who live in the camps. In the face of sustained economic hardships, the parents often are left with no other option other than accepting these marriage proposals and allowing their daughters to embark upon desperate journeys across seas in rickety fishing boats, with no hope of ever reuniting again.
And the lucky girls, who manage to survive the hardships of the journey are exposed to all kinds of domestic abuse once married to these men. These girls live like prisoners, forced to do all kinds of household chores, and cannot even seek medical help when ill, because of their illegal residential status.
Fortify Rights have recorded cases of young girls who have been abused by their husbands in Malaysia. For these young girls, life ends even before they realise when it began.
And the growing problem of the trafficking of the Rohingya has been acknowledged by the host country. "We have alerted all the security agencies that trafficking events are taking place… We have tightened the border areas, security has been tightened on the sea and we have increased patrolling by the coast guard and the police and military are guarding and protecting this population from trafficking", said Bangladesh's Refugee Relief and Repatriation Commissioner Mohammad Abul Kalam while discussing the problem.
And over the last few years the host country has indeed been able to rescue some of the victims of the human trafficking. But the problem is so complicated that it cannot simply be addressed by strengthening security measures.
In order to eliminate human trafficking, we need to address to root causes that make the Rohingya vulnerable to traffickers: economic hardships, lack of education, lack of livelihood generation opportunities, lack of access to the basic necessities.
The host country, along with the humanitarian agencies working with the Rohingya population, needs to take a more thorough and comprehensive approach covering all aspects of human trafficking in order to address and eliminate this problem. Till then, desperate people will keep falling for desperate measures in search of a better life.
Tasneem Tayeb works for The Daily Star. Her Twitter handle is: @TayebTasneem