Algeria's late Arab Spring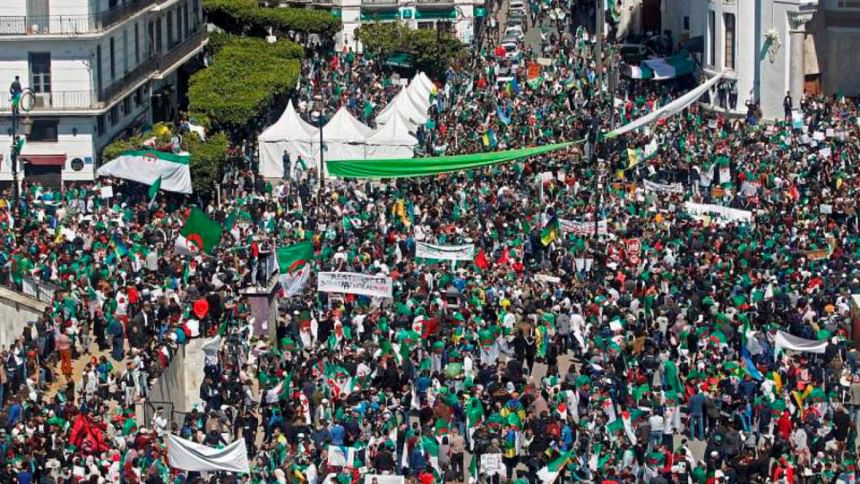 Algeria's veteran President Abdelaziz Bouteflika resigned on April 2, 2019 after 20 years in power. The resignation came shortly after deputy defense minister and army chief of staff General Ahmed Gaid Salah demanded that Bouteflika be declared unfit to lead and leave office "immediately". The 82-year-old Bouteflika suffered a severe stroke in 2013 and has since been in poor health and rarely seen in public. Abdelaziz Bouteflika, a freedom fighter and veteran of the FLN, has served four five-year terms as president.
Trouble for Bouteflika began in mid-February when the ailing president announced that he would seek a fifth term in office. The announcement brought thousands of people, mostly young, to the streets since February 22, demanding that Bouteflika resign and quit the presidency. As demonstrations gained momentum and became weekly Friday protests, Bouteflika on March 11, announced that he was dropping his bid for another term. Massive demonstrations continued as people did not believe Boutefilka's announcement and suspected that the octogenarian will continue in power through other means. Presidential election was scheduled for April 18, 2019 but has since been postponed. New dates are yet to be announced.
Algeria's army has always played a pivotal role in the country's politics. The army was actually backing Bouteflika since 1999, when he was first elected. The role of the army in easing out the wheelchair-bound president has been crucial as the military wanted to maintain stability in the oil-rich North African state of 42 million people. The army chief General Gaid Salah opted to side with the people. After holding a high-level meeting with senior army officers Salah said," We will support the people until their demands are fully and completely satisfied." Fortunately the six-week long demonstrations were not violent and there were no street battles with the police and no casualties. Thousands of jubilant flag-waving Algerians celebrated on the streets of Algiers when the news of Bouteflika's resignation came.
There is however some confusion over Bouteflika's departure. After withdrawing his candidature Bouteflika said he would retire at the end of his tenure on April 28, 2019. But his sudden resignation on April 2 has raised some questions. Did he resign voluntarily or was there a coup that forced him to step down? A statement apparently released by the presidential office says that General Gaid Salah has been sacked and would be sent for military interrogation. Though sources inside the presidency said that the document was genuine, the Ministry of Defence issued an immediate denial. The document apparently bore the signature and seal of the president. It is not unlikely that General Salah moved quickly to oust Bouteflika when he came to know that he was being fired. What exactly happened will probably never be known.
A former French colony, Algeria gained independence after a violent and bloody war of independence in 1962. Since then Algeria's contemporary political journey has been turbulent. The most difficult period in the post-independence period began when the pro-Salafi Islamic Salvation Front (FIS) almost won the 1991 election defeating the pro-independence National Liberation Front (FLN). The army which supported the FLN staged a coup and took control of the government, cancelled the election and ousted President Chadli Bendjedid. Banned FIS soon turned into an Islamist guerrilla group and began an armed insurgency against the government. The "dirty war" lasted nearly 10 years, cost over 200,000 lives and slowly came to an end in 2002 after Abdelaziz Bouteflika became president in 1999. The fratricidal war left a deep scar in the polity of Algeria.
Oil and gas exports actually drives Algeria's economy. Petroleum accounts for an overwhelming 85 percent of the country's exports and constitutes 20 percent of GDP. But oil revenues started falling since global oil prices started declining from 2014. Several grievances have combined and drove the people to come out to protest against Bouteflika—increasing cost of living, unemployment, inadequate healthcare, distrust of the political process, etc. Protestors on the street want total removal of the previous regime known as "le pouvoir" (the powers that be) representing an opaque clique of politicians, business tycoons, and military officials who actually ran the government for Bouteflika. People believe that the clique is deeply corrupt.
Agitators say Bouteflika's resignation was the first step towards a new beginning. They want sweeping political reforms of the system of government that has been in place since independence—a fair and transparent presidential election and a new democratic government without any military influence—not the existing "controlled democracy". Currently the government is run by the "pro-government bloc" which comprises parties of Bouteflika's FLN and Prime Minister Ahmed Ouyahia's National Rally for Democracy (NRD). But political differences between the FLN Secretary General Gamal Ould Abbes and recently retired Prime Minister and Secretary General of NRD Ahmed Ouyahia have already surfaced over who will succeed Bouteflika. And given Algeria's powerful military and the entrenched political clique, succession to Abdelaziz Bouteflika may not be easy. Besides the existence of dormant Salafi groups may also raise their heads to cash in on the turmoil of succession.
There are speculations that General Gaid Salah may take over for a brief period until fresh elections are held. Though Salah is reported to have said that he would not betray his "liberation war brother-in-arms". The constitution actually provides for the Chairman of the Upper House of Parliament Abdelkader Bensalah to take over as caretaker president for three months within which fresh elections have to be held. Who will take over till the elections are held is still not clear.
Arab Spring that began in Tunisia in 2011 and eventually spread to Egypt, Libya, Yemen and Syria had left Algeria largely untouched. Autocratic regimes across the Middle East fell following violent civil unrest that had cost many lives. One hopes that the late Arab Spring now sweeping Algeria will not degenerate into civil disobedience and violence. The Bouteflika succession issue should be resolved peacefully through fair elections.
---
Mahmood Hasan is former Ambassador and Secretary.
---
Follow

The Daily Star Opinion

on Facebook for the latest opinions, commentaries and analyses by experts and professionals.
To contribute your article or letter to The Daily Star Opinion, see our

guidelines for submission

.
---